Disclaimer: I received a package containing three degrees of maturity of Mahon-Menorca Cheese for free for participating in the Mahon-Menorca Cheese Holiday Blogger Recipe Challenge. All opinions are my own.
These baked cheese crisps are not only delicious as a snack, but they also make a great party appetizer!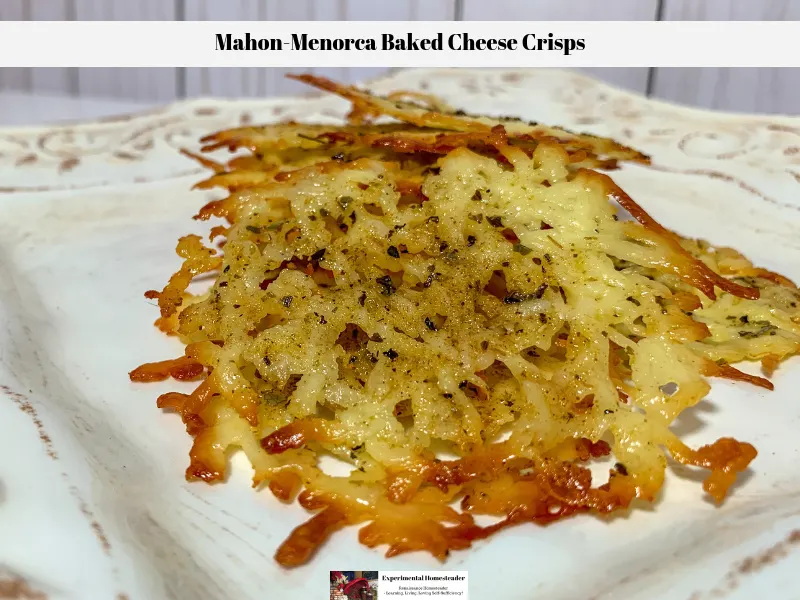 They pack a surprise burst of flavor that many people won't expect, so be sure to serve them plain or pair them with a non-spicy marinara sauce, fresh fruit or a meat such as a mild summer sausage.
Here is my recipe for baked cheese crisps made with Mahon-Menorca semi-cured cheese made with raw milk.
Print
Mahon-Menorca Baked Cheese Crisps
1 pound shredded Mahon-Menorca semi-cured cheese made with raw milk
Author: Sheri Ann Richerson
Prep Time:

10 minutes

Cook Time:

5 minutes

Total Time:

15 minutes

Category:

Appetizers

Method:

Oven
Preheat the oven to 375 degrees Fahrenheit. 
Shred the Mahon-Menorca cheese.
For every twelve baked cheese crisps you want to bake, prepare a mixture of 1/8 teaspoon garlic powder, 1/8 teaspoon powdered cumin and 1/4 teaspoon Italian Seasoning.
Mix the seasonings to combine them. 
Spread

1 Tablespoon

of Mahon-Menorca semi-cured cheese on a baking sheet lined with a silicone mat or parchment paper.
Repeat this step, making sure to leave some space between each batch of cheese, until the baking sheet is covered. A standard size baking sheet will hold one dozen cheese crisps. 
Sprinkle the unbaked cheese with 1/32 teaspoon the spices – or simply add a sprinkle of spices to the top of each cheese crisp making sure to equally divide the spices between the twelve cheese crisps.
Place the baking sheet onto the middle rack of the preheated oven and bake for five minutes.
Remove the Mahon-Menorca Baked Cheese Crisps from the oven and carefully remove the cheese crisps from the baking sheet. 
Place the baked cheese crisps on paper towels to drain. Be sure to blot the top of the cheese crisps to remove the naturally occurring grease.
Allow the cheese crisps to cool and serve with marinara sauce, fresh fruit or meat.
Keywords: baked cheese crisps, baked cheese, baked cheese crackers, cheese crisps, cheese crackers, cheese crisps baked
Recipe Card powered by

Final Thoughts About The Mahon-Menorca Baked Cheese Crisps
The Mahon-Menorca semi-cured cheese made from raw milk molded pretty badly in the package and had a very strong scent when I opened the package.
This is normal for a semi-cured cheese!
I simply cut the mold off and then proceeded to cut the cheese into chunks so I could easily shred it in my food processor.
The cheese wanted to crumble when it was being cut.
I also ran into some issues when I was shredding it with the cheese wanting to mush together into chunks instead of shred.
Again this is normal for a softer cheese.
In the end I ended up with a mixture of shredded cheese and crumbles, which was fine.
I felt the end result was a very spicy, sharp tasting baked cheese crisp that was just as good warm as cold.
One last note about this recipe is you can bake these a few at a time over the course of two weeks as long as you keep your shredded cheese refrigerated and watch it for the potential of additional mold growth.
If you see more mold growing, simply remove that section of cheese.
Again this is perfectly normal!
I hope you enjoy this recipe!
To find out more, be sure to follow Mahon-Menorca Cheese on Facebook, Instagram or Twitter.
I highly recommend the following articles:
Use the buttons on the right hand side of the screen to share this article with friends or family who might find it useful. Pin the picture below to your pinboard on Pinterest for future reference.