Disclaimer: I received the product for free in exchange for my honest review. All opinions are my own.
Homesteading is a way of life that embraces creativity, sustainability, and self-sufficiency.

Whether you're a homesteader who loves crafting and selling your creations or one who homeschools your children amidst the serenity of the homestead, there's a tool that can revolutionize your endeavors – the Wacom Intuos Small Graphics Drawing Tablet.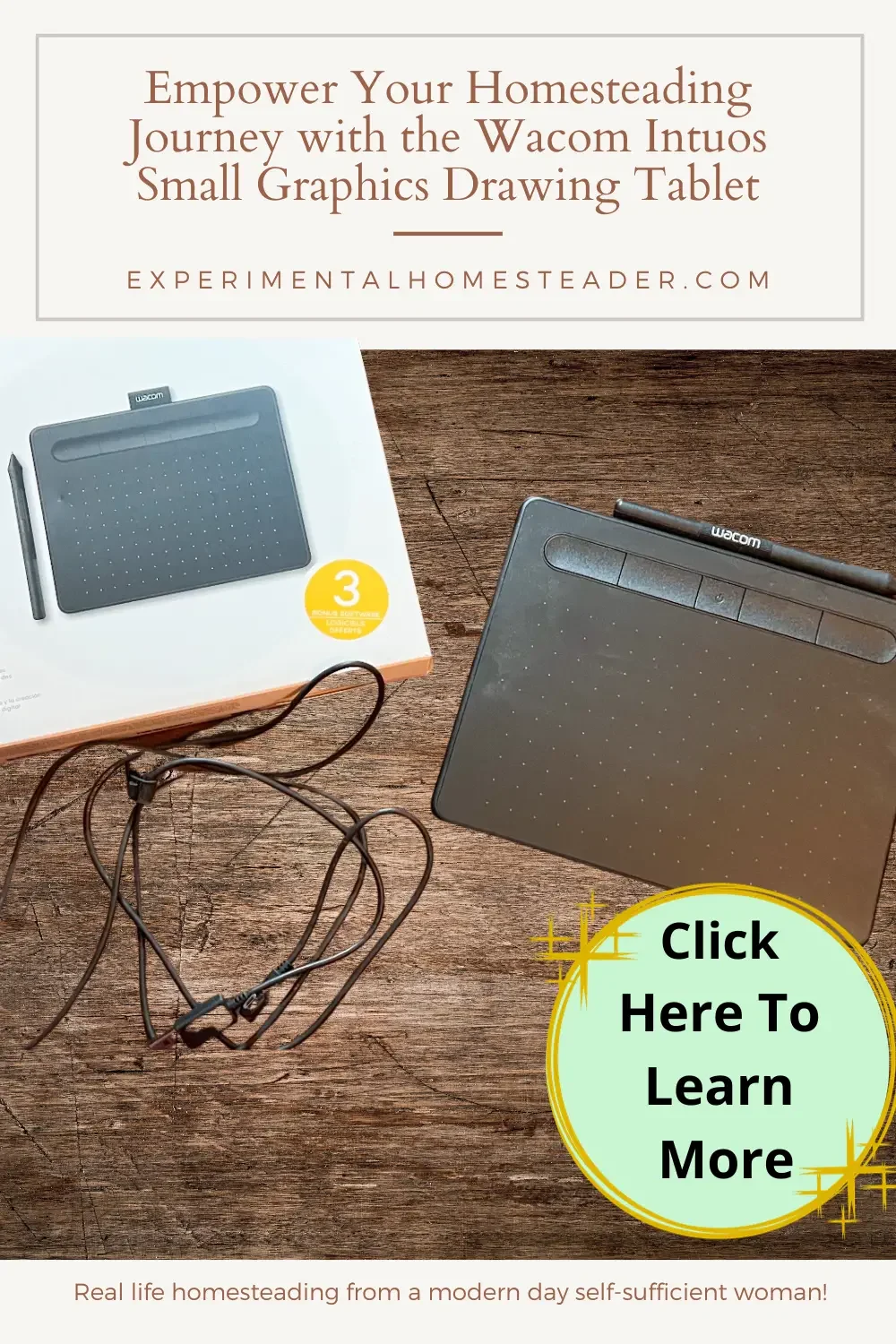 Crafting: Bridging the Gap Between Tradition and Innovation
At the core of every homesteader lies a creative spirit, one that finds joy in crafting and sharing handmade goods.
The Wacom Intuos tablet recognizes this essence and offers a digital canvas to bring your crafty visions to life.
It's not about replacing traditional crafts, but about enhancing them with a touch of digital finesse.
Imagine designing exquisite labels for your homemade products, ones that reflect the heart and soul you pour into each creation.
With the Intuos tablet, you can effortlessly craft logos, labels, and packaging that tell the story of your homestead.
You're not just selling products; you're selling a piece of your unique homesteading journey.
Homeschooling: Where Learning Meets Imagination
For homesteading families who've chosen to homeschool, the Wacom Intuos tablet brings an exciting new dimension to education.
It's not just a tool; it's a catalyst for interactive and engaging learning experiences.
Imagine teaching math, science, or art through digital illustrations and annotations – the possibilities are endless.
Enrich your children's learning journey by allowing them to sketch diagrams, annotate lessons, and express their understanding visually.
Whether it's exploring the intricate details of a leaf or capturing the essence of a historical event, the Intuos tablet transforms mundane lessons into captivating adventures.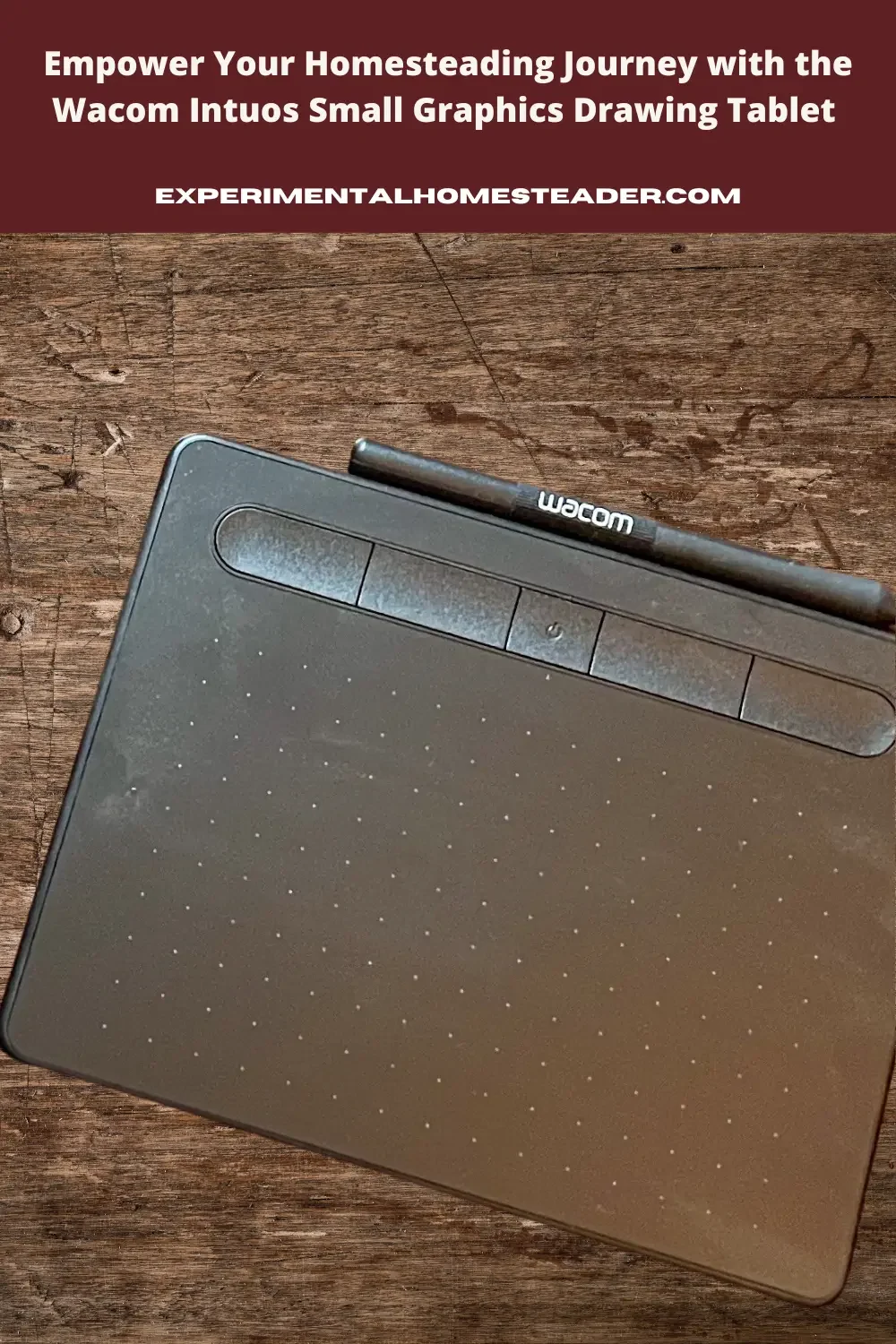 Why Choose the Wacom Intuos Small Graphics Drawing Tablet?
Crafting: Design logos, labels, and packaging for your homemade products, elevating your brand and attracting customers who appreciate the artistry behind your creations.
Digital Art: Delve into the world of digital painting, where the tablet becomes your canvas and the digital pen your brush. Infuse your homestead-inspired artwork with a new level of detail and depth.
Educational Resources: Annotate educational materials to create immersive lessons that resonate with your homeschooling children. Foster deeper understanding by visually explaining complex concepts.
Interactive Learning: Nurture your children's creativity by allowing them to illustrate their ideas and concepts digitally. Watch as their imagination takes flight and their confidence in expressing themselves grows.
Flexibility: The Intuos tablet is a versatile companion that adapts to your homesteading lifestyle. Whether you're by the fireside, in your workshop, or in the midst of nature, the tablet is compatible with Chromebook, Mac, Android, and Windows devices.
Unleash Your Creativity: A Fusion of Tradition and Innovation
Picture this: amidst the rustic charm of your homestead, you meticulously craft goods by hand.
Each piece tells a story of dedication, craftsmanship, and a connection to the land.
But now, imagine taking these handcrafted treasures to the next level, where tradition meets innovation in a perfect fusion of creativity.
Intricately Handcrafted Goods 
Your homestead is a testament to your commitment to sustainable living.
Your hands are skilled in the art of creating goods that are not only beautiful but also infused with the essence of your land.
Whether it's hand-spun wool, homemade preserves, or artisanal woodworking, your creations are a labor of love.
Labels that Tell a Story
With the Wacom Intuos Small Graphics Drawing Tablet, you can add an extra layer of charm to your creations.
Imagine each of your handcrafted goods adorned with labels that tell the rich narrative of your homestead.
These labels, designed with precision and care, become more than just tags; they become a visual journey for your customers.
They convey the heritage, values, and authenticity of your homestead in a single glance.
A World of Interactive Learning
Now, shift your focus to another aspect of your homesteading journey – homeschooling.
Your children are growing up amidst the beauty and serenity of the homestead, and you're their guide on a unique educational journey.
With the Wacom Intuos tablet, your lessons take on a whole new dimension.
Instead of static textbooks, your children interact with dynamic lessons.
Imagine teaching them about plant growth by sketching the life cycle of a sunflower, or explaining history through digital timelines that come alive with vivid illustrations.
The tablet allows you to create educational materials that ignite your children's passion for learning.
It's not just about memorizing facts; it's about understanding, exploring, and fostering a lifelong love for knowledge.
This is the Power of the Wacom Intuos Small Graphics Drawing Tablet
The Wacom Intuos Small Graphics Drawing Tablet acts as a pivotal link that gracefully bridges the gap between cherished tradition and the marvels of modern innovation.
In the realm of crafting, it serves as a digital artisan's brush, amplifying the inherent beauty of your handcrafted goods.
Whether you're weaving, carving, or preserving, the tablet empowers you to infuse your creations with an extra layer of finesse.
It's like adding a touch of magic to the craftsmanship that has been passed down through generations.
The Wacom Intuos is more than a tool; it's a guardian of tradition and a herald of innovation, enriching your homesteading journey in profound ways.
Embrace the Possibilities. Elevate Your Creativity. Empower Your Homesteading Journey.
In the delicate dance between tradition and innovation, the Wacom Intuos Small Graphics Drawing Tablet stands as your steadfast partner, harmonizing the timeless values of yesteryears with the wonders of the modern age.
Your homestead, once a place of tradition, is now a realm of boundless creativity and knowledge.
Tradition and innovation coexist harmoniously, each complementing the other.
The tablet seamlessly weaves these two elements into the tapestry of your life, ensuring that as you move forward, you carry the wisdom of the past with you.
It's not just about making things easier; it's about making them richer, more meaningful.
As we continue to move forward, you've discovered that marrying the old and the new can indeed make certain aspects of life easier.
It's about finding the delicate balance where tradition provides the foundation, and innovation adds the wings.
The Wacom Intuos Small Graphics Drawing Tablet exemplifies this harmony, making the integration of innovation into your homesteading life a seamless and enriching experience.
It also make a great gift item for the crafter in your life.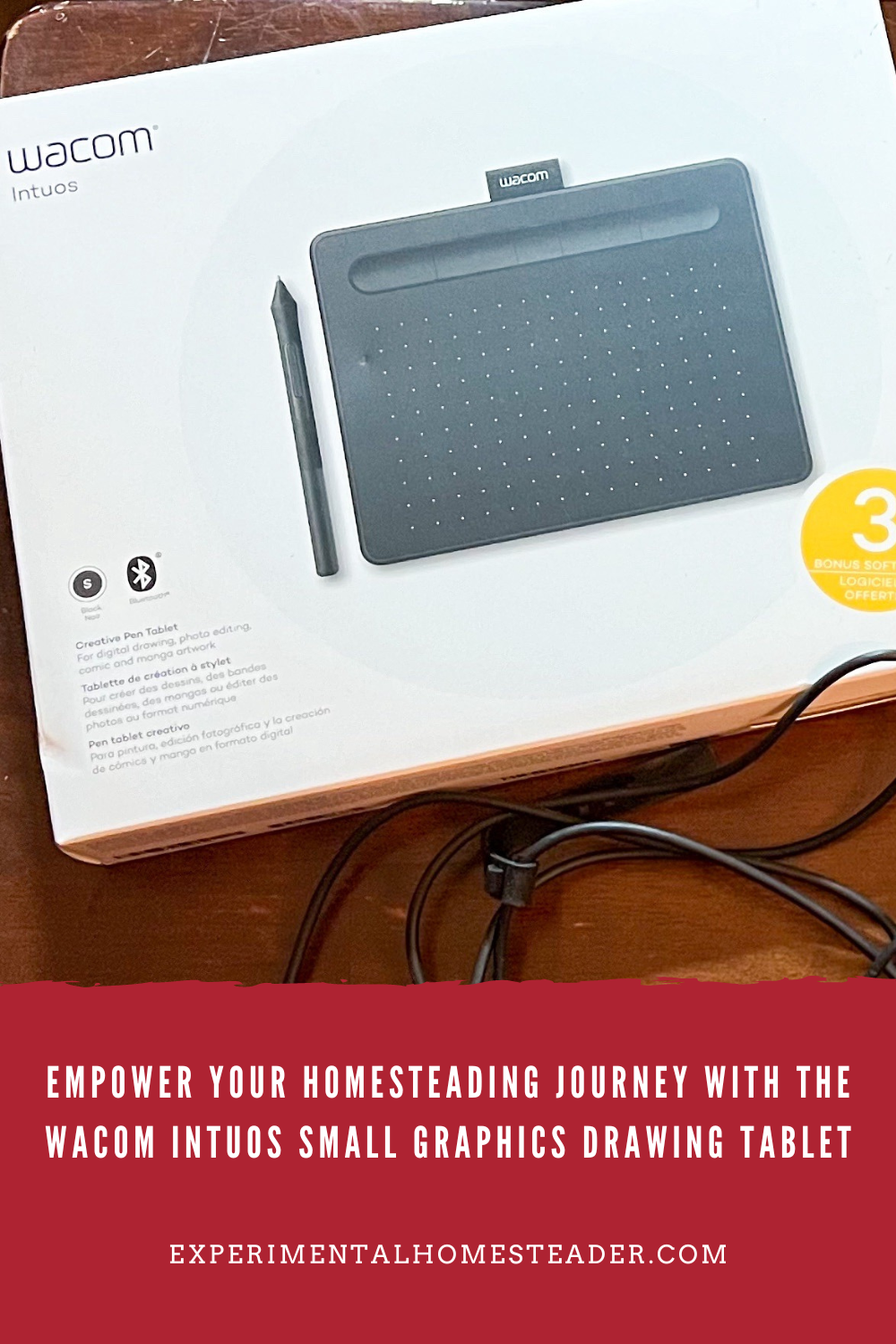 A Homesteader's Perspective on the Wacom Intuos Small Graphics Drawing Tablet
As a homesteader seeking a tablet that seamlessly integrates into my creative pursuits while preserving the charm of traditional craftsmanship, I was naturally drawn to the Wacom Intuos Small Graphics Drawing Tablet.
It has not only met but exceeded my expectations in every aspect.
Straight from the box, it's evident that Wacom has meticulously designed a tablet that combines functionality with aesthetic appeal.
The sleek and slender profile not only makes it easy to carry around on our homestead but also adds a touch of elegance to my workspace.
However, it's the tablet's performance that truly stands out.
The Bluetooth connectivity is a game-changer, decluttering my creative space and simplifying the setup process.
My system quickly recognized the tablet, eliminating any unnecessary hassles and allowing me to dive into my work seamlessly.
What truly sets this tablet apart is its responsiveness.
As someone deeply passionate about preserving traditional craftsmanship, I was eager to put the tablet's claim of a lag-free experience to the test.
To my delight, the Wacom Intuos delivered, making drawing, sketching, and illustrating feel as natural and fluid as if I were using traditional media.
The pressure sensitivity is remarkable, offering precise control and a broad spectrum of artistic expressions.
Surprisingly, the learning curve was minimal.
The included software and tutorials proved helpful in acquainting me with the tablet, but even without them, the intuitive interface ensured easy navigation and customization – perfect for both novices and seasoned professionals.
Battery life is another feather in this tablet's cap.
I can work for extended hours without fretting about frequent recharging, adding to the overall convenience and user-friendliness.
In summary, the Wacom Intuos Medium Bluetooth Graphics Drawing Tablet is an indispensable tool for anyone venturing into digital art or looking to enhance their existing skills.
Its seamless blend of flawless performance, ease of use, and appealing design makes it an invaluable investment for artists of all levels.
Whether you're a seasoned artisan or just embarking on your creative journey, the Wacom Intuos offers the ideal fusion of performance and simplicity.
It has not only elevated my artistic endeavors but also made them more efficient and enjoyable.
I wholeheartedly recommend it to fellow homesteaders and artists.
Frequently Asked Questions (FAQ) Section:
Q: What is the Wacom Intuos Small Graphics Drawing Tablet?
A: The Wacom Intuos tablet is a cutting-edge digital tool that allows you to create, draw, and annotate digitally. It comes with a digital pen and offers a seamless interface for crafting, art, education, and more.
Q: How can I use the tablet for crafting on my homestead?
A: The tablet is perfect for designing labels, logos, and packaging for your homemade products. Elevate your brand with digital craftsmanship that reflects the heart and soul of your homesteading journey.
Q: Can the tablet enhance homeschooling on the homestead?
A: Absolutely! The tablet opens up new horizons for interactive learning. Use it to annotate lessons, sketch diagrams, and engage your children with subjects in an immersive and creative way.
Q: What software does the tablet come with?
A: The tablet includes software for digital painting, photo editing, and note-taking. These tools cater to a wide range of creative and educational needs, making it a comprehensive package for homesteaders.
Q: Is the tablet compatible with various devices?
A: Yes, the tablet is designed to be flexible. It works seamlessly with Chromebook, Mac, Android, and Windows devices. You can use it wherever you are on your homestead journey.
Q: Can I trust the review provided here?
A: Yes, the review is based on a genuine experience with the product. However, please note that the author received the product for free in exchange for an honest review. All opinions expressed are their own.
Evergreen Gift Guide
Dislaimer: These items were sent to me for free or at a reduced price in exchange for my honest review. All opinions are my own.
Welcome to the evergreen gift guide where I post items that I love and recommend.
Not every item makes it to these gift guides, so if you do see an item on here you know it made the cut.