This slow cooker broth recipe made with garlic scape flowers is absolutely delicious – and the perfect broth for my homemade cast iron Dutch Oven garlicky chicken noodle soup recipe.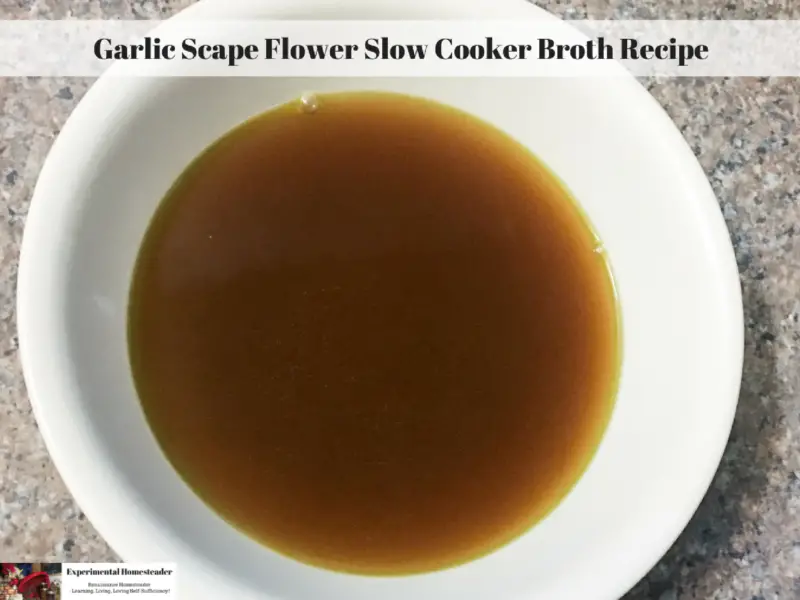 In the past I had not saved the garlic scape flowers, choosing instead to feed them to my poultry.
I was thrilled to learn they had a use as well as the garlic scape stems.
I decided to set the flowers aside as I cut them off the stems and put them in some chicken broth in my slow cooker just to see how it turned out.
The garlic scape flowers add a richness to the chicken broth that normally isn't there.
The garlic flavor was definitely there but it was not an overpowering taste. In fact I felt it was the perfect amount of mild garlic flavor to compliment the other herbs and spices I added to the broth.
Best of all, by adding all the seasonings to the broth, it is ready to simply use – regardless of how you use it.
This makes this broth a great one to take with you when you go camping, make recipes at someone else's home or even at church. There is no need to bring extra seasoning with you or realize you forgot the most important one once you get there!
Here is my recipe.
There are also links below to products I recommend from companies I have a referral relationship with. I will be compensated if you make a purchase after clicking on my links.
Print
Garlic Scape Flower Slow Cooker Broth Recipe
Instructions
Pour the garlic broth into the slow cooker and turn it on low.
Chop the garlic scape flowers into one inch long sections.
Put the butter into a pan and turn the heat on low.
Once the butter is melted, add the garlic scape flower pieces and sauté until the scapes are translucent.
Sauté for five more minutes.
Scrap the contents of the pan into the broth in the slow cooker.
Add the lemon juice.
Stir to combine and cook for 4 hours on low heat.
Once the broth is done, strain the broth through some cheesecloth to remove the garlic scapes.
Refrigerate, freeze or use the garlic scape flower broth right away.
Recipe Card powered by
I highly recommend the following articles:
Use the buttons on the right hand side of the page to share this article with friends or family who might find it useful. Pin the picture below to your pinboard on Pinterest for future reference.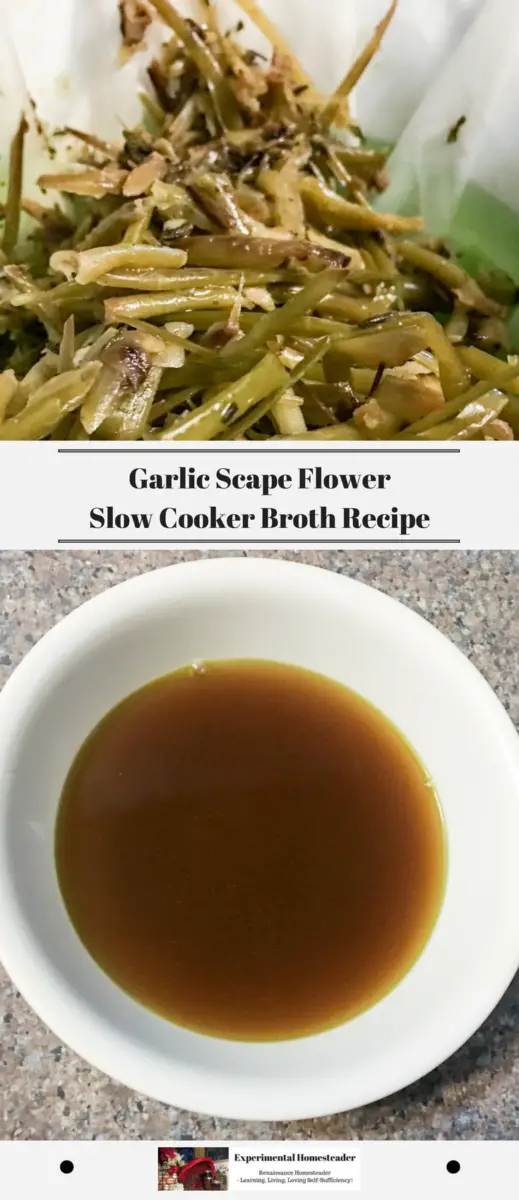 SaveSave
SaveSave