Coming up with this five spice cherry homemade recipe for ice cream was no easy task!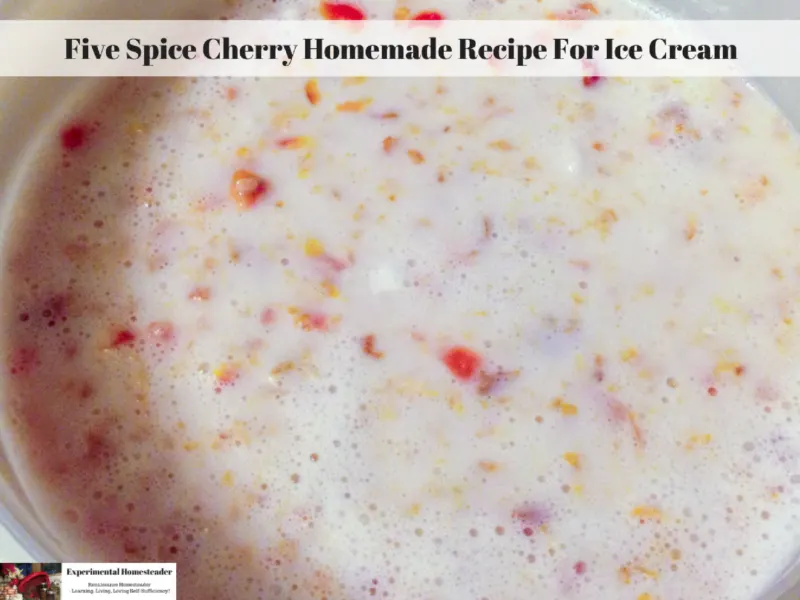 Sometimes You Need Some Inspiration!
The inspiration came from the Five Spice Cherry Canning Recipe I created.
Sometimes you simply do not have enough of a recipe left to fill a canning jar and thus you must find another use for the excess.
This is how is recipe for homemade ice cream came about.
Here is my recipe.
Print
Five Spice Cherry Homemade Recipe For Ice Cream
2 cups

cream (I use cream from my goat's, but heavy whipping cream – or cream from another milking animal works just as well)

2 cups

milk (I use goat milk from my own goats, but you can use whatever type of milk you prefer)

2 cups

five spice cherries

1 cup

cane sugar

1 teaspoon

vanilla extract
Instructions
Pour the milk and five spice cherries into a blender. Blend well. You want the blender to chop up the cherries but not liquify them. There should be small pieces of cherries still visible when you are done.
Put the sugar, vanilla extract and cream into the frozen ice cream maker (if you have an electric one, if not follow the directions on your specific brand). Add the milk and cherry mixture from the blender.
Follow the instructions on the ice cream maker you have. Mine – which is electric – takes 45 minutes to make ice cream.
I remove the finished ice cream from my ice cream maker when it is done, put it in a bowl and cover it before putting it in the freezer.
Recipe Card powered by
I highly recommend the following articles:
Use the buttons on the right hand side of the screen to share this article with friends or family who might find it useful. Pin the picture below to your pinboard on Pinterest for future reference.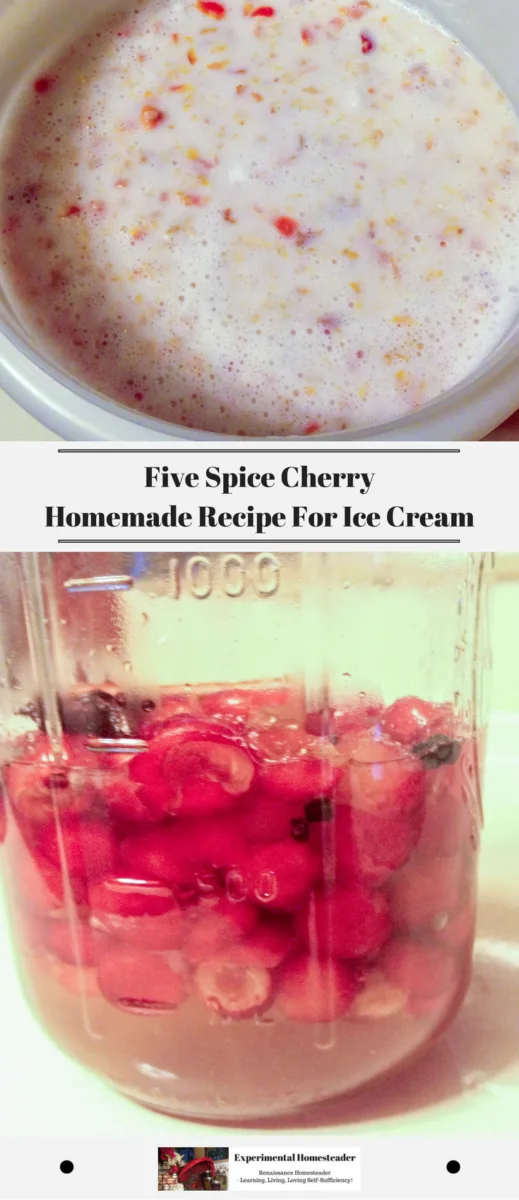 SaveSave