Disclaimer: I did receive a Paracord bracelet for free in exchange for my honest review. I also bought a kit to make two Paracord bracelets. All opinions are my own.
Paracord bracelets are popular even among non-preppers and this is why it is so important for everyone to understand paracord bracelet uses because those bracelets aren't just meant to look pretty.

A paracord bracelet is a survival tool that you wear on your wrist or arm.
It can be used in a variety of different ways in the event that you need to survive in an emergency situation.
The uses of paracord bracelets are not limited to just being fashion accessories – they can also serve practical purposes if you need them to.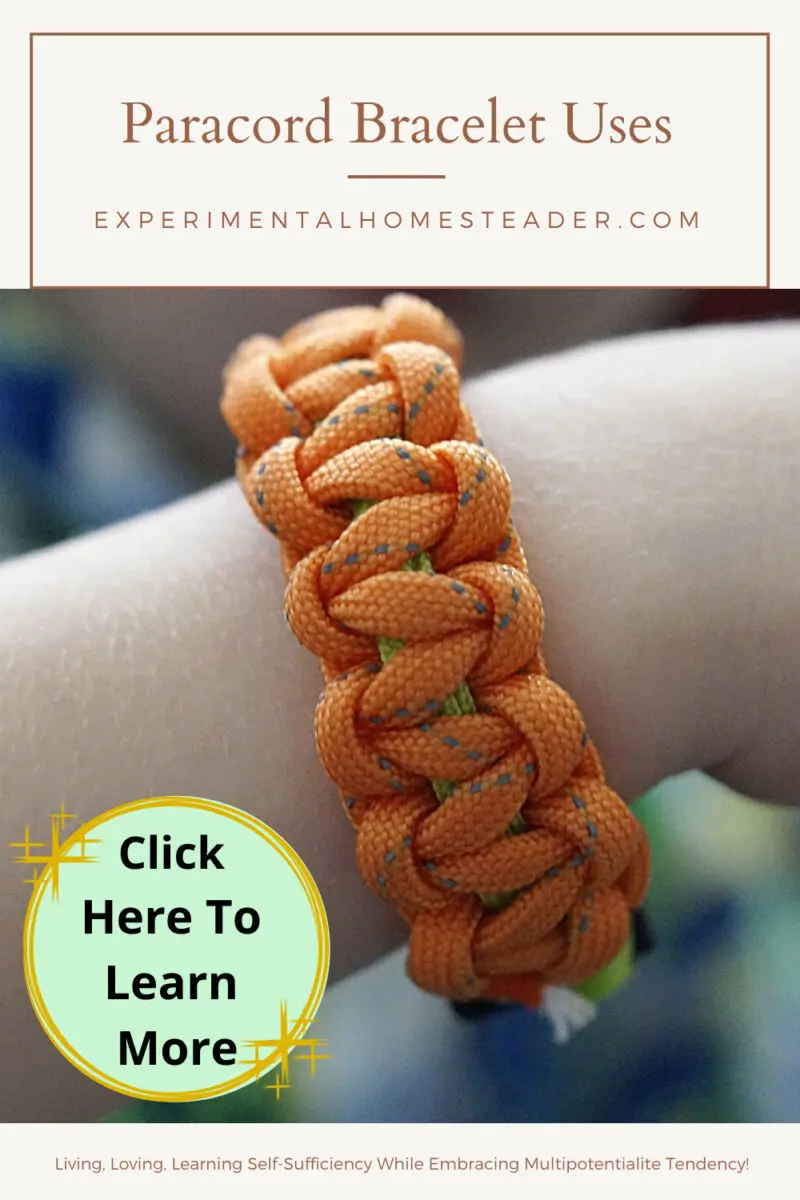 What Is Paracord?
Paracord is short for parachute cord.
Paracord is a miracle piece of equipment that any and every serious prepper or survivalist should have.
It is usually referred to as 550 paracord because despite its thin appearance, it can hold 550 lbs.
That is some serious strength.
It is possible to unravel the cord to reveal inner strands that are very strong.
Paracord was exclusively used by the military in the past but it is now available to civilians and you definitely need one, even if you aren't a survivalist or pepper.
In fact, every member in the family should have a roll of paracord in their bug out bag and a paracord bracelet that is always on their wrist.
A roll of paracord takes up very little space, is lightweight and so useful that you simply can't have enough of it.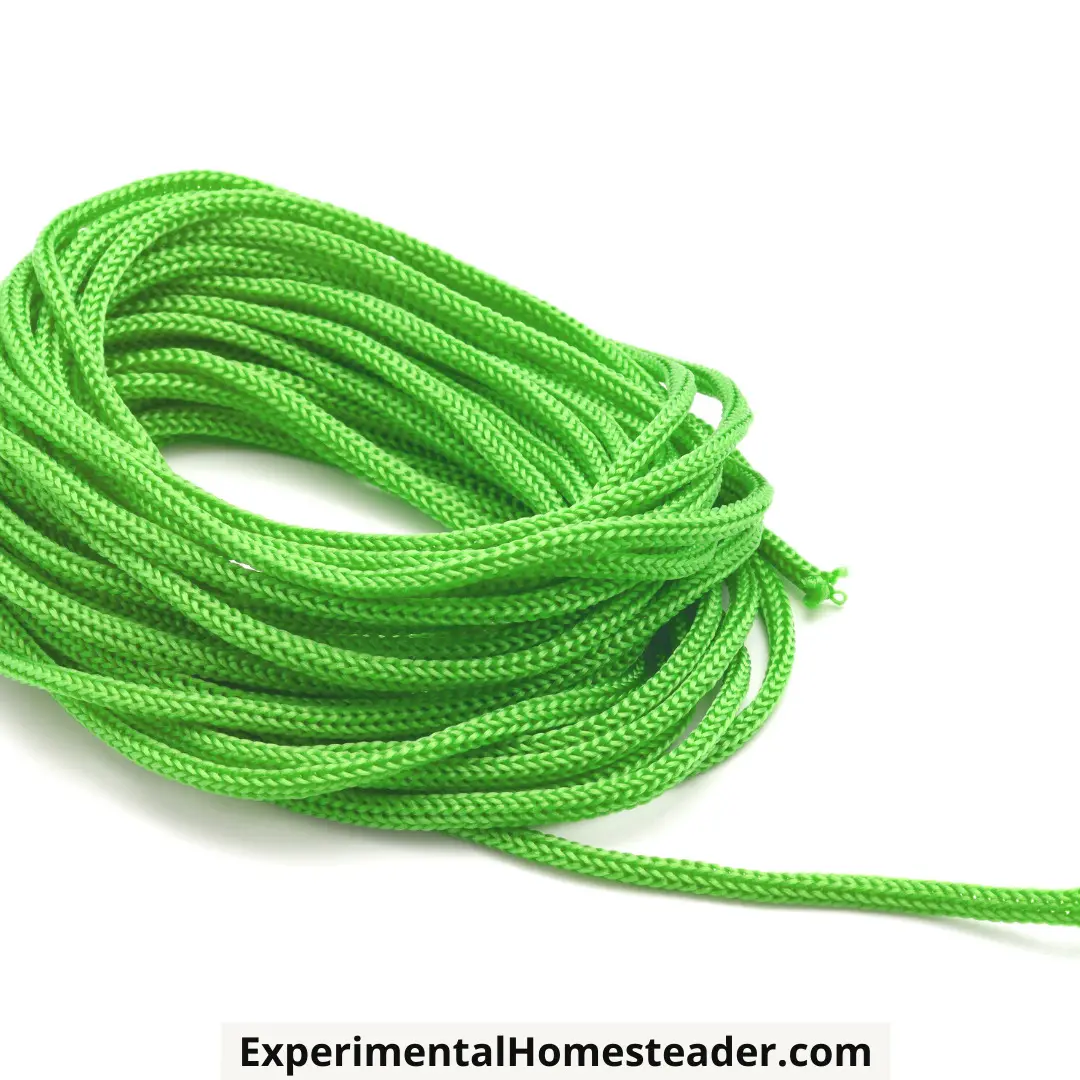 What Paracord Is Used For
Now let's look at a few of the many uses of paracord and how this cord comes in very handy in a crisis.
Even if you're not bugging out in the wild, you can use paracord at home.
It really is that versatile.
First Aid
If someone has a fracture, paracord can be used to tie around the limb to immobilize it. Use a rolled-up towel and a splint to provide support to the area and then tie the paracord around it all to form a kind of brace until you get medical help.
Use it as a rifle sling
If you're carrying a rifle for hunting and you don't have a sling, you can fashion one with paracord.
Tent rigging
If you're setting up a tent outdoors, paracord is excellent for rigging. Use it to tie the tarp to the spikes. The paracord is strong enough to hold it all together and will not snap if it is windy.
Tying down your water bottle
You can make a harness with paracord for your bottle and hang it on your belt while trekking. It is more convenient than holding the bottle for hours or having to keep putting it in your backpack and taking it out. In fact, you can even make a belt out of paracord.
Increase visibility
If you're using brightly colored paracord, you can tie them around some items in your bug out bag or backpack so that you know where they are at a glance. Use different colored paracords for different objects so they are color coded. This helps you easily keep track of your belongings.
Provides better grip
If you need a stronger grip on tools like shovels, axes, etc. all you need to do is wrap the paracord around the handle tightly and securely. Now you will be able to grip the object better and there will be less chance of it slipping during use.
Bra straps, shoelaces, zipper pulls
Paracord works great with your clothing and can help you if you have a wardrobe emergency. If a bra strap or shoelace snaps, paracord can be used as a makeshift strap or a shoelace. Want to make it easier to pull your zipper? Use paracord to make a loop around the zipper pull and pulling it will be a breeze.
Tourniquet
Ideally, you should have a first aid kit with you but if you don't, prepper cord can be used as a tourniquet to stanch the bleeding in an emergency. This will help prevent the casualty from bleeding out.
Hammocks, fishing line, dental floss
Use paracord to make hammocks for you to rest in. You can use the inner threads as dental floss. If you are by the lake or a place where you can fish, the inner threads of the paracord makes a good fishing line. You just need to find some bait.

Paracord Bracelet Facts
Paracord bracelets are made from a cord called nylon parachute cord, which is very durable.
There are 7 strands in the cord and can be utilized for a number of purposes, including shelter building, fishing lines or even as a clothesline.
The bracelet also comes with many different attachments such as hooks and beads that have been created for specific purposes.
You are only limited by your imagination when it comes to using them.
Use the paracord in a bracelet to pull, hang, tighten, tie down or lift items – but always use common sense when using it.
Keep a bundle in your evacuation bags, vehicles, the garage and of course, wear a paracord bracelet on your wrist because you never know when you might find yourself in an unexpected situation where paracord is useful.
Paracord Bracelets In Survival Situations
In a survival situation, the less stuff you have to lug around, the better.
You need to be as free as possible to move around, especially since you might need to run.
So you can't afford to be weighted down.
One way to streamline what it is you have with you is to have items that do the work of several tools that are designated for your comfort, safety and survival.
In fact, you may already be familiar with paracord and just not realize it.
If you've met someone dedicated to the outdoors or survival, the chances are high that they had something made from paracord on them.
Paracord is any survivalist's best friend because its uses are practically limitless and it is extremely tough.
As long as you know how to tie a few good knots, it can replace anything from worn out strings in clothing to dog leashes.
Paracord is also extremely inexpensive, so it is a great idea to add some to your bug out bag.
The main reason outdoorsmen love paracord is that ití is extremely tough in all conditions. 
Paracord is almost impossible to break by just pulling on it, so people use it to secure their items without worry.
For example, if you have a crab trap in a river and want to secure it to a tree right next to the water, you can tie the paracord around the tree and to the trap, and won't have to worry about currents or larger animals taking it away.
You can also use the paracord to make snares for catching rabbits, coyotes, and other animals.
Paracord can also survive all kinds of conditions.
It is impervious to UV damage, mold, water damage, and heat up to 470 degrees Fahrenheit.
You won't have to worry about it giving out because it rained, or because it hass been sitting out in the hot sun for days on end.
If you're going to be spending most of your time outdoors, the last thing you want is something that can't stand up to the weather, especially if you are in a survival situation.
If the shoelaces on your waterproof shoes gave out because of wear, you can replace them with paracord and keep your shoes fully functional.
Paracord comes in tons of different colors, designs, and lengths.  
You can even teach your kids how to tie knots and make bracelets with bright colors to make it more enjoyable.
The paracord bracelet I recommend is the AS2 Protection Paracord Bracelet.
Read on to find out why.
AS2 Protection Paracord Bracelet Review
It is important to note that because this is a very popular item, there are many cheap knock-offs being sold online.
If you get the wrong one, when you're in a survival situation, the paracord may easily break and be useless.
The A2S Protection Paracord is probably one of the best out there and it comes in a bracelet style.
The bracelet can be unwrapped to give you about 10 to 12 feet of extremely strong cord that can be used for many purposes.
A2S Protection has rigorously tested the paracord and states that it has a minimum breaking point of 550lbs/250kg.
This is a very strong cord.
The A2S Protection Paracord Survival Bracelet is truly a multi-tool!
You get so many tools in this combo that it is pretty impressive.
Plus, it eliminates the need for having the larger tools with you.
This paracord survival bracelet does the work of five survival tools.
It is in the shape of a bracelet that's made from paracord, the kind of nylon that's used in the making of parachutes.
There are several uses in the wilderness for paracord.
It can be used to tie material such as wood together so that you can create shelter.
You can use is to catch food such as by creating a snare to trap animals or as a line to catch fish.
This survival bracelet also comes with the ability to create a fire in any weather thanks to the fire starter tools in the bracelet.
You just use the end of the bracelet which contains a magnesium rod and strike it with the fire scraper.
It creates sparks that you can use to light the tinder which can be part of the bracelet's paracord if you don't have anything else.
The fire scraper also serves another purpose.
It doubles as a knife which is a handy tool when you're in an emergency setting and need one.
Located at the top of the band is also an emergency whistle.
When you need to be rescued or you need to find your loved ones, this part of the item can be invaluable.
Though it is small, the whistle can be heard from quite a distance away thanks to the 100 decibel capability it has.
For helping you stay on your path and to get from point A to B, the bracelet also has a built in compass.
This is extremely handy in case you get off course for one reason or another.
The compass will help get you back on track.
The bracelet is lightweight so it is easy to wear as well as functional, and having this survival item where you get so many different tools makes it easier on you than carrying around all the items separately.
You save room plus you have everything you need in one handy tool.
The bracelet comes in different sizes so you can get them for adult men or women as well as teens or children.
The sizes are adjustable.
At the end of the day, just like a Swiss army knife or a first aid kit, a paracord can only help you in an emergency, if you own one.
An item as versatile as this can be used as a fishing line, tourniquet, a belt, an emergency sling, to tie items down, as shoelaces, clothesline, tow line, pulley system and much more.
Most serious preppers will get several of these bracelets because of how versatile they are.
In fact, every member in your family should own one.
This paracord bracelet is highly affordable and lasts a very long time.
This is one of those purchases that you'll never regret as far as I am concerned.
The AS2 Protection Paracord Bracelet Compass
Another reason to choose the AS2 Protection Paracord Bracelet is the compass.
One of the go-to survival items that everyone thinks about is a compass, and sometimes they either want one that stands alone or are unaware that some paracord bracelets come with them.
However, not everyone knows how to use them, and even fewer people actually own one – and some rely on the compass on their cell phone, which is not a good idea.
Once you decide which style of compass to get, it is very important that you get familiar with using your compass by getting some practice using it to find your way to and from places before you actually need to use it.
Compasses are fairly simple to use, but it is easy to use them wrong if you are not familiar with them.
A compass can help you navigate to a water source or to civilization if you can use it properly with a map.
The Silva Ranger 515 compass is an extremely reliable compass that will provide the best accuracy possible in all conditions, however if you cannot find it, the Silva Expedition S Compass is a good alternative.
Unlike your phone or another digital compass, a standard compass has no electronics in it, so it is entirely waterproof and extremely durable.
The compass glows at night so you can use it 24/7, even when it is dark.
On either side of the compass there are little rulers in both metric and imperial units.
There is also a distance measurer for maps so you can tell how far you'll have to walk.
For hard to read maps or older compass users, there is a map magnifier that lets you read the tiniest details of your map.
A great multi-purpose compass is the A2S Paracord Bracelet.
It is a high quality, durable multi tool.
In addition to the accurate, durable compass, it has a fire starter, emergency whistle, and some tinder.
It is made of 550 paracord, which is extremely strong.
Unraveled, this bracelet is 12 feet of paracord, which can be used to create snares or clothing lines.
The whistle can be used to signal for help on the ground, and it makes noise up to 100 dB.
Wrapped up inside of the bracelet is some finer sized string, which can be used for fishing line and more importantly, tinder.
Using a compass is generally fairly simple.
The red end of the compass needle, which is the part in the middle of it that spins, points north.
Spin yourself around, compass in hand, until the red end of the compass needle is pointing directly at the N, denoting north, on your compass.
At this point, you will know you're facing north.
From there, you'll know that if you turn left, you'll be facing west, and if you turn right, you'll be facing east.
So if you explore straight east from your campsite, you'll know how to get back by realigning yourself and facing west.
Other Emergency Bracelet Uses
I love that this bracelet looks so stylish – and is super easy to clip and unclip.
I can wear it on my wrist, ankle, attach it to my pants loop or my purse – even the steering wheel of my car.
It is lightweight and easy to toss into a bug out bag if you prefer to keep some in there as extras.
Of course, using it for when SHTF is not the only use for this bracelet, here are some other suggestions.
It can be used as a medical bracelet.
In this case, a steel tag inscribed with the owner's name and medical condition is woven to the front of the material.
The bracelets can be custom made to support certain causes and to show loyalty to your school.
The school ones can be made with school colors and insignia.
Paracord bracelets can also be made to show military support including for fallen soldiers.
They can be customized to honor certain individuals and can also be customized with photos of your family.
Survival Straps have many uses in the event of an emergency.
If you have to use the cord, you simply press the quick release on the end, tug the woven piece and disassemble it within seconds.
People have used the bracelets to rescue people caught in water, to save drowning victims and even as a tourniquet.
They have been used as a sling by soldiers in dire situations.
The cord can be unraveled to secure provisions and keep them shut tightly against marauding animals.
Make Them Part Of Your Emergency Readiness Plan
Survivalists love paracord bracelets because of the multiple uses they offer.
Not only can they be used to save a life, but they can also be used to secure shelter.
For example, the cord can be unraveled to tie down a tent or cut and used to tie tree branches together in order to form protection against the elements.
They can be used to tie items to your vehicle if you need to bug out in a hurry or simply want to transport something that won't easily fit in your vehicle.
They can be used to secure a door or as fishing line if you need or want to go fishing and find yourself with a pole.
The line this survival bracelet is made with is strong enough to be used as a snare in hunting.
In the event that someone injures a bone, the cord can quickly be used to fasten a splint.
The cost of the bracelets are well worth it because if you do have to use it in an emergency, some manufacturers will replace the bracelet with a new one if you send a note and tell them what happened.
Even if you don't send the letter to request a replacement bracelet, the life that the survival strap saves might just be yours or someone you love – and that is definitely something money cannot buy.
Thankfully I did not have an emergency use for my bracelet while I was testing it, but what I can tell you is it held up very nicely.
It is possible to unbraid it and re-braid it should you wish to.
This makes it even more versatile.
I did wear mine in water just to see if it would come apart – which it did not.
I was concerned about the connection pieces being plastic, but even wearing it day to day here on the farm, the pieces did not break.
I am very happy with this item so far.
<div
data-shortcode="mv_create"
data-attributes='{DQUOTEkeyDQUOTE:DQUOTE40DQUOTE,DQUOTElayoutDQUOTE:DQUOTEcirclesDQUOTE,DQUOTEthumbnailDQUOTE:DQUOTEhttps://experimentalhomesteader.com/wp-content/uploads/2019/02/evacuationbag-e1526428610744.pngDQUOTE,DQUOTEtitleDQUOTE:DQUOTE