Disclaimer: I received a bottle of Nature's Own Essence Peppermint Oil for free or at a reduced price in exchange for my honest review. All opinions are my own.
It is important to understand a little bit about migraine headaches before and after deciding on an essential oil migraine remedy.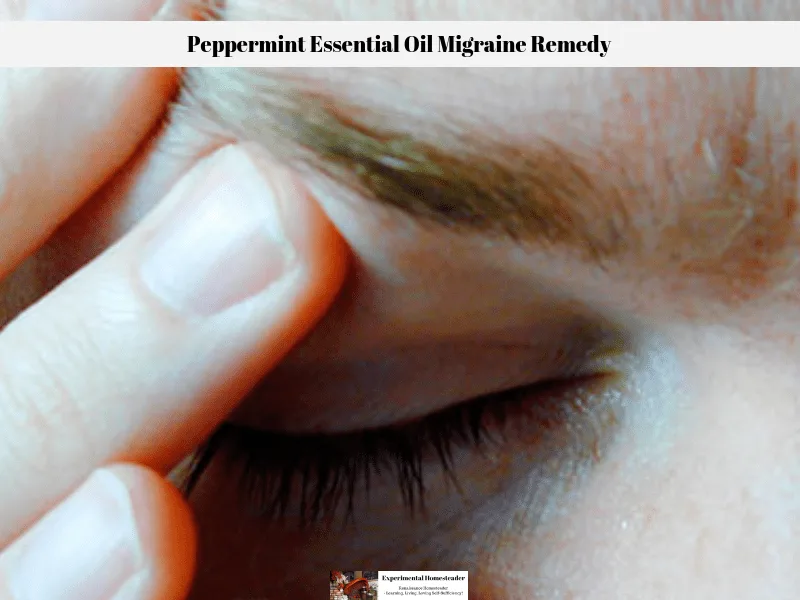 Keep A Diary Documenting Your Essential Oil Migraine Remedy
One way to do this is to keep a diary that details what was going on around you when a migraine headache came on.
Be sure to include people you are around, where you are, what you were doing, any foods or drinks you were consuming as well as smells.
The more information you include the easier it is going to be to see if there is a link between episodes.
It is also important to include how much essential oil you used, what it was mixed with and what the results were.
This way you know if the essential oil migraine remedy is working.
Facts About Migraine Headaches
Nearly 18 percent of American women will suffer at least one migraine headache every year.
These painful headaches are often accompanied by vomiting and nausea or visual symptoms such as flashing lights or dark circles in the field of vision.
Migraine headaches are caused by expansion of the blood vessels in the head.
Reducing stress is one way to prevent this serious headache.
Stress can actually cause the expansion of blood vessels in the head which results in pain.
Conventional Treatment For Migraine Headaches
Migraine headaches are usually treated with a number of over-the-counter chemical-based pain killers, with some causing minor side effects.
This is because these medications are so easily accessible.
However, these products don't permanently cure headaches and are not without side effects.
Over time, any medication can lose its effectiveness if taken too often.
This is one reason why many people prefer to use a home remedy or an essential oil instead of conventional medication.
Another method of dealing with these migraine headaches is peppermint oil.
Aromatherapy Is A Popular Alternative Medicine For Migraine Relief
One of the most popular, and successful, natural headache remedies is the use of aromatherapy, although sometimes is it paired with massage or other home remedies such as the one talked about in the video above.
Aromatherapy is the art of using essential oils such as Nature's Own Essence Premium Peppermint Oil.
The art of aromatherapy has been practiced for thousands of years.
The reason aromatherapy works so well is because the liquids – known as essential oils – are distilled from natural living plant materials.
These natural essential oils encourage better health when used over a period of time as well as a feeling of well-being.
Aromatics can be used while performing a soothing massage or by simply inhaling them but remember to always dilute pure essential oils in a carrier oil such as jojoba, olive or grapeseed oil.
In fact, aromatherapy is now a popular and accepted form of alternative treatment for headaches.
Popular Essential Oils For Relief From Headaches
Essential oils such as Chamomile, Rosemary, Peppermint and Lavender are used to treat the actual symptoms of headaches.
There are combinations of these oils that also work very well, but the essential oil blend that you choose must have the exact right amount of each oil to be effective.
Essential oils are an inexpensive and natural method of dealing with headache pain.
They can be purchased at a local health food or supplement store as well as online.
How To Use Essential Oils For Headache Relief
There are a few methods by which the use of essential oils can help cure headache.
One way is to put two drops of peppermint oil that has been diltued on each temple and rest.
You can dilute it by adding it to an oil such as Sweet Almond Oil or making it into a salve.
Many people find that after about twenty minutes, their headache is gone.
Another method using peppermint oil is to take a wash cloth and make it into a compress.
Dip it in hot or cold water that contains at least five drops of peppermint oil.
Then place the compress on either the neck or forehead while resting.
There are other methods of using aromatherapy for migraine headaches.
They can be used in diffuser which will release the scent into the entire room.
Typically a diffuser is used for about fifteen to twenty minutes at a time.
The other alternative way to use the aromatherapy is by inhaling it.
However, this is not recommended for someone with a respiratory condition like asthma.
For those who do wish to use this method, simply fill a bowl with hot water, add a few drops of peppermint oil, cover your head with a towel that lays on the outside of the bowel and inhale deeply for five minutes.
Be careful not to get your head too close to the hot water however as the steam could burn your skin.
Migraine Headaches And Nausea
Migraine headaches can cause nausea.
The essential oil from ginger is useful in fighting the nausea of migraine headaches.
Or you could drink a cup of peppermint tea.
Use Your Preferred Essential Oil Migraine Remedy In Moderation
If a migraine sufferer is going to try these natural methods, they have to research carefully on how much they should use.
Even something natural like aromatic oil must be used in moderation.
Sometimes Using An Essential Oils Migraine Remedy Doesn't Work
Different natural headache remedies work for different people, so one needs to experiment to find out which ones suits them best.
If a person has recurring headaches or their migraine attacks are very painful, it is best to consult with a doctor.

How To Choose A Quality Essential Oil
When it comes to choosing an essential oil there are several things to look for – first how was the essential oil extracted?
Nature's Own Essence Peppermint Oil is steam distilled from the leaves of Mentha Piperita commonly known as peppermint.
Second is the oil concentrated or diluted.
I prefer to purchase concentrated oils and dilute them myself if I do not grow the plants and distill them myself.
The only issue with distilling the essential oils myself is seperating the hydrosol from the essential oil.
Look at the ingredients as well.
With a concentrated oil you should one see one ingredient listed.
Ask if you are at a health food store if there are samples open of the essential oils that you can smell.
Remember the higher quality the peppermint oil you buy is the better it will work.
Also be sure to buy oils in dark colored glass containers.
Essential Oil Migraine Remedy Recommendation
I recommend Nature's Own Essence Peppermint Oil for headache relief because it is steam distilled from the leaves of Mentha Piperita commonly known as peppermint.
It comes in a dark amber glass bottle which helps keep the oils inside from breaking down as easily in sunlight.
The oil is 100% pure and concentrated.
The peppermint smell is strong and this product works great for headache and migraine relief in my experience with it.
It is therapeutic grade and bottled in the USA.