Disclaimer: This is a sponsored post. There are links below to products I recommend from companies I have a referral relationship with. I will be compensated if you make a purchase after clicking on my links.
Come on a journey to learn the story of Moana and get these printable fun worksheets for free when you sign up for our newsletter!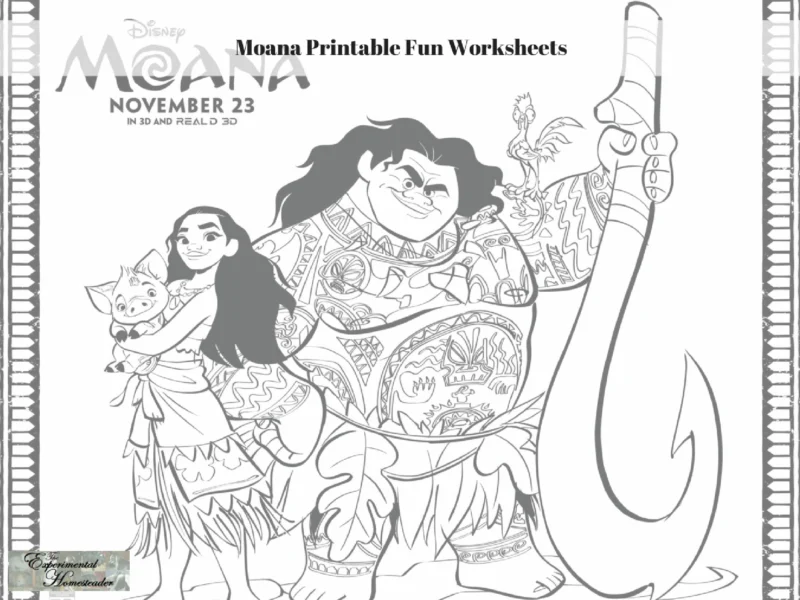 Just scroll to the bottom of the post for the signup box!
"You may hear a voice inside.
And if that voice starts to whisper to follow the farthest star
Moana, that voice inside is who you are."
~ Gramma Tala, "Moana"
From Walt Disney Animation Studios comes "Moana," a sweeping, CG-animated feature film about an adventurous teenager who sails out on a daring mission to save her people.
"Moana is the 16-year-old daughter of the chief of Motunui," says director Ron Clements. "She's athletic, nimble, compassionate and incredibly smart. She has a never-say-die attitude and a profound connection to the ocean."
"So it's troubling to her, to say the least, that her people don't go beyond the reef surrounding their island," adds director John Musker. "They stay within the confines of that reef, and Moana doesn't really understand why."
The story is inspired in part by the oral histories of the people and cultures of Oceania.
Three thousand years ago, Polynesian voyagers, the greatest navigators in the world, voyaged across the vast Pacific, discovering thousands of islands.
But then, according to scholars, for approximately a millennium, their voyages stopped – and no one knows exactly why.
"Navigation is such a big part of Pacific culture," says Musker.
"The ancient Polynesians found their way across the seas without the use of modern instruments, using their knowledge of nature, the stars, the waves and the currents."
Adds Clements, "We heard many times that the ocean doesn't separate the islands, it connects them. Voyaging is a real source of pride for Pacific Islanders, a part of their identity. They were, and continue to be, some of the greatest explorers of all time. What they did was quite sophisticated, borderline miraculous."
There are many theories, but no one is certain, about what may have led to this 1,000- year gap in exploration; this sparked the filmmakers' imaginations. Says Musker, "In our story, our heroine, Moana, is at the heart of the rebirth of wayfinding."
During her journey, Moana meets the mighty demigod Maui, a larger-than-life character who was inspired by multitudes of varied tales and legends about him throughout the Oceania region.
Says Musker, "We were fascinated by the stories we read, the tales told to us by experts in the region. Maui was larger-than-life, a trickster and a shapeshifter. He could pull up whole islands from the sea with his fishhook; he had the power to slow down the sun. He is an incredible figure."
Maui, who's on his own journey of self-discovery, reluctantly guides Moana in her quest to become a master wayfinder and save her people.
Together, they sail across the open ocean on an action-packed voyage, encountering enormous monsters and impossible odds, and along the way, Moana discovers the one thing she's always sought: her own identity.
"It's a story that takes place many, many years ago, but with a contemporary feel," says producer Osnat Shurer. "Our hope as filmmakers has been to create a universal story that is also an homage to the beautiful people of the Pacific Islands who inspired us along this journey."
Filmmakers cast newcomer Auli'i Cravalho as the voice of Moana, and Dwayne Johnson (HBO's "Ballers," "Central Intelligence") lends his voice to demigod Maui.
The voice cast also includes Jemaine Clement ("The BFG," "Despicable Me," "Rio," "Rio 2," "What We Do in the Shadows," Flight of the Conchords) as Tamatoa, a self-absorbed, 50-foot crab ; Rachel House ("Whale Rider," "Hunt for Wilderpeople") as Moana's trusted Gramma Tala; Temuera Morrison ("Star Wars: Episode II – Attack of the Clones," "Once Were Warriors," "Six Days, Seven Nights") as Moana's no-nonsense father, Chief Tui; Alan Tudyk ("Zootopia," "Wreck-It Ralph," "Big Hero 6") as the voice of dumb rooster Heihei; and Nicole Scherzinger ("Men in Black 3," lead singer of The Pussycat Dolls) voices Moana's playful and strong-willed mother, Sina.
Helmed by Clements and Musker, the directing team behind "The Little Mermaid," "Aladdin" "The Princess & the Frog," and produced by Shurer ("Lifted," "One Man Band"), "Moana" features music from a diverse and dynamic team that includes Tony®-winner Lin-Manuel Miranda (Broadway's Pulitzer Prize-winning and multiple Tony-winning "Hamilton," Tony-winning "In the Heights"), Grammy®-winning composer Mark Mancina ("Speed," "Tarzan" "The Lion King") and Opetaia Foaʻi (founder and lead singer of the world music award-winning band Te Vaka).
Moana is Walt Disney Animation Studios' 56th animated feature.
[thrive_leads id='437814′]
I highly recommend the following articles:
Use the buttons on the right hand side of the screen to share this article with friends or family who might find it useful. Pin the picture below to your pinboard on Pinterest for future reference.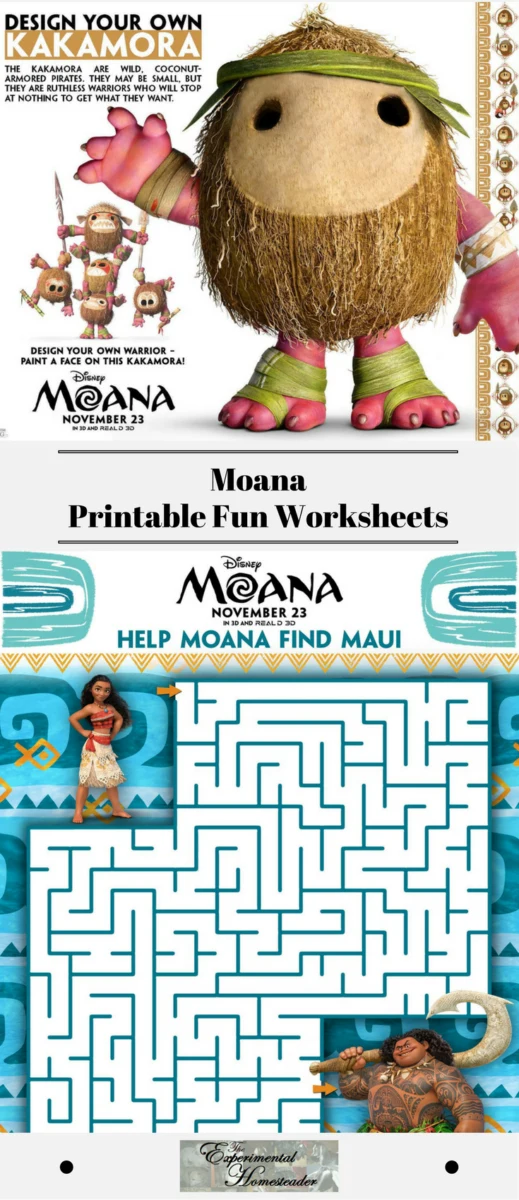 SaveSave
SaveSave