The enchanting warmth of childhood memories and the cocooning comfort of homesteading unfold in my mind, setting the scene for crafting the perfect Instant Pot hot cocoa.
Picture a day filled with the exhilaration of building snowmen and igloos, the sun gradually surrendering to the horizon, and the irresistible aroma of hot chocolate and buttered toast guiding me indoors.

In the magical realm of homesteading, the art of making Instant Pot hot cocoa becomes akin to a warm embrace from my trusty appliance.
Imagine this: nestled by the fireplace, surrounded by the gentle hum of content goats and clucking chickens after a day of dedicated care.
Sipping on a homemade concoction, rich and soul-soothing, turns into a cherished ritual in my homesteader's journey.
Here, where comfort seamlessly intertwines with resourcefulness, the process of creating Instant Pot hot cocoa takes center stage.
It's not just a beverage; it's my expression of warmth and flavor, a delightful alchemy that transforms a simple evening into a haven of contentment.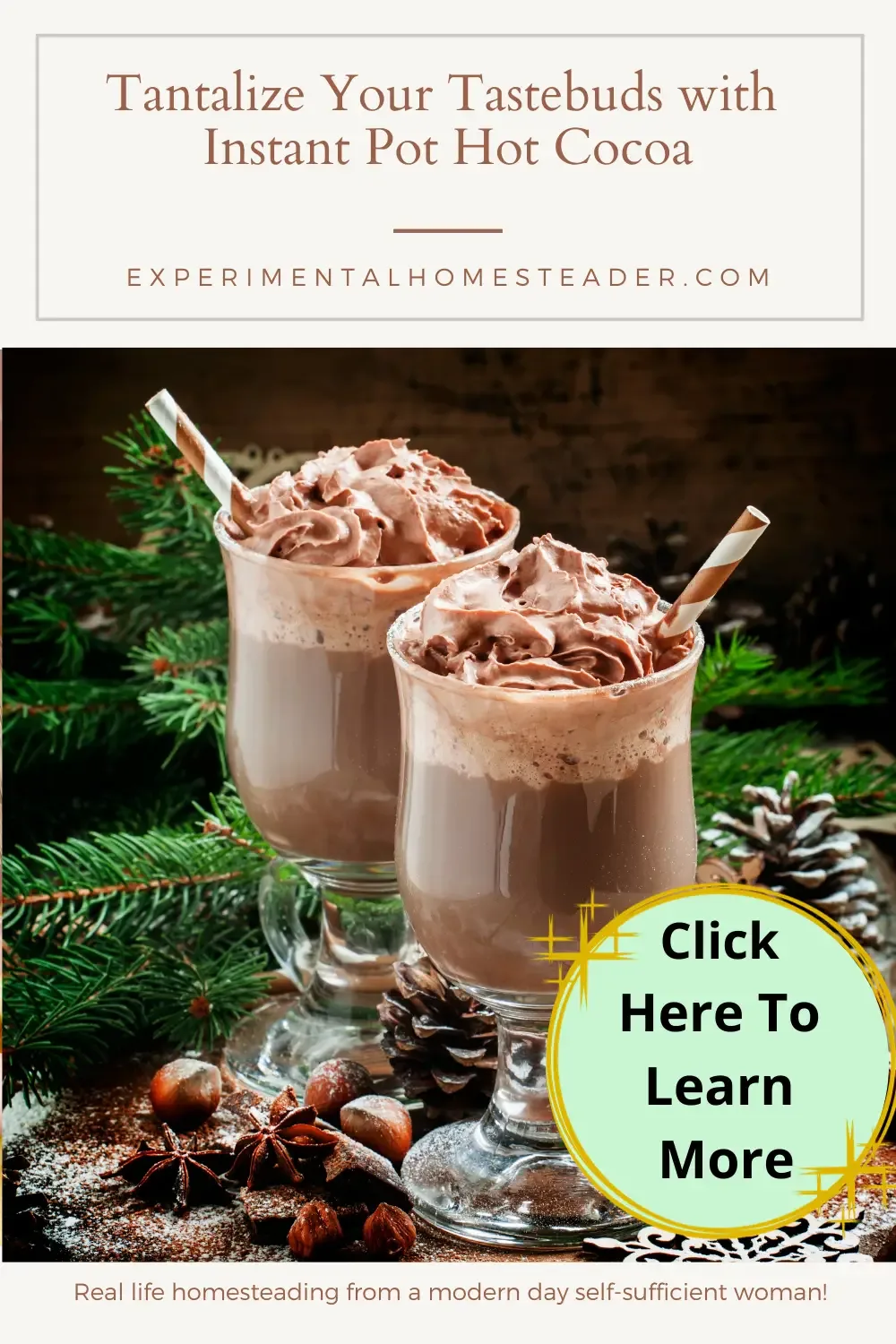 Gathering the Ingredients: Instant Pot Hot Cocoa
Is there anything cozier than a steaming mug of rich, indulgent hot cocoa?
Doubtful.
But imagine this – what if you could effortlessly whip up a delicious batch in your trusty Instant Pot?
Yes, you heard right.
The multi-functional Instant Pot, a shining star in the culinary arsenal of homesteaders, not only saves valuable time in the kitchen but also elevates the game of home-cooked delights.
Let's embark on a flavorful journey, tailored for our homesteader community, as we explore the essential ingredients needed to concoct a luscious, homemade Instant Pot hot cocoa.
In the heart of our homestead, where every moment is infused with warmth and resourcefulness, this is more than a recipe; it's a homesteader's invitation to savor the richness of a comforting mug, created with love and the efficiency of our beloved Instant Pot.
The Elements of Indulgence: The Ingredients
Whole Milk: This creamy goodness is the true foundation of a perfect hot cocoa, a staple for homesteaders whether sourced from cows or the beloved goats. Four cups should suffice for an adequately rich base, but feel free to tweak the amount according to one's hankering for creaminess.
Cocoa Powder: A generous heaping of cocoa will lend an intense, chocolaty essence to your brew. Three to four tablespoons of this heavenly ingredient will inject that signature chocolaty flavor into your drink.
Granulated Sugar: To perfectly balance the bitterness of the cocoa, throw in half a cup of granulated sugar. Its humble sweetness nimbly intertwines with the intense cocoa, creating a delightful dance of flavors on your taste buds.
Salt: A little sprinkle of salt, say, about a quarter teaspoon, works miracles in enhancing the overall flavor of your hot cocoa.
Vanilla Extract: What's a good cup of cocoa without that hint of vanilla wafting through? Two teaspoons of vanilla extract will provide that lovely, subtle undernote to a robust drink. For that special touch, make your own homemade vanilla extract. It's easier than you think.
Semi-Sweet Chocolate: Here's the real deal. Half a cup of roughly chopped, semi-sweet chocolate or chocolate chips brings on a decadent richness that makes this drink truly extraordinary.
Heavy Whipping Cream: A finishing touch of one cup of heavy whipping cream transforms your cozy cup of hot cocoa into a sumptuous, velvety delight.
The joy of crafting Instant Pot hot cocoa lies in the homesteader's freedom to experiment and tailor the recipe to personal taste.
Craving a spicy twist?
Add a dash of chili!
Enamored by the comforting hum of cinnamon?
Sprinkle it in!
Longing for an extra dose of chocolatey bliss?
Toss in more semi-sweet chocolate!
The possibilities, as abundant as the homesteader's fields, promise a delightful journey of flavors.
Gather your homesteading ingredients and gift your loved ones a heartwarming cup that transcends mere drink status.
It's a symphony of tastes, a connection forged, a story woven, with each intentional sip—a homesteader's tale of warmth and flavor, echoing through the rustic charm of your home.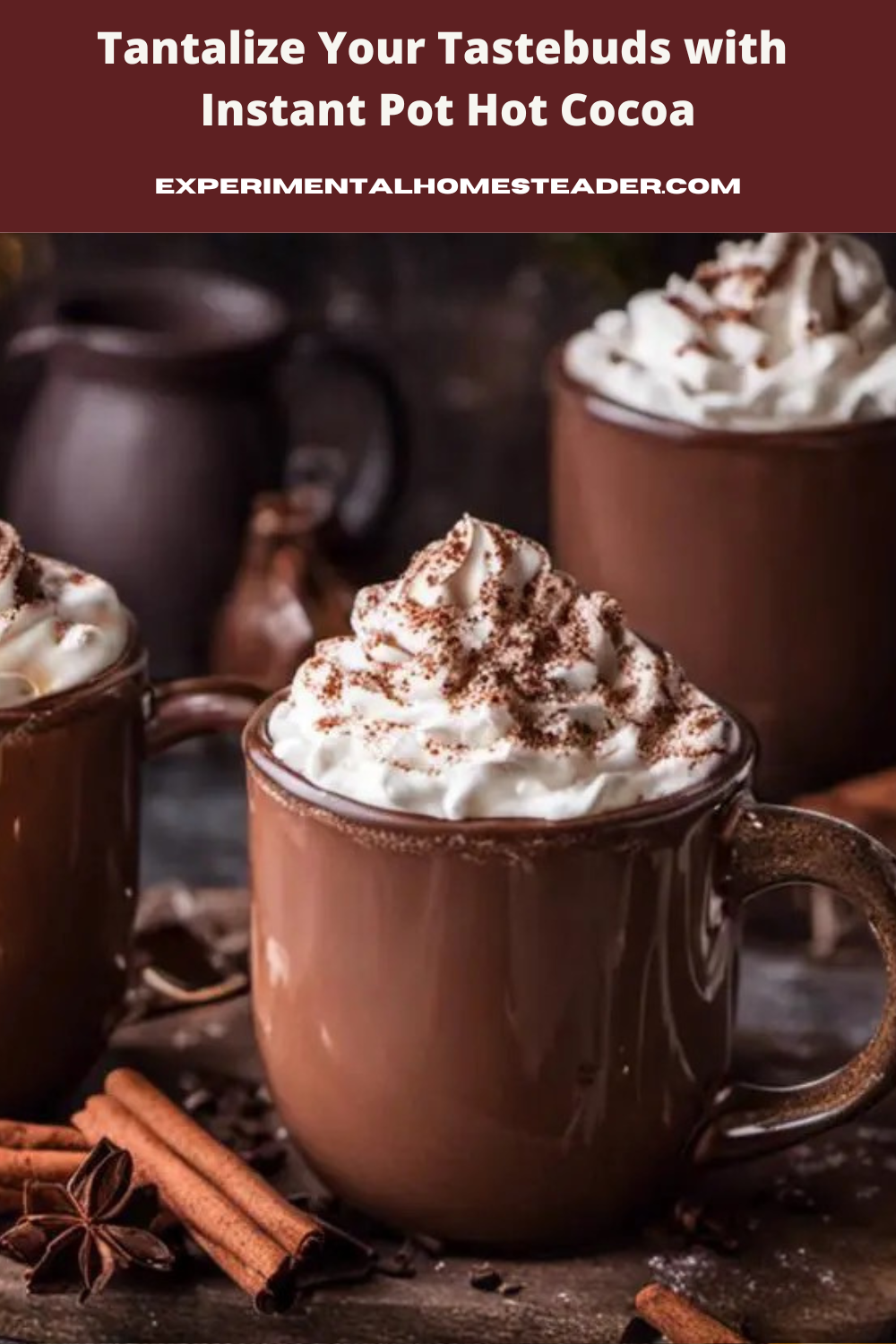 Unlocking the Secrets of the Instant Pot
Enter the enchanting world of the Instant Pot—a homesteader's ally in simplifying the art of cooking without sacrificing flavor.
Beloved by both kitchen enthusiasts and seasoned chefs, this remarkable appliance alleviates the stress and mess of traditional stove-top methods, making it a culinary companion for creating delightful beverages, like our cherished hot cocoa.
Don't let the term 'instant' mislead you.
It's not about rapid cooking; it's about streamlining the process, infusing ease into home cooking with just a push of a button.
Modern homesteaders appreciate its convenience without compromising on taste.
Imagine wrapping yourself in a cozy blanket, cradling a mug of homemade hot cocoa brewed in your Instant Pot.
Its sealed environment delicately warms your concoction, allowing the cocoa and chocolate to meld seamlessly with milk, sugar, and cream.
The result?
A flawlessly blended, velvety hot cocoa, brimming with rich, chocolate goodness.
How does the Instant Pot achieve this chocolaty alchemy?
Think pressure—a cooking process where sealed containers generate steam, creating intense pressure that cooks food faster and enhances flavors.
It's in this pressurized haven that your cocoa ingredients mingle, creating a full-bodied and luxurious beverage.
Don't forget those delightful hints of flavor from vanilla extract, pinches of salt, or the exotic spices like chili or cinnamon.
Thanks to the Instant Pot, these ingredients release their aromas and tastes in a pressurized party, enhancing the integrated flavors.
And for those who crave an extra dash of indulgence?
With the Instant Pot, adding more semi-sweet chocolate for a richer cocoa is a breeze, ensuring a smooth melding into your drink.
Its uniform heat distribution and precise control eliminate worries of scorching or lumps.
In essence, the Instant Pot simplifies hot cocoa creation—an effortless celebration of savoring rich, creamy, and steaming hot cocoa made right in your own homestead kitchen.
No stirring, no constant watchful eyes—just the pure joy of flavor exploration and anticipation.
So, when the craving for artisan hot cocoa strikes, turn to your trusty Instant Pot.
It's more than a timesaver; it's a gateway to delectable homemade beverages, offering a world of culinary possibilities.
Let it enhance your love affair with food, making every hot cocoa experience in your homestead even more enchanting.
Elevating Homesteader Hot Cocoa with the Instant Pot
Trust me, once you've savored this Instant Pot masterpiece, those store-bought packets of hot cocoa mix will never hold the same appeal.
The genius behind this delightful beverage, as mentioned above, lies in the Instant Pot and its pressure cooking method.
Under high pressure, flavors meld together, infusing deeply to create a hot cocoa that's not just rich but profoundly satisfying—it's like drinking a melted chocolate bar, but better.
Let's delve into the process of crafting this indulgent, comforting brew, where the radiant warmth of the Instant Pot envelops our homesteading ingredients, reigniting joy in the mundane task of making a hot beverage.
Ingredients and Espresso Elevation
To begin, gather the homesteader essentials, along with a secret weapon: ¼ teaspoon of espresso powder.
This intensifies the chocolate flavor without overpowering, though it's optional for those less keen on coffee undertones.
Instant Pot Symphony
Turn on your Instant Pot, select 'Saute,' and whisk cocoa powder, sugar, and a cup of milk directly in the pot once it's hot.
This ensures a smooth, clump-free cocoa base.
Add the remaining milk, espresso powder (if using), and a pinch of salt.
The salt not only balances but enhances chocolate richness.
Seal the Instant Pot, set to 'Manual,' and cook for just 5 minutes at low pressure.
Homestead Flavor Fantasies
Dream about future variations—cinnamon, chili powder, the homesteader's dream has no limits, bounded only by culinary imagination.
Unveiling the Homesteader's Elixir
After 5 minutes, release the pressure swiftly.
Unlock comfort by stirring in vanilla extract, semi-sweet chocolate, and heavy cream.
The result?
A lusciously thick and creamy homesteader hot cocoa.
Homestead Bliss in a Mug
Ladle the cocoa into mugs, envisioning the perfect scene: curled up on the couch, fresh mug in hand, a cozy throw, and your favorite Netflix show.
Irresistible.
Whimsical Homesteader Toppings
Top with whipped cream for an extra layer of homesteader indulgence.
Sprinkle cocoa powder or chocolate shavings for that Instagram-worthy touch.
Beyond a Recipe: A Homesteader's Ritual
Making hot cocoa in the Instant Pot transcends a recipe; it's a homesteader's practice of slowing down, imagining, experimenting, and finding joy in simple, beautiful things.
Share this warmth because hot cocoa, in this case, is an invocation of joy, a proclamation of love, and a celebration of homesteading togetherness.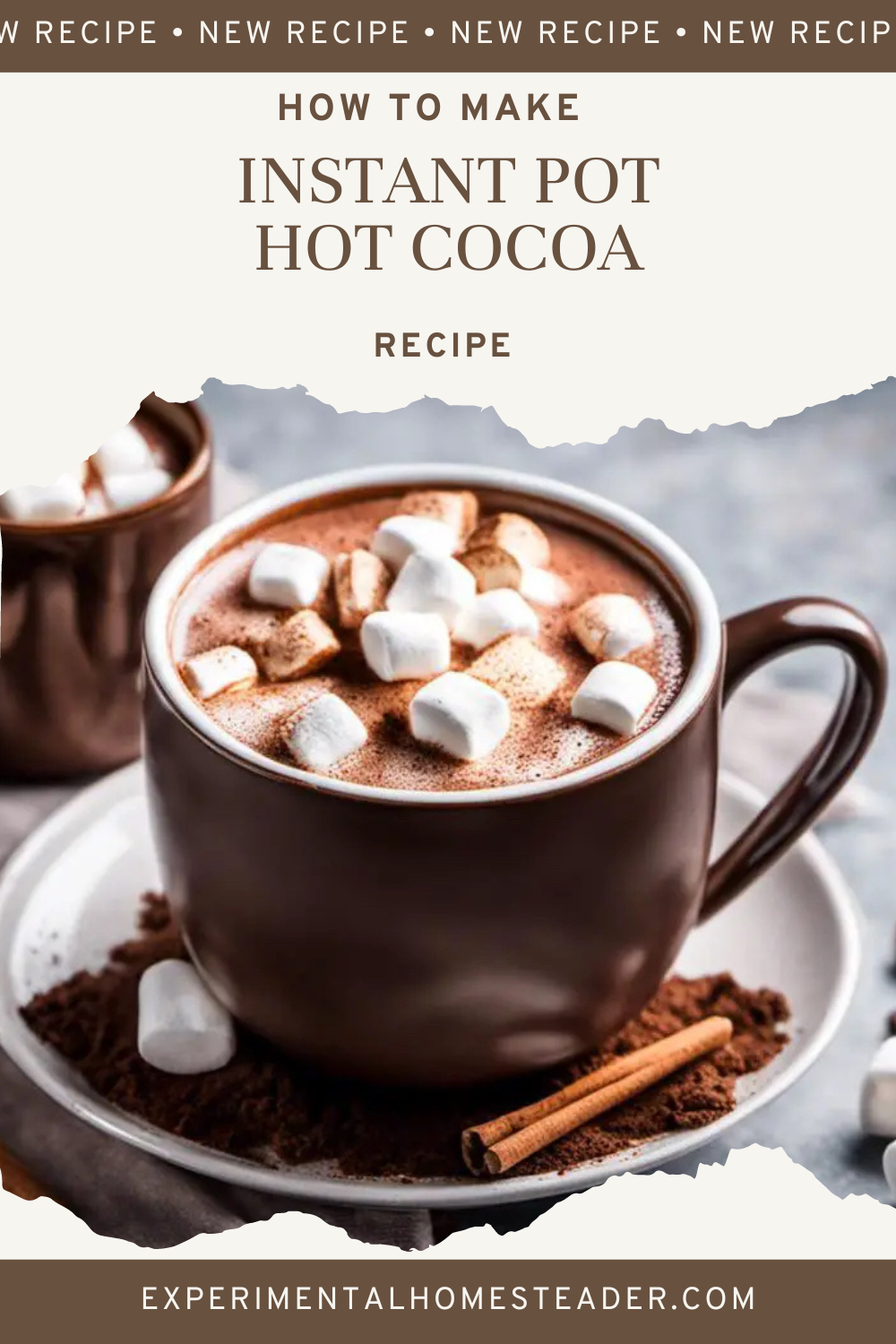 A Twist with Katherine Anne Confections Mexican Drinking Chocolate
In the realm of homesteading delights, my personal favorite Instant Pot hot cocoa recipe takes a flavorful turn with Katherine Anne Confections Mexican Drinking Chocolate.
Crafted with a spice blend of cinnamon, cayenne, habanero, and guajillo chiles, this chocolate elevates the homesteader's experience to new heights.
Authentic Craftsmanship
What sets this Mexican Drinking Chocolate apart is its commitment to authenticity.
Ground chocolate, not cocoa powder, forms the heart of this delightful blend.
For the true homesteader experience, it can be melted with a mixture of milk and cream, embodying the richness of tradition.
However, it's flexible—adapt it to your homestead pantry with milk, almond milk, or even water.
Spice-infused Homesteader Symphony
The unique spice blend, featuring cinnamon, cayenne, habanero, and guajillo chiles, adds a symphony of flavors to your homesteader hot cocoa.
It's a celebration of the homesteader's palate, where every sip unfolds a rich tapestry of warmth and spice.
Let Katherine Anne Confections Mexican Drinking Chocolate be the secret ingredient that turns your homesteader hot cocoa into a cherished ritual.
Here is how I use my Instant Pot and Katherine Anne Confections Mexican Drinking Chocolate to create the ideal cup of hot cocoa on my homestead.
Print
Instant Pot Hot Cocoa
Indulge in the rich, homesteader's delight with this Instant Pot hot cocoa featuring the exquisite flavor of Katherine Anne Confections Mexican Drinking Chocolate. Crafted with a unique spice blend, this homesteading beverage offers a comforting warmth, perfect for cozy evenings by the fireplace. Unlock the magic of Instant Pot cooking as you effortlessly blend the chocolate with water, milk, and cream. This homemade hot cocoa, a fusion of tradition and innovation, promises to be a delightful centerpiece for your homesteader's table. Savor the richness, share the joy, and make each cup a celebration of the homesteader's spirit.
Author: Sheri Ann Richerson
Prep Time:

5 mintes

Cook Time:

15 minutes

Total Time:

0 hours

Yield:

8 cups

1

x
1/2

cup

plus

5

tablespoons

Katherine Anne Confections Mexican Drinking Chocolate

4

cups

water

2

cups

goat milk (can be substituted with any milk or cream)

2

cups

heavy whipping cream (can be substituted with any milk or cream)
Handful of miniature marshmallows
Instructions
Combine Katherine Anne Confections Mexican Drinking Chocolate, water, milk, and cream in the Instant Pot.
Secure the lid and select the Pressure/Cook setting on the Instant Pot to cook on high for 5 minutes.
After the cooking cycle, allow the pressure to release naturally for 10 minutes.
Then, manually release any remaining pressure before carefully removing the lid.
Equipment
Notes
Tips: This recipe yields 8 cups of hot cocoa. If you prefer to enjoy it later, transfer any leftover hot cocoa into a mason jar or another suitable container, ensuring it's tightly sealed with a lid. Reheat on the stovetop or simply warm it in a cup using the microwave for 1 to 2 minutes when you're ready to indulge again.
Keywords: Instant Pot hot cocoa, Katherine Anne Confections Mexican Drinking Chocolate, Homesteader hot cocoa, Homesteading beverage, Instant Pot recipe, Mexican Drinking Chocolate, Homemade hot cocoa, Homesteader delight, Instant Pot cooking
Recipe Card powered by
Instant Pot Mastery: Beyond Hot Cocoa
Once you've embraced this process, grasp the true versatility of your Instant Pot.
This hot cocoa recipe is just the beginning of your homesteading kitchen adventures.
The experience expands your culinary skill set, making everyday cooking with the Instant Pot a delightful expedition.
Cheers to a creamy, smooth, divine cup of Instant Pot hot cocoa, with countless more delicacies awaiting exploration in the homesteader's world of Instant Pot cooking.
Instant Pot Beverages
Embark on a journey of delightful sips with our curated collection of Instant Pot beverages. From rich and velvety hot cocoas to aromatic waters, teas and invigorating infusions, each recipe is a testament to the versatility of Instant Pot magic. Elevate your beverage experience with a fusion of flavors, crafted to perfection in the convenience of your kitchen. Whether you crave comforting classics or daring new concoctions, this lineup of Instant Pot beverages promises a symphony of tastes, inviting you to explore the world of refreshing, homemade drinks with ease and flair.
Looking for a delicous flavored water recipe that is easy to make at home? Check out this blueberry, vanilla and cinnamon flavored water instant pot recipe!