Gourmet eating on a dime is possible especially when you know how to cook from scratch and get the most out of the herbs and spice already in your cabinets.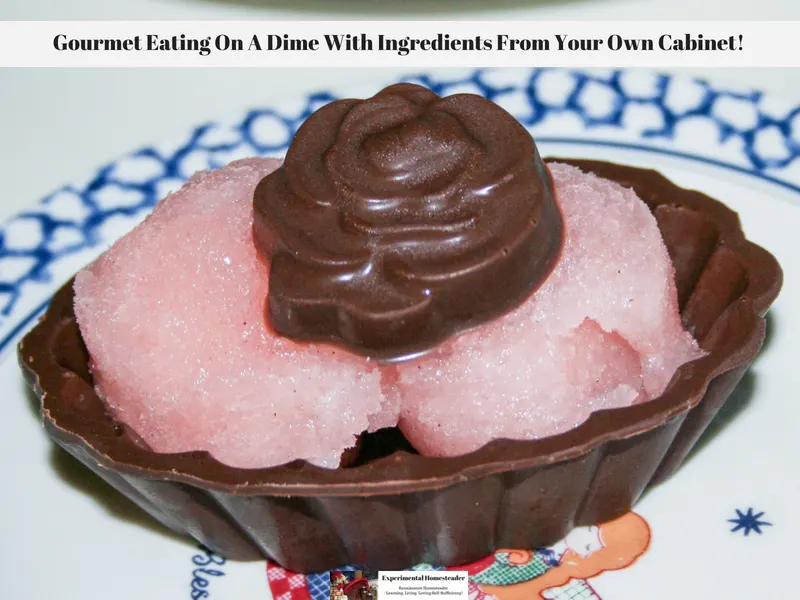 It's Time To Bust The Myth!
Many people think gourmet cooking requires lot of expensive special ingredients.
This is a myth that simply must be busted!
Gourmet cooking, in my opinion, is all about the presentation of the meal.
Add in one or two richly exotic spices, such as nutmeg, cinnamon or cardamom, which you may already have in your cabinets, and you have a meal fit for a king on a homesteader's budget!
Grow Your Own Herbs And Spices
Chances are if you grow your own herbs, you already know how to make a variety of spice mixes.
You also know using your own herbs gives you a much better flavor than anything you can buy.
Tip #1 – Keep Your Spices Whole
Here's a tip – when drying your herbs, keep them whole.
Do not grind them until you are ready to use them.
If there are spices you must buy, such as cloves, cinnamon, cardamom, buy them whole too!
Most small spices can be ground in a cheap electric coffee grinder, or better yet, a mortar and pestle.
For larger seeds such as nutmeg, it is best to invest in a special grinder just for that spice.
Once you smell the difference between pre-ground and freshly ground spices, you simply will not go back to re-ground spices.
The fragrance of fresh ground herbs and spices permeate the air while adding an unmistakable burst of flavor to the foods you add them to.
An Example Of Gourmet Eating On A Budget
Now let me give you an example of gourmet cooking on a budget.
The picture at the top was made right here in our kitchen using ingredients I had on hand.
It is a Pear Cardamom Sorbet in a delectable dark chocolate dessert dish.
Use Molds For Edible Dishes And Decorations
I had the mold for the dessert dish.
These clear plastic molds can be found at cooking shops, craft sections of discount merchants and sometimes even at thrift stores or garage sales!
Make sure the molds are straight and clean with no holes in them if you choose to purchase used molds.
Watch For Sales
I found a bag of dark chocolate molding candy at a local discount grocer for $1.
I prefer dark chocolate because the taste is smooth, rich and quite chocolaty unlike milk chocolate.
I bought it, brought it home and melted it in my double boiler.
If you do not have one, a small sauce pan sit inside a larger sauce pan filled with water will work.
How To Melt Chocolate And Fill Molds
Bring the water to a boil while constantly stirring the chocolate.
Once the chocolate has melted, carefully spoon it into the mold.
Dessert molds have two parts, a top and bottom.
Fill the bottom mold about 1/3 of the way up, then sit the top mold in place.
This will help you determine if you have added enough chocolate.
If so, snap the top mold on and sit in the refrigerator.
If not, remove it and add more.
If you make your chocolate before starting dinner, by the time you are ready for dessert, the chocolate will be molded.
How To Unmold Chocolate
It should stay in the mold in the refrigerator until the mold begins to look frosty.
As this time, put the mold into the freezer for two minutes.
When the two minutes are up, remove the top of the mold and the chocolate dessert cup will slip right out.
Pear Cardamon Sorbet
The pear cardamom sorbet takes a little longer to make.
If you do not have an ice cream maker, you can still make this, however using an electric ice cream maker helps the process speed up just a bit.
Print
Pear Cardamon Sorbet
Author: Sheri Ann Richerson
Prep Time:

24 hours

Cook Time:

10 minutes

Total Time:

24 hours 10 minutes

Category:

Desserts

Method:

Stovetop
4

ripe pears – fresh picked are best

1/2 cup

sugar

1/2 cup

water

1/4 teaspoon

fresh ground cardamom

1 teaspoon

freshly squeezed lemon juice

2 tablespoons

brandy

2 ounces

Maraschino cherry juice
Instructions
Bring sugar and water to a boil in a small saucepan.
Once the mixture begins to boil, reduce the heat and simmer for about five minutes or until the mixture begins to reduce and thicken.
Remove the pan from the heat source and chill for thirty minutes.
Peel and core the  ripe pears.
Put them in a blender with the lemon juice, fresh ground cardamom, brandy and maraschino cherry juice.
Whip until you have a mixture that is smooth.
Add the cooled water and sugar mixture.
Whip again until well mixed.
If you have an ice cream maker, pour the mixture into it and follow the manufacturer's directions. If not, simply put into a bowl with a lid and freeze.
Serve by dipping out scoops and putting them in the chocolate dessert cups. The maraschino cherry juice will make the sorbet  a luscious pink  color that will blend perfectly with the smooth dark chocolate dessert shell.
Top with a piece of molded chocolate candy, whipped cream or your favorite topping.
Keywords: pear sorbet, desserts, frozen treats, sorbet recipe
Recipe Card powered by
Final Thoughts
You can substitute the ingredients.
For example, try mint or cinnamon instead of cardamom.
Gourmet cooking really is simple.
Once you learn how to use what is in your cabinets, plus how to add a few extra special touches to make your meals stand out, you will be cooking up gourmet feats that you simply will not be able to buy in any restaurant!
I highly recommend the following articles:
Use the buttons on the right hand side of the screen to share this article with friends or family who might find it useful. Pin the picture below to your pinboard on Pinterest for future reference.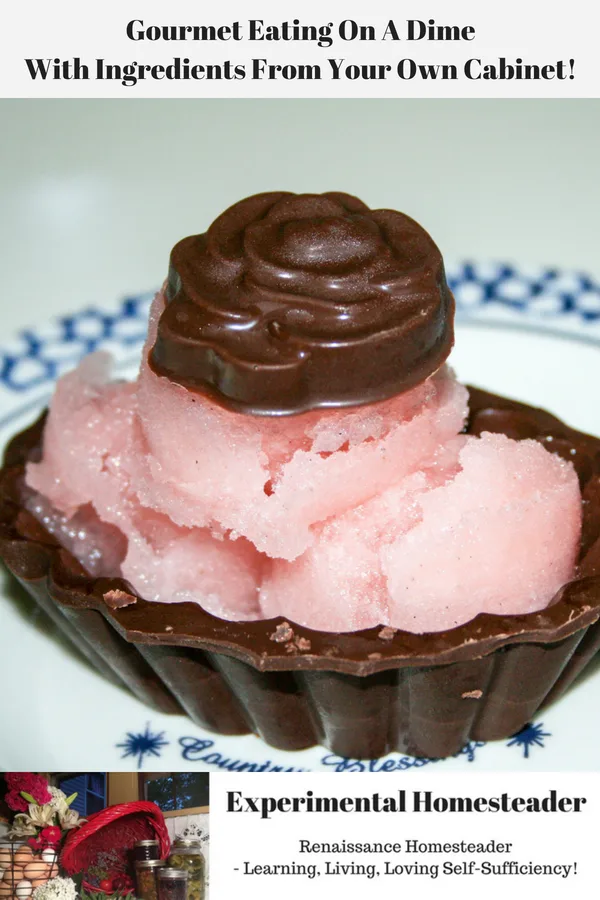 SaveSave