My granddaughter Trinity is really into Monster High and this year she wanted a Monster High birthday party complete with a Clawdeen Cake.

Clawdeen Cake Idea
I spent some time looking around both online and in local stores for a Clawdeen cake pan but was unable to find one.
Wilton did however sell a Classic Wonder Mold Cake Pan which was meant to make Barbie or other doll cakes using a doll pick for the top of the body and shoulders.
I looked at the pan and figured I could improvise by making the hole in the center a little larger and inserting a Clawdeen doll.
I bought the cake pan and decided to give a go.
Preparing To Bake The Cake
Here is how I made a Clawdeen Cake – and if you follow these simple instructions you too can make a Clawdeen cake for your Monster High fan!
The instructions that come with the pan say to fill it with 1 or 2 boxes of cake mix.
Frankly that is quite vague especially if you have no idea what you are doing.
I did some more reading online in various forums and found out it was best to use 2 boxes of cake mix for this pan.
It creates a denser, more cake-like dress and we were all happy with the outcome.
Now my cake did rise a little bit over the top of the pan, but it all worked out.
Here is another tip for you – use spray butter instead of oil on the inside of the pan – and don't forget to put a little on the lip of the pan as well.
I did not flour the pan at all.
Preparing The Cake Batter
Mix your cake mixes according to the package directions.
I chose a dark chocolate cake mix for our cake but you can choose any flavor.
Once the cake mix is prepared and the batter is smooth, go ahead and pour it into your prepared cake pan.
Baking The Clawdeen Cake
I set my cake pan on a baking sheet inside the oven just in case some of the batter ran over the top of the pan.
I baked my cake at 350 degrees Fahrenheit for 30 minutes but the cake was not done.
I put it back in – five minutes at a time – until a bamboo skewer inserted into the cake came out clean.
I think the total baking time was around 50 minutes – but please start out like I did and add time as needed just in case your oven bakes differently than mine.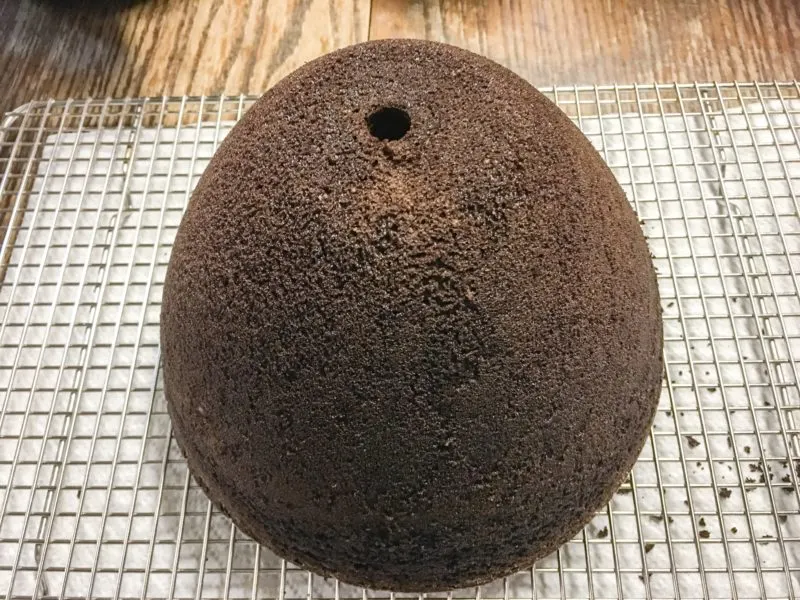 Cooling The Cake
Once the cake was done, I removed it from the oven, set it on a cooling rack and let it cool for about 10 minutes before placing a second cooling rack on top of the cake and turning it over to unmold.
It came out of the mold easily. I then let it sit on the cooling rack overnight to cool completely.
Before I went to bed I did wrap some plastic wrap around the cake to keep it from drying out.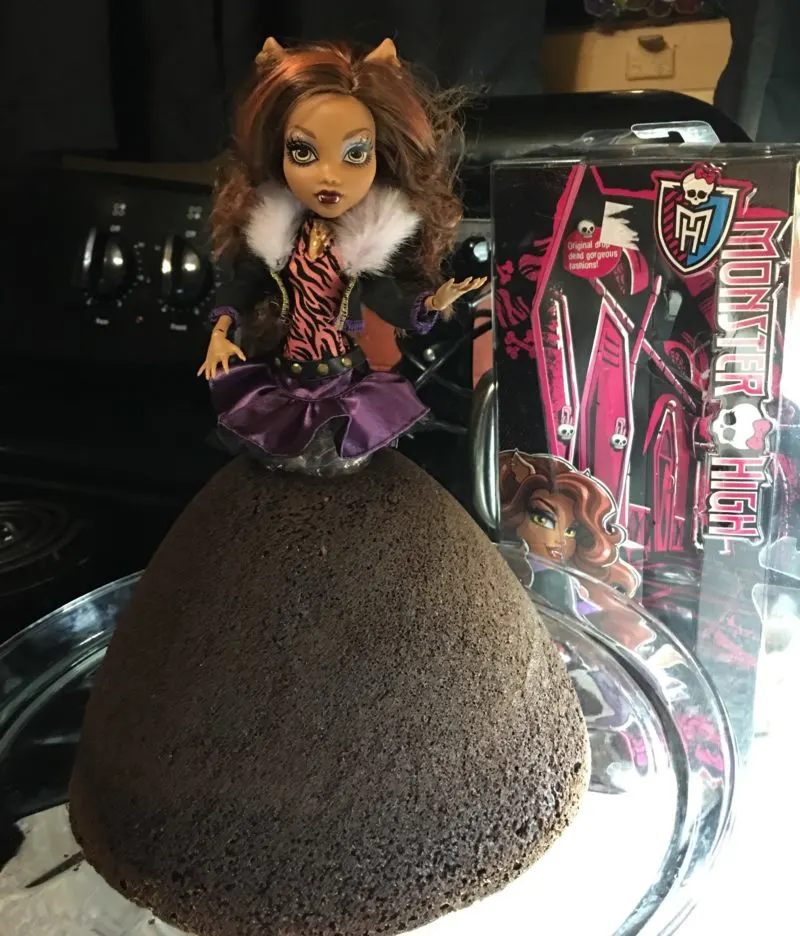 Inserting The Clawdeen Doll
The next day I removed the plastic wrap and removed the Clawdeen doll I had from her package.
I took her boots off and wrapped her legs and lower body in several layers of plastic wrap.
I then gently pressed the Clawdeen doll I had into the center of the cake.
I did not have to do any cutting on the cake to get her inserted but I did have to go very slowly so the cake did not split.
I also left a small section of her body a little higher than the top of the cake so when I decorated the cake the icing did not get all over her dress.
I knew once the icing dried I could press her further down into the cake.
Decorating The Cake
Now all that was left to do was to put icing on the dress and decorate it.
I used white icing and some Wilton deep purple food coloring to get the exact color of purple I wanted.
My granddaughter showed up early and asked to put some gold flakes, purple glitter and white pearl dots on the dress, so I let her.
After all, it was her cake.
Some of the glitter fell on the cake plate but she wanted that left – and it does sort of look like confetti!
She said Clawdeen doesn't wear long dresses – and I replied Clawdeen is going to the prom!
She seemed quite happy with that response – and the cake.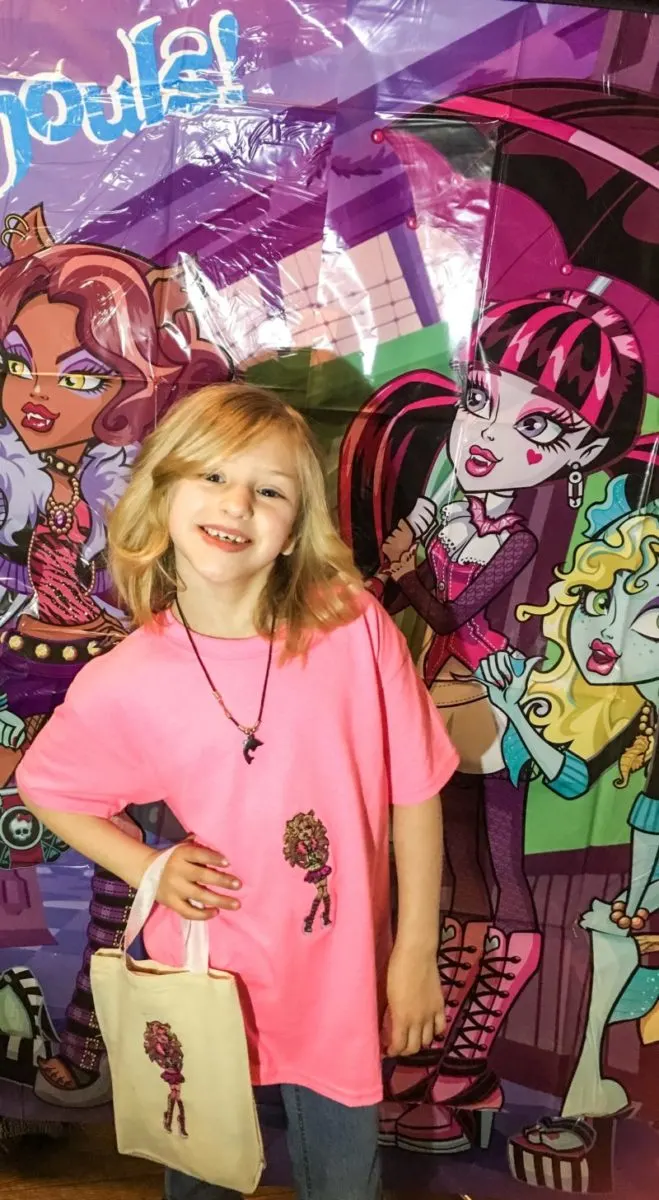 Final Thoughts
Overall I think this Clawdeen cake turned out great – and it was really easy to make.
I really encourage you to give this a try if you have a Monster High fan – and remember the cake pan is reusable so as they grow you can use to make all their favorite female characters – even Barbie!
I highly recommend the following articles:
Use the buttons on the right hand side of the screen to share this article with friends or family who might find it useful. Pin the picture below to your pinboard on Pinterest for future reference.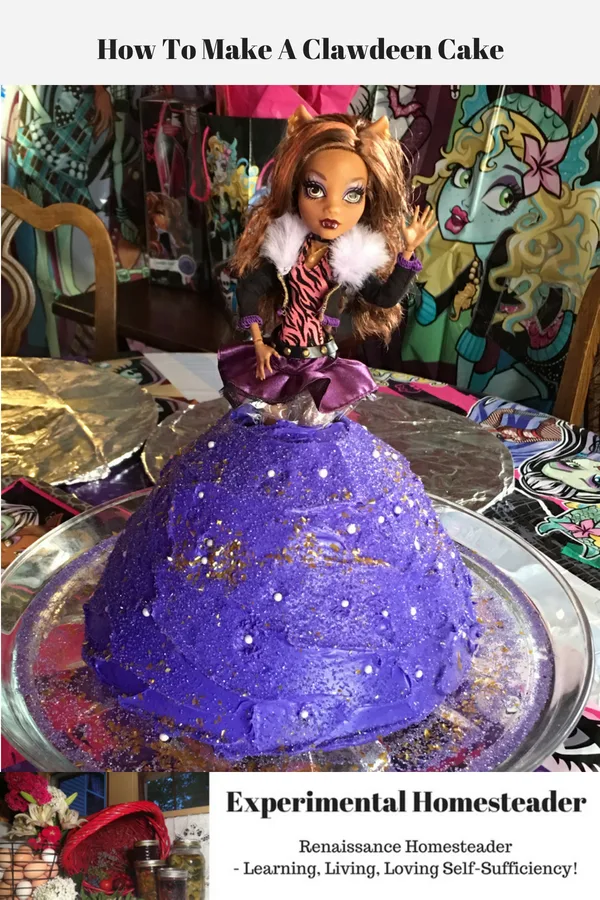 SaveSave
SaveSave