Making Christmas Wreaths for front door decoration is so simple, anyone can do it!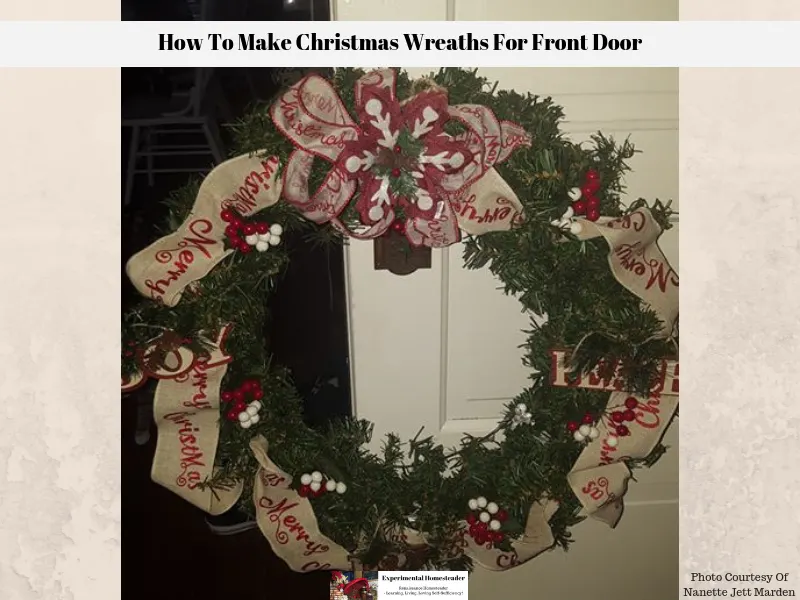 All you need are a few materials and a little bit of holiday spirit!
Make Your Own Christmas Wreaths For Front Door Decorating
When it comes to making Christmas wreaths, how can you even stop at one?
I know, I know…how many people have more than one front door that actually needs a wreath on it?
If you're anything like me, decorating your home for the holidays is something fun and exciting.
I love being able to make my own Christmas Wreaths for front door and hanging them proudly for all to see!
This DIY Christmas Wreath Is So Easy To Make
The great part about this DIY wreath is that it's super simple to make!
The homemade wreath that I'm teaching you how to make today was made by my amazing friend Nanette Jett Marden and she has graciously agreed to let me share it with all of you.
Didn't she do a wonderful job?
Ready to dive in and learn how to make your own Christmas wreaths for front door decoration?
I know I'm excited to share how to with you how to do it!
Here are the instructions.
Print
How To Make Christmas Wreaths For Front Door
Green holiday wreath, plain
Christmas ribbon
Red and white berries
Instructions
Gather your supplies before you begin.
Lay a plain green holiday wreath on a flat surface.
Cut the holiday ribbon it so it isn't too long, but make sure it is large enough to cover the entire front of the wreath with a little extra just in case. A good rule of thumb is to cut an amount double to what you think you need.
Once the ribbon is cut, weave it in and out of the wreath starting at the bottom of the wreath and working your way around until you get back to the top of the wreath again.
Once the two pieces of ribbon meet on another at the bottom of the wreath, tie the ends together and allow them to hanging loosely.
Take the red and white berries and poke them in varying places throughout the wreath, spreading them out so they don't look crowded.
Take a bow or make a bow and attach it to the top of the wreath.
Attach the snowflake ornament to the top of the bow and stick the snowflake sticker on top.
Decorate the front of the bow with a little greenery.
Now your wreath is ready to hang on your front door to welcome guests.
Notes
*The ornament came from the local Dollar Tree, however if you cannot find one, you can use red burlap and red felt to make one.
Keywords: Christmas wreaths for front door, Christmas wreath ideas, Christmas wreath diy, Christmas wreaths to make
Recipe Card powered by
Final Thoughts About This Christmas Wreaths For Front Door DIY Idea
Just that like, you have your very own beautiful homemade Christmas Wreath!
Now that you know how to make one for your front door, who says you have to stop there?
Find other doors throughout your home and decorate them as well for the holidays!
I highly recommend the following articles:
Use the buttons on the right side to share this article with friends or family who might find it useful. Pin the picture below to your pinboard on Pinterest for future reference.