Decorating the tree with butterfly Christmas Decorations is a great way to show off your love of butterflies and bring a touch of nature to your holiday decorating.

DIY Butterfly Christmas Decorations
The natural place to look for butterfly Christmas Decorations might be online if your favorite local shopping center does not have any available, however it is pretty easy to make your own.
Maggy over at Red Ted Art's Blog has a couple of tutorials and best of all, these butterflies are easy for kids for make, so decorating the tree is something the whole family can participate in.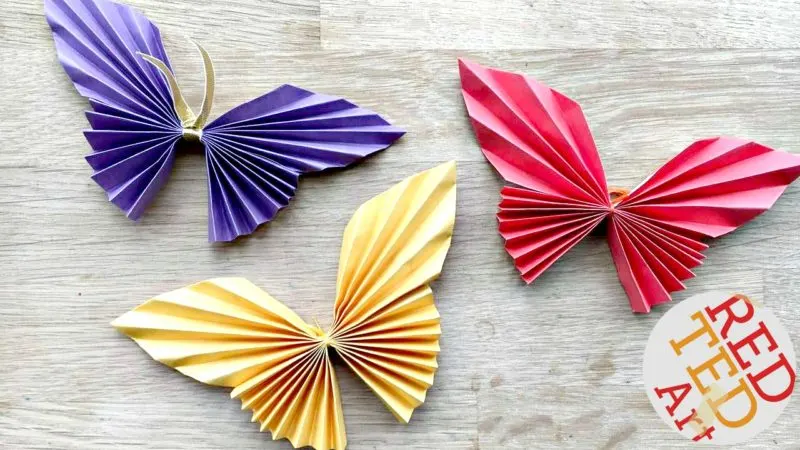 Her first tutorial is an Easy Paper Butterfly.
This is a simple origami butterfly, but it looks so nice that I want a few of these on my tree – and of course the ideas on ways to use these year-round in my decorating was spiraling out of control!
Her second tutorial, which is also an origami style butterfly, is not only cute, but is also a great way for your child to have fun while they are working on their developmental skills.
Maggie suggested using Christmas wrapping paper to make this Easy Origami Butterfly a little more festive for the holidays.
These are not the only two butterfly decoration craft ideas on her blog, but they are two that work well for holiday decorating.
For those who like to work with Polymer Clay, the Polymer Clay Christmas Glass Butterfly Ornaments tutorial is perfect.
This particular ornament is good to do with the kids, but because of the glass ornament and the baking process, adult supervision is recommended.
Sources For Purchasing Butterfly Christmas Decorations
Of course, if you still want to purchase butterfly Christmas decorations, there are lots out there to be had.
Amazon has a wonderful selection of butterfly Christmas decorations, as does eBay
for those looking for something a little different.
Final Thoughts About These Butterfly Christmas Decorations
I hope this post has given you some great ideas on how to add butterfly Christmas Decorations to your tree regardless of your holiday decorations budget.
I highly recommend the following articles:
Use the buttons on the right side to share this article with friends or family who might find it useful. Pin the picture below to your pinboard on Pinterest for future reference.