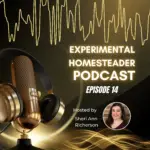 In your home or somewhere nearby, you want a cool dry place to store your food supplies.
You don't want a hot environment like an outdoor shed or a garage where food will spoil faster.
You'll also need room in your home for other supplies you can access, like first aid, water, camping gear and more.
This is a great time to do some spring cleaning and get rid of stuff you no longer use or want to free up space for must-have equipment.
Check out these blog posts for some great storage ideas:
Prepper Water Storage Tips And Ideas 
10 Home Food Storage Solutions That Will Inspire You
Be sure to look for the Experimental Homesteader Podcast on Apple Podcasts and also Amazon Music – and be sure to follow so you don't miss an episode!