In this tutorial I will share with you how to decorate a lamp post for Christmas.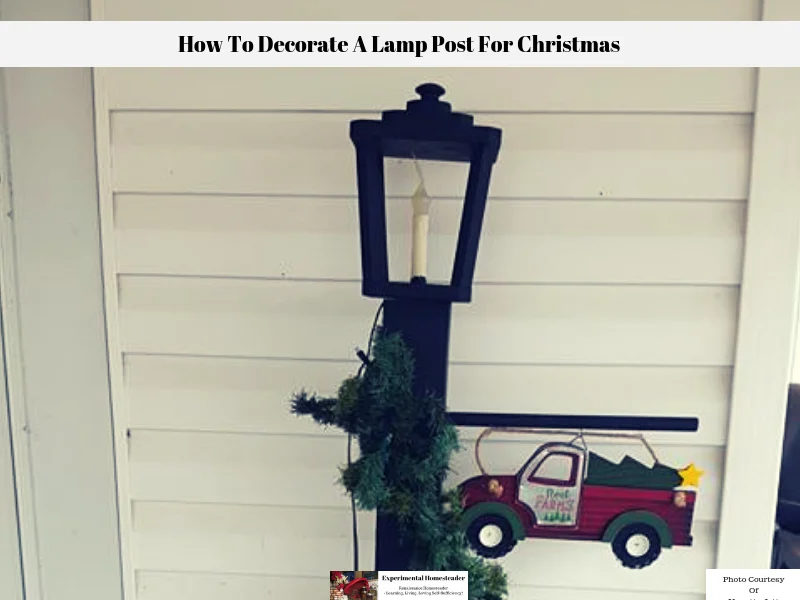 The Story Behind This Particular Lamp Post
My friend Nanette Jett Marden loves to shop at garage sales and go to auctions.
One of her finds was this lamp post, which did come with the electric candle already in it, however the rest of it was unfinished.
The first step was to paint the unfinished wooden lamp post black so that it looked like a real lamp post.
Once that was done and the paint was dry, the next step was to decide how to decorate the lamp post for Christmas.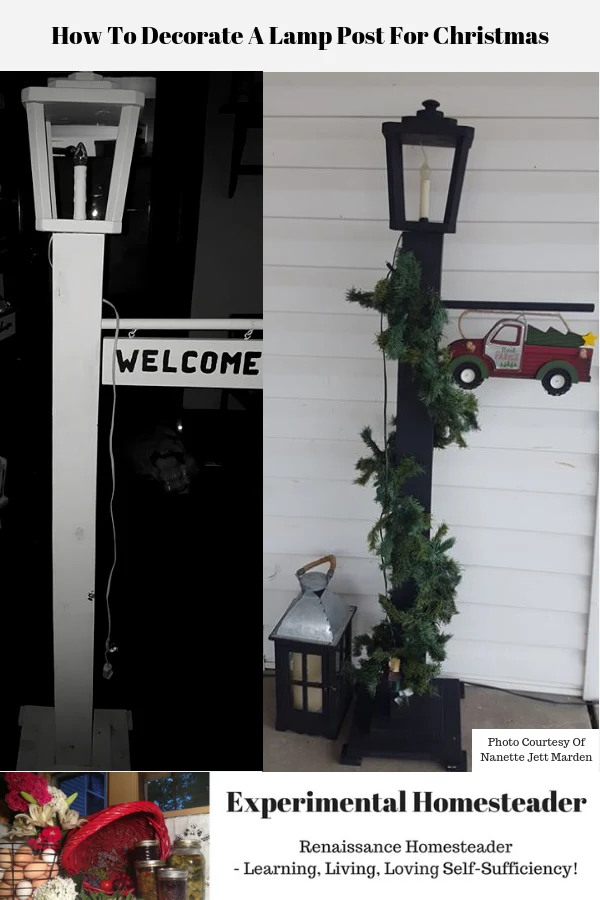 Nanette's Ideas Of How To Decorate A Lamp Post For Christmas
Nanette had several ideas of how to decorate a lamp post for Christmas, however by the end of the project, the idea she came up with was so much cuter than some of her earlier ideas.
For example, she shared with me a vinyl welcome sign that normally would be used indoors on a wall.
The idea was to remove the welcome sign that was on the lamp post, put the vinyl sign on a new piece of wood and hang it in the place of the current welcome sign.
While the idea was cute and easily doable, when I saw she had chosen to put an antique truck where the welcome sign used to be, I loved it.
The last thing she did to decorate the lamp post for Christmas was add garland and a strand of outdoor Christmas lights.
Then she set the finished lamp post on her front porch.
She placed a traditional metal lantern beside it on the concrete, which I think really added to the vintage look of the scene she created.
Final Thoughts On How To Decorate A Lamp Post For Christmas
Some of you might already have a lamp post in your yard that you just want to decorate for the holidays.
Wrapping garland and adding a string of Christmas lights around the post really does give it a Christmas feeling.
Of course if there is no way to get electricity to your lamp post, simply use garland and tuck some fake flowers, such as Poinsettia,  into the garland.
If your lamp post has a bracket on it and the sign is either missing or easily removable, then you can do exactly what Nanette did, simply remove it and add something more festive.
Remember that the idea is to dress the lamp post up just enough to give it a festive feel, but not so much that it becomes an overwhelming task during an already busy holiday season.
I hope you have enjoyed this post and I would love to hear your ideas – or even see some of your Christmas lamp post photos.
Feel free to post them in the comment section below.
I highly recommend the following articles:
How To Make A Christmas Themed Fairy Garden
Use the buttons on the right side to share this article with friends or family who might find it useful. Pin the picture below to your pinboard on Pinterest for future reference.