This weekend has been a whirlwind of homesteading tasks, so I felt it fitting to write another survival diary.
From tapping trees, to property clean up, hauling wood to food preservation, this weekend has certainly ran the gamut.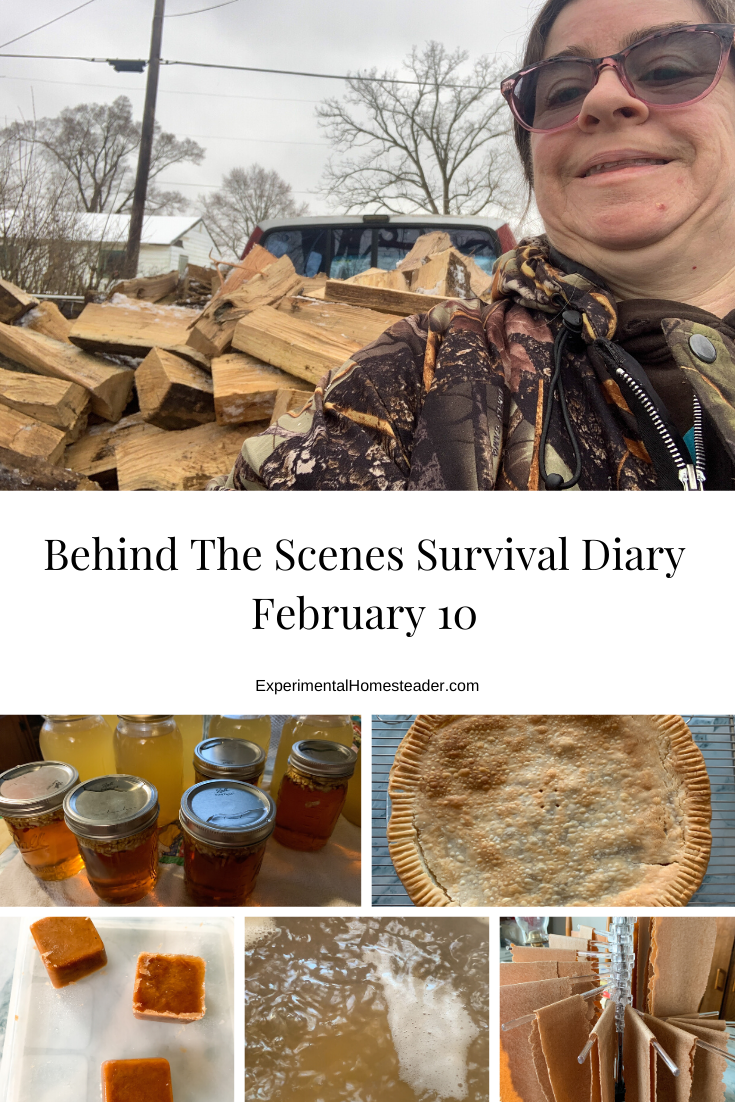 Backyard Sugaring Season Is Here
Sap is running here in Indiana.
Normally I tap maple trees and walnut trees, but with the weather being in the 50's and then below freezing, this year I've only managed to tap one maple tree.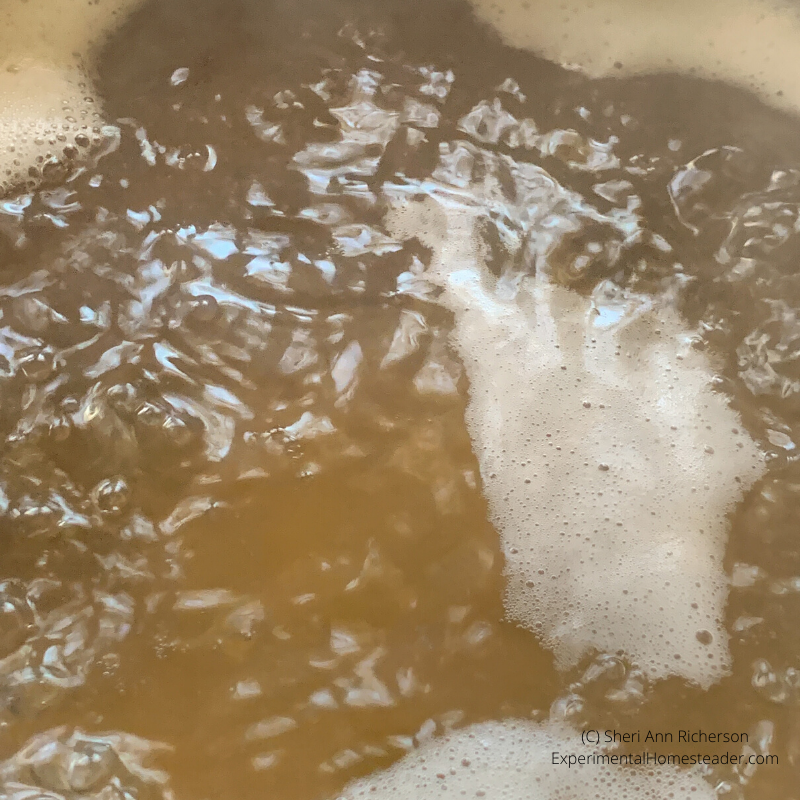 It will provide enough sap to make a nice batch of maple syrup for us.
I doubt there will be any extra to share with anyone other than my Grandma who requested a bottle for herself since she let me have the rest of my Grandpa's taps.
While it would be nice to have extra to sell, I am one person and I do not have the right equipment to be able to make that quantity of syrup without either flooding my house with steam, having some of the sap go bad or both.
Cleaning Up The Homestead
I am blessed to have neighbors that are willing to help with this task.
Things outside are way out of hand, but given the way life has been over the past seven years, that's no surprise. 
There is tall grass and weeds.
There are fallen trees and branches all over the property due to trees falling during storms.
Some of the trees were cut up, either by Jeffrey or someone else who intended to take the wood for firewood.
Now that we have the wood burner installed again, I will be collecting that abandoned wood and using it myself.
So far, I've managed to collect one truck load – but there is a lot more up there to be had.
Some of it is too small to use and of course the weeds need destroyed so they can't keep seeding down.
My neighbors helped pull weeds, move wood and got four fires started to get rid of some of that stuff.
Plus they did a controlled burn in the big garden which should help a lot come spring.
Making A Safe Place For The Chickens
Part of living on a homestead is raising chickens – and let's face it, there are predators, so making sure they have a safe chicken run is important.
While I helped clean up the yard, Jeffrey moved the kennel to the back of the barn to create a chicken run.
It has snowed or rained every single day since that happened, so it is not completed and ready to use, but it's at least started.
There are a lot of safety considerations to having a homestead chicken coop on your property.
I feel when we are done, we will have a safe run where fox and other predators cannot get to the chickens.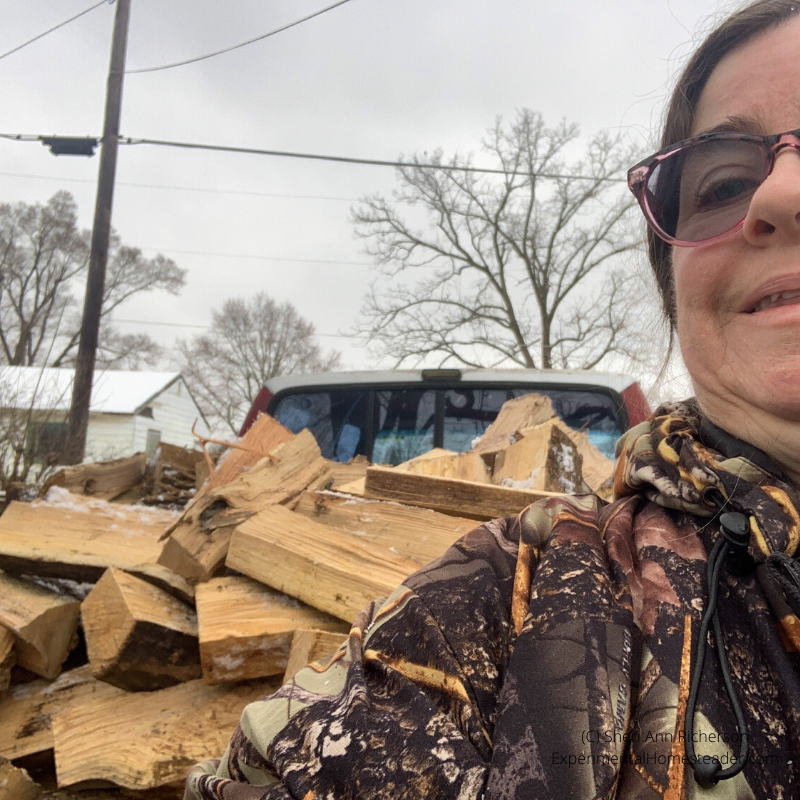 Cutting, Splitting And Hauling Wood
Gathering wood that has fallen is a job.
Often it is water logged and needs to dry out.
That is the case with most of the wood that is down on our property.
However, sometimes we get lucky and find some dry pieces of wood.
Jeffrey was cutting wood and splitting it using my small log splitter, until his chainsaw quit working.
Now he is having me go buy wood by the truckload.
At $55 a week, it's expensive, but compared to what my electric bill was running, it is far cheaper.
Loading and unloading wood is not an easy task.
Some of that wood – especially if it is wet or frozen – is quite heavy.
However, it is just another job on the homestead and an essential part of having survival skills just in case SHTF.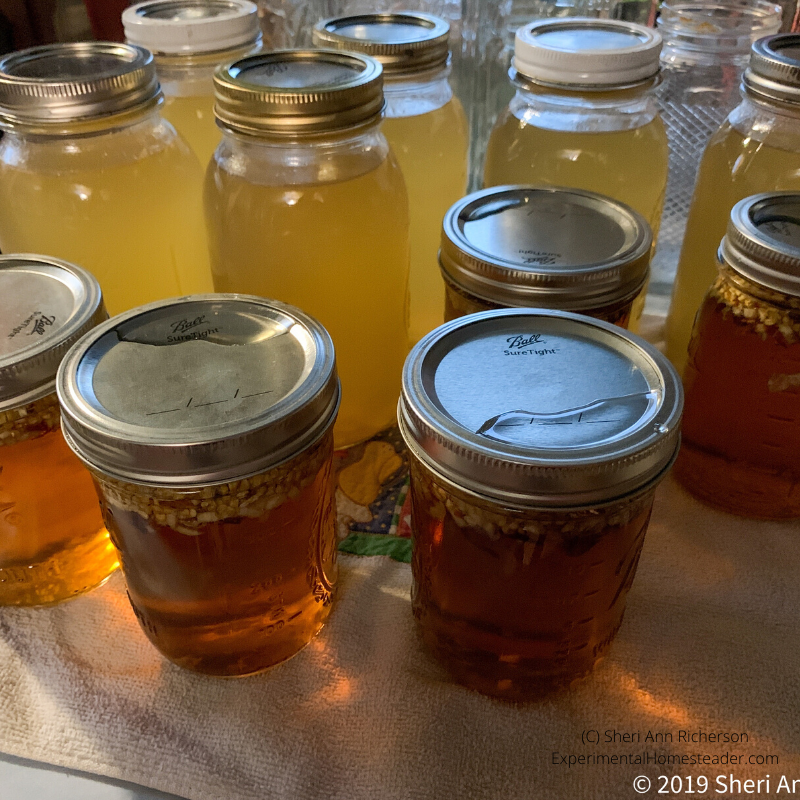 Food Preservation During The Off Season
A misconception that many people have is that canning season only lasts during the gardening season.
This is not true.
There are many things to can during the winter months.
In fact, off season food preservation gives you the opportunity to do the canning during the colder months of the year when not much else is happening.
This past week, I made and canned beef bone broth.
You can buy bones or save them from the meat you buy.
If you raise animals, save the bones when they are butchered.
Bone broth is delicious and good for you!
Not to mention making your own is a great way to save money on your grocery bill.
I also made Tamarind Paste so I could make my own Worcestershire Sauce.
I preserved lemons, made a Thai Sweet & Sour Sauce, a new batch of Ginger Bug plus 2 pounds of whole wheat pasta I turned into dumplings and fettuccine.
I also managed to bake a cherry pie using cherries from our tree that I canned and get a new batch of bacon started.
That's not bad for the off season.