Disclaimer: I received this item at a reduced price in exchange for my honest, unbiased review. All opinions are my own.

This Leader Accessories shooing stick seems to be very well made. It is sturdy enough to hold a 12 gauge while being fired. I like that it is adjustable from 25 inches to 64 inches – my husband is taller than what I am however we can both use this shooting stick which is nice. It is lightweight which means I don't have a problem carrying it. I like the Mossy Oak color. The rubber-finned gun rest is very nice because you don't have to worry about scratching up your guns. My husband prefers older collectable guns so getting a scratch on them would really upset him. He can shoot the guns using this shooting stick and not have to worry about that.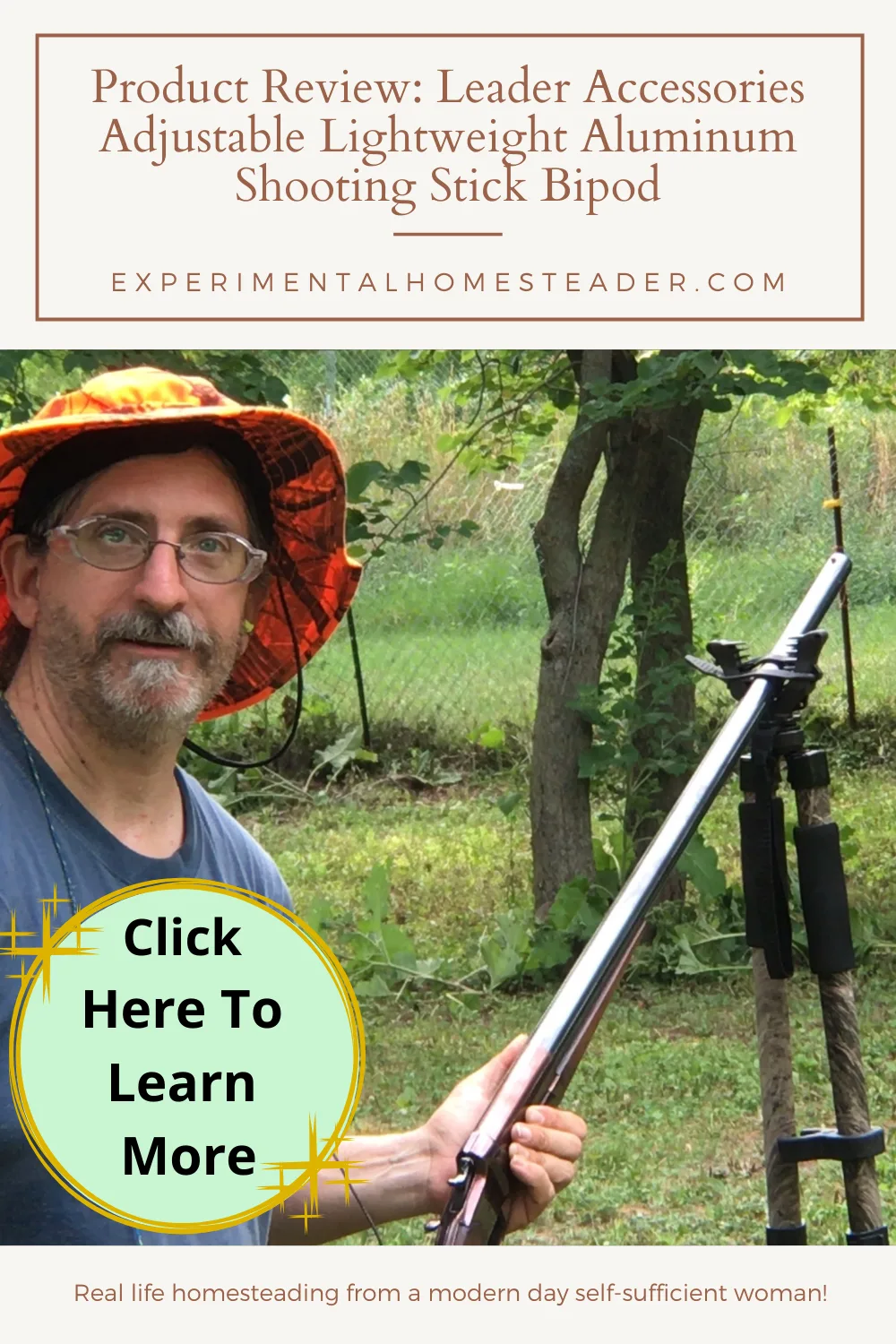 This particular shooting stick is a bipod meaning it has two legs but what is really nice is that it has points on the ends of each leg so you can stick it into the ground a little ways. It does not stick in the ground enough to hold it in place by itself. At least it didn't in our ground.
One nice thing is you can shoot from a kneeling or sitting position using this shooting stick. You can also move the shooting stick with your gun if need be. You can also use a bipod with the butt of the gun to create a tripod and hold the gun upright if need be.
The bipod is the most versatile shooting stick as far as I am concerned. I also like that the gun is held in place by a rubber piece that goes across the gun rest.
You can also use a handgun, bow, crossbow or even a video camera with these. This is a great item that we are going to get a lot of use out of.
Disclaimer: I received this item for free in exchange for my honest, unbiased review. All opinions are my own.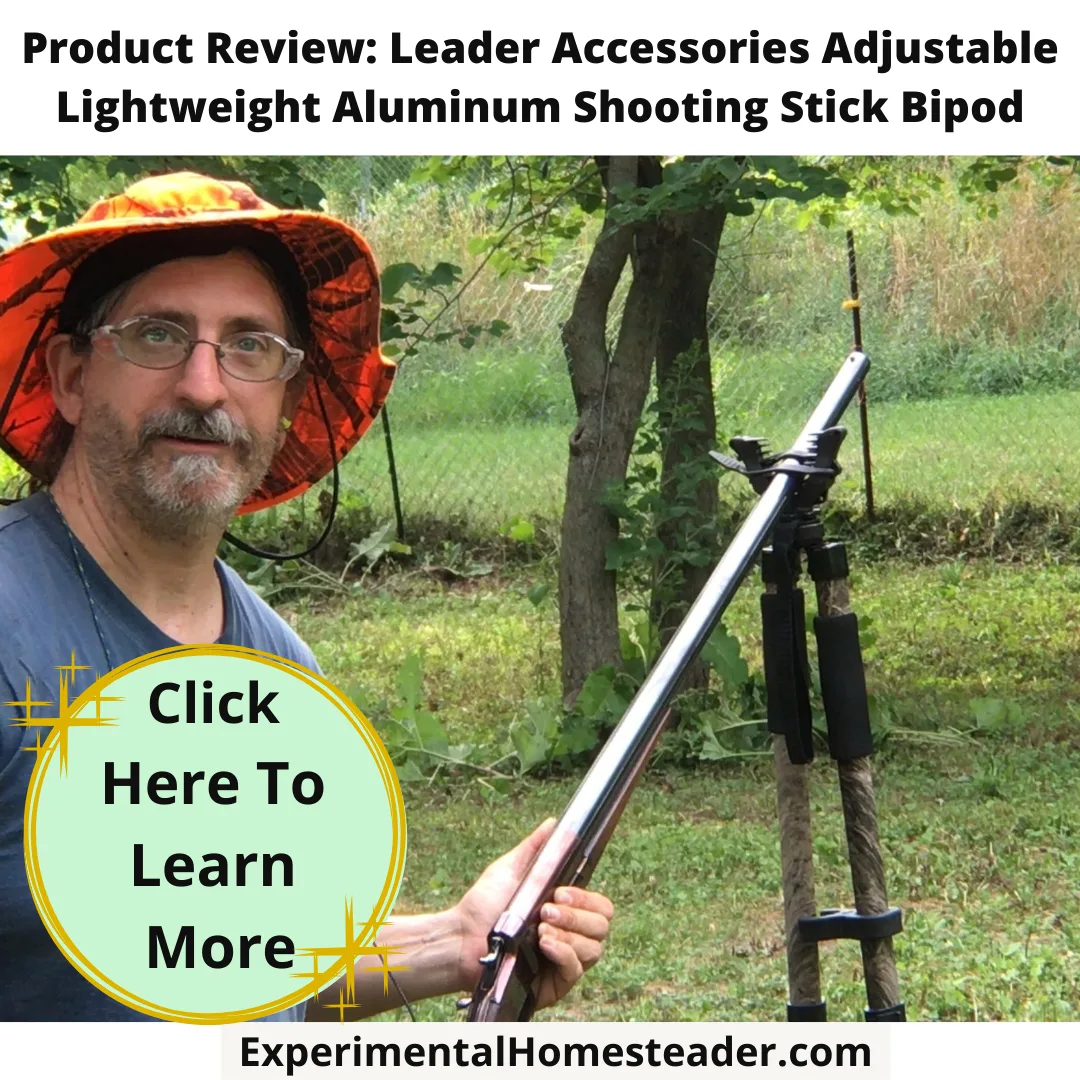 Sheri Ann Richerson from ExperimentalHomesteader.com is joined by Jeffrey Rhoades who talks about and shows how to use the Leader Accessories Adjustable Lightweight Aluminum Shooting Stick Bipod. She did receive this for review.
Click here to purchase this item – please note this is an affiliate link so if you purchase this item using this link, I do get a small commission.
About Sheri Ann Richerson
Sheri Ann Richerson is a long time YouTube and more recently a vlogger living in Indiana. She posts videos about: Homesteading Topics, Gardening, Cooking, Food Preservation, Crafting, Animals, Tag Videos, Product Reviews, Hauls, DIY Videos and More!
Merchandise:
My Books:
The Complete Idiot's Guide To Seed Saving & Starting
The Complete Idiot's Guide To Year-Round Gardening
101 Organic Gardening Tips
101 English Gardening Tips
Perspective Visions
Let's Be Friends!
FACEBOOK
TWITTER
PINTEREST
INSTAGRAM
Disclaimer: I received one or more items mentioned in this video for free or at a reduced price in exchange for my honest, unbiased review. All opinions are my own.
PLEASE SUBSCRIBE, LIKE AND SHARE!
THANKS FOR WATCHING!!!
What I Use To Film My Videos:
Camera: iPhone 6S Plus
Lights: Chromo, Inc. 160 LED Camcorder Video Light
Microphone: Clever eMic Lavalier Microphone
Tripod, Camera Lenses And Other Equipment: iStablizer Dolly, iStablizer Selfie Stick, iOgrapher, iOgrapher 37MM Wide Angle Lens and iOgrapher 37MM 2X Telephoto Lens Kit
Apps: iMovie and MoviePro
**Some links above may be affiliate links**
If you like this post, please pin it to your appropriate pinboard on Pinterest!