This Instant Pot meal is perfect for those nights when you want a hearty home cooked meal, but don't have a lot of time – or worse forgot to thaw any meat!
You can save even more time by using pre-cut baby carrots, frozen or home canned carrots and not peeling the potatoes or using home canned potatoes.

You can also substitute sweet potatoes for the regular potatoes if you prefer.
The roast turns out juicy and fork tender, just the way a roast should be, even when it is cooked from a frozen state.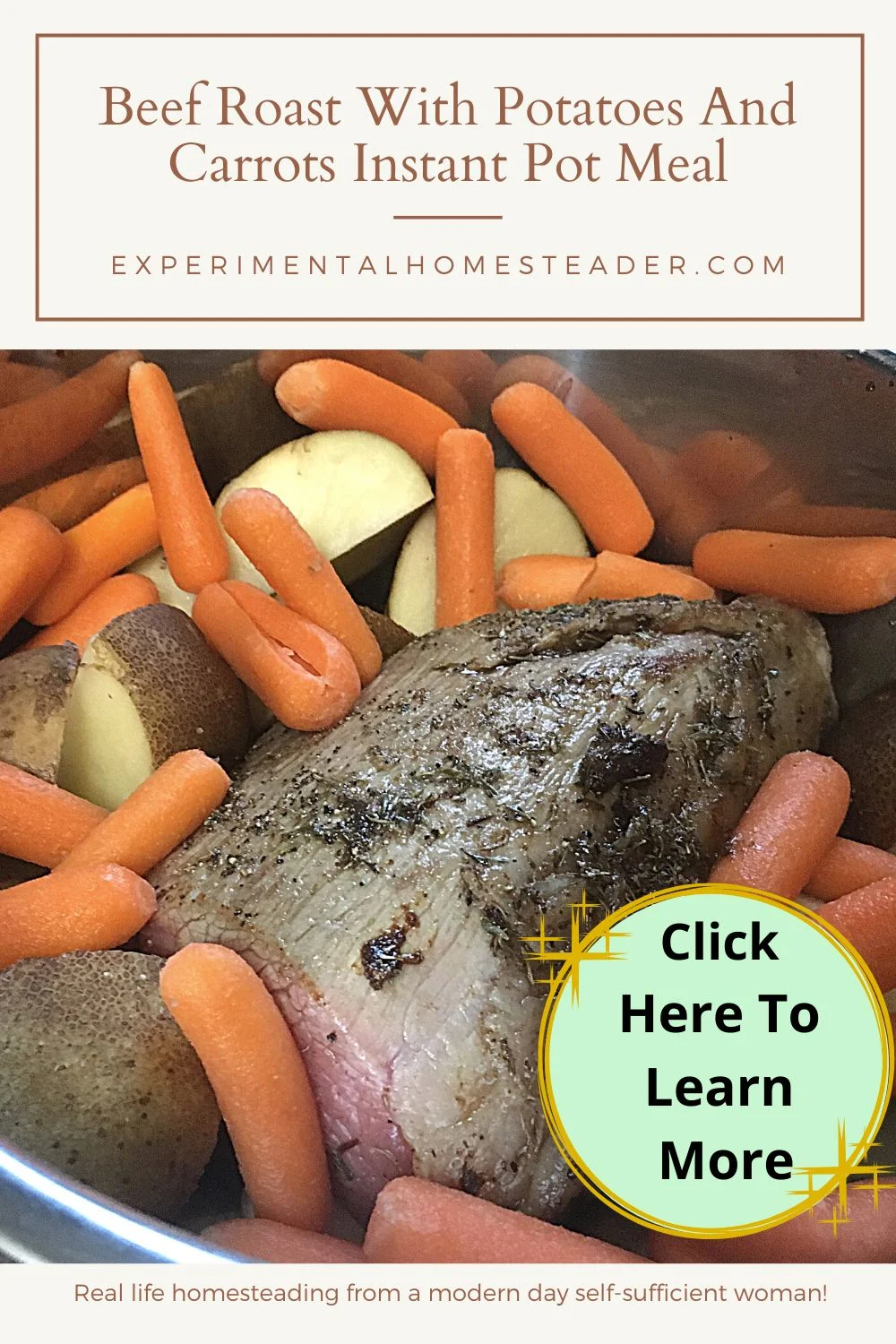 Easy Instant Pot Meal Ready In Under An Hour
The Instant Pot has become one of my favorite kitchen tools.
I love that I can throw a bunch of ingredients in it and have a meal ready in no time.
This beef roast with potatoes and carrots is a perfect example.
It's simple to make and the end result is a delicious, hearty meal.
The meat comes out so tender you can easily cut it with a fork.
You can also use this same cooking method for pork or chicken, it works well with any cut of meat really.
It's easy enough that I make it on busy weeknights when we're scrambling to get the animals fed and wood brought in for the night, yet delicious enough that even my husband will request it.
So there you have it – a simple beef roast instant pot meal that will satisfy even the heartiest appetites.
Give it a try tonight! 
Print
Beef Roast With Potatoes And Carrots Instant Pot Meal
Author: Sheri Ann Richerson
Prep Time:

10 minutes

Cook Time:

45 minutes

Total Time:

55 minutes

Yield:

8

servings

1

x
Method:

Instant Pot
Instructions
Turn the Instant Pot to sauté.
Brown the roast in the bottom of the Instant Pot.
Turn the Instant Pot off.
Remove the roast.
Add the water to the bottom of the Instant Pot and deglaze the pot.
Place a rack in the bottom of the Instant Pot and place the roast on top of it.
Sprinkle the Worcestershire sauce on top of the roast.
Add the carrots and potatoes.
Sprinkle the spices on top of the roast and vegetables.
Place the lid back on the Instant Pot and secure.
Cook 45 minutes on high pressure.
Allow the Instant Pot to naturally release the pressure.
Remove the food from the Instant Pot and place it on a serving tray.
Enjoy!
Keywords: beef recipes, Instant Pot, Instant Pot Meal, instant pot cooker, instant pot dinner, recipe
Recipe Card powered by

Why Is My Instant Pot Beef Tough?
There are a couple of reasons why your Instant Pot beef pot roast is not as tender as it should be.
One reason is because it was overcooked or undercooked.
Another reason your instant pot beef roast might be tough is because you used too much liquid when cooking it. The instant pot creates a lot of steam, which can make your beef roast tough if there's too much liquid in the pot.
The meat will still be delicious however, just a little harder to chew.
You can try using a digital probe meat thermometer to make sure your instant pot roast has reached an internal temperature of 145 degrees Fahrenheit (62.78 Celsius).
The instant pot pressure cooker heats up really fast so after 30 minutes of high pressure, release the steam by turning on the quick release valve then check how done your instant pot roast is with a meat thermometer or knife before serving. 
Never remove the lid until all of the steam and pressure inside the Instant Pot has been released because you could end up with burns plus a mess in your kitchen if you get in a hurry.
If the roast is not tender at this point and has not reached the correct internal temperature, simply cook it another 15 minutes.
You can repeat this until the roast is cooked just the way you like it.
Once you remove the roast, tent it with aluminium foil and let it rest for at least ten minutes before slicing.
This will help ensure that the juices redistribute throughout the meat, making it more tender. 
While it does take some time to learn how to use the Instant Pot to create delicious dinner ideas your family will love, once you learn you will love your Instant Pot as much as I love mine.
Here are some other Instant Pot Recipes you are going to love.
Oh and just in case you are like me and forget to put anything out for dinner or simply don't know what to serve, check out these monthly meal planning printables over at my Etsy Shop.
data-shortcode="mv_create"
data-attributes='{DQUOTEhrefDQUOTE:DQUOTEhttps://www.amazon.com/Instant-Pot-Ultra-Programmable-Sterilizer/dp/B06Y1MP2PY/ref=as_li_ss_tl?s=kitchen&ie=UTF8&qid=1522857745&sr=1-5&keywords=instant+pot&dpID=51KCWbebgmL&preST=_SY300_QL70_&dpSrc=srch&linkCode=ll1&tag=sheriannricherson-20&linkId=9335c0d47a44c59ecbaacd461aeaffa5DQUOTE,DQUOTEkeyDQUOTE:DQUOTE57DQUOTE,DQUOTElayoutDQUOTE:DQUOTEcirclesDQUOTE,DQUOTEthumbnailDQUOTE:DQUOTEhttps://experimentalhomesteader.com/wp-content/uploads/2018/12/porktenderloineh.pngDQUOTE,DQUOTEtitleDQUOTE:DQUOTE