As we approach the holiday season, the air is filled with the promise of joy, celebration, and togetherness.
It's that special time of year when our homesteads take on an extra layer of enchantment, as we prepare to celebrate the holidays with our loved ones.

But let's face it – while the holidays can be magical, they can also bring their fair share of stress and overwhelm.
That's precisely why I'm thrilled to introduce you to our latest offering: the "Holiday DIY Guide for Homesteaders."
This comprehensive holiday diy guide is your key to transforming your homestead holidays into sustainable, joyful, and memorable experiences.
In this blog post, we'll take a deep dive into the guide's contents, explore how it benefits homesteaders like you, and understand why it's a must-have for a holiday season that aligns with our values of self-sufficiency and eco-conscious living.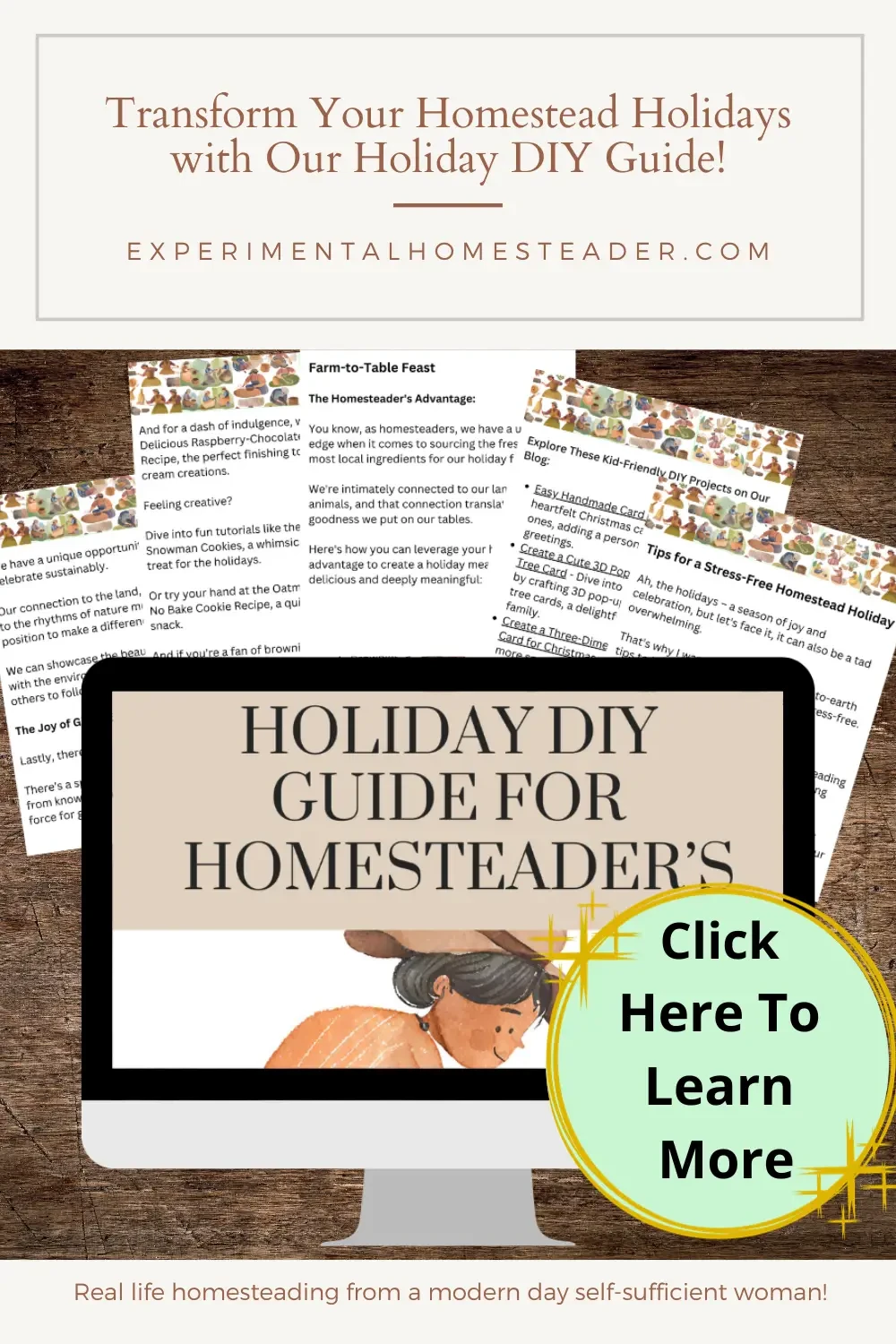 A Sustainable Celebration Begins
Our voyage into the enchanting realm of homestead holiday enchantment starts with a firm commitment to sustainable celebrations.
This conscious choice not only sets the tone but also lays the foundation for our mission to reduce our environmental footprint during this joyous season.
Farm-to-Table Feast: A Homesteader's Advantage
Next, we delve into the heart of our homesteads – the farm-to-table feast.
As homesteaders, we have a unique edge when it comes to sourcing the freshest, most local ingredients for our holiday meals.
We'll explore the bounty of seasonal delights that nature provides during the holiday season, infusing our recipes with the true essence of the season.
Creating Personalized Gifts: Handcrafted with Love
In this section, we'll shift our focus to crafting personalized presents, where each gift is not just an item but a piece of your heart, your homestead, and your love.
Discover the magic of presenting a gift crafted by your very own hands and why it's a gesture beyond measure in today's world of mass-produced items.
Family Traditions: Crafting Together
The holidays are the perfect time for family bonding and creating lasting traditions.
Our DIY projects become cherished parts of your holiday traditions, fostering connections and memories that will last a lifetime.
Whether it's crafting handmade ornaments or making greeting cards with the kids, these are the moments that make the holidays truly special.
A Stress-Free Homestead Holiday
Managing a homestead during the busy holiday season can be challenging.
In this section, we'll explore time management strategies that strike the perfect balance between caring for your land, animals, and the festivities.
We'll delve into practical techniques to streamline your daily routine, ensuring you have ample time to enjoy the holiday magic while maintaining the harmony of your homestead.
Eco-Friendly Gatherings: Celebrate with a Purpose
As homesteaders, we have a unique opportunity and responsibility to host eco-friendly holiday gatherings on our homesteads.
Discover sustainable gift-wrapping options, creative presentation ideas that enhance the visual appeal of your gifts, and the profound impact of heartfelt notes to accompany your handmade gifts.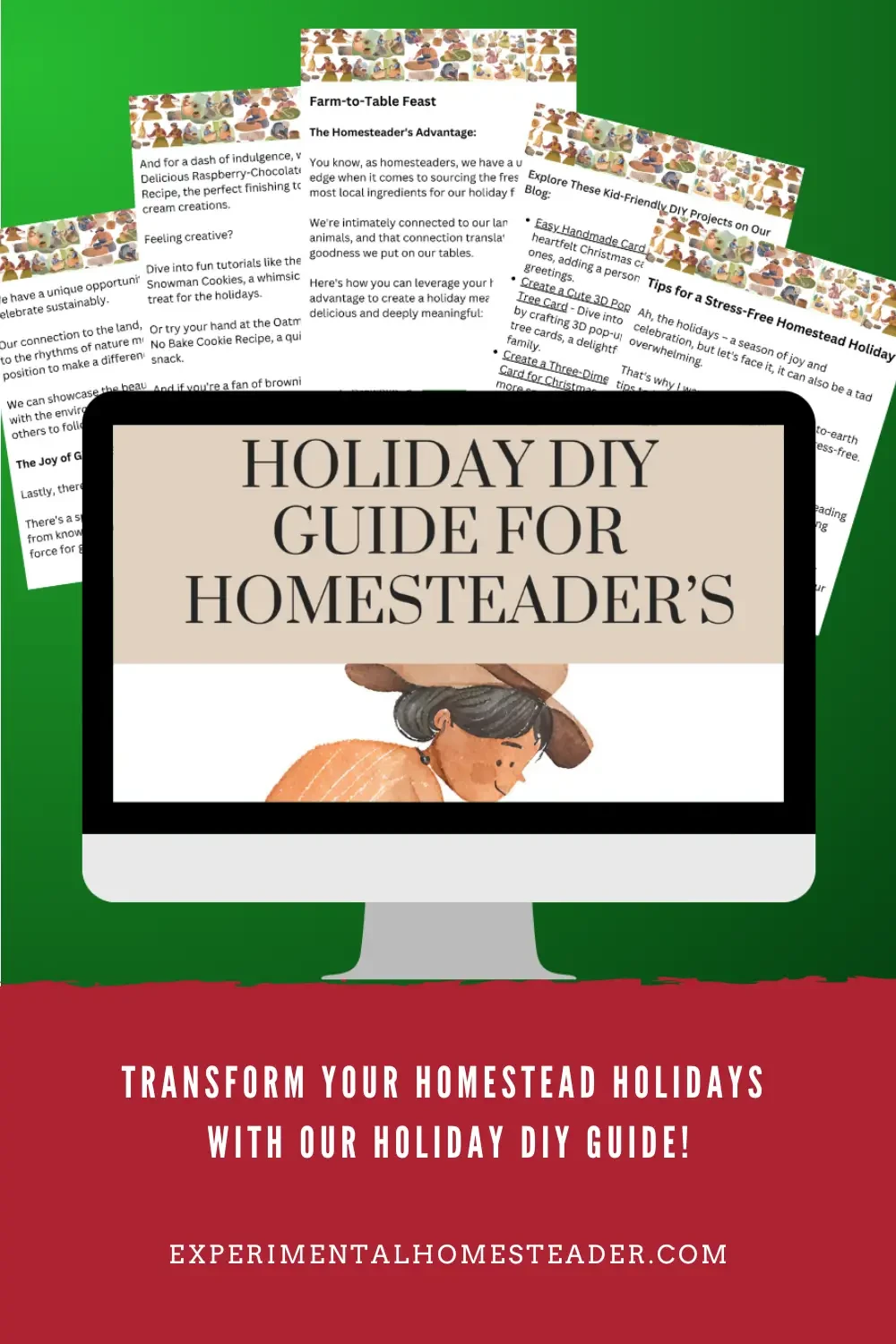 Your Key to a Transformative Holiday
Now that we've explored the guide's rich content, you might be wondering how to get your hands on this transformative resource.
The "Holiday DIY Guide for Homesteaders" is currently available at a special rate for a limited time.
Don't miss this opportunity to enhance your homestead holidays and embrace the magic of sustainable celebrations.
Get Your Holiday DIY Guide Now
Elevate Your Homestead Holidays
As we wrap up this journey through the "Holiday DIY Guide for Homesteaders," I encourage you to seize the opportunity to make your homestead holidays more meaningful, sustainable, and joyous.
Embrace the transformation of your holiday celebrations and homesteading lifestyle today.
Thank you for being part of our homestead community, and may your holidays be filled with warmth, love, and the magic of sustainable homesteading.
Keep an Eye Out for More Surprises
In case you missed it, last week's drop of our "Homesteader's Self-Care Toolkit" is still available.
And that's not all – keep your eyes peeled for more exclusive surprises headed your way, including the eagerly awaited Winter Homesteading Guide.
It's our way of saying thanks to our dedicated subscribers, and you can unlock it for FREE by simply creating an account using the exclusive content link just below this section.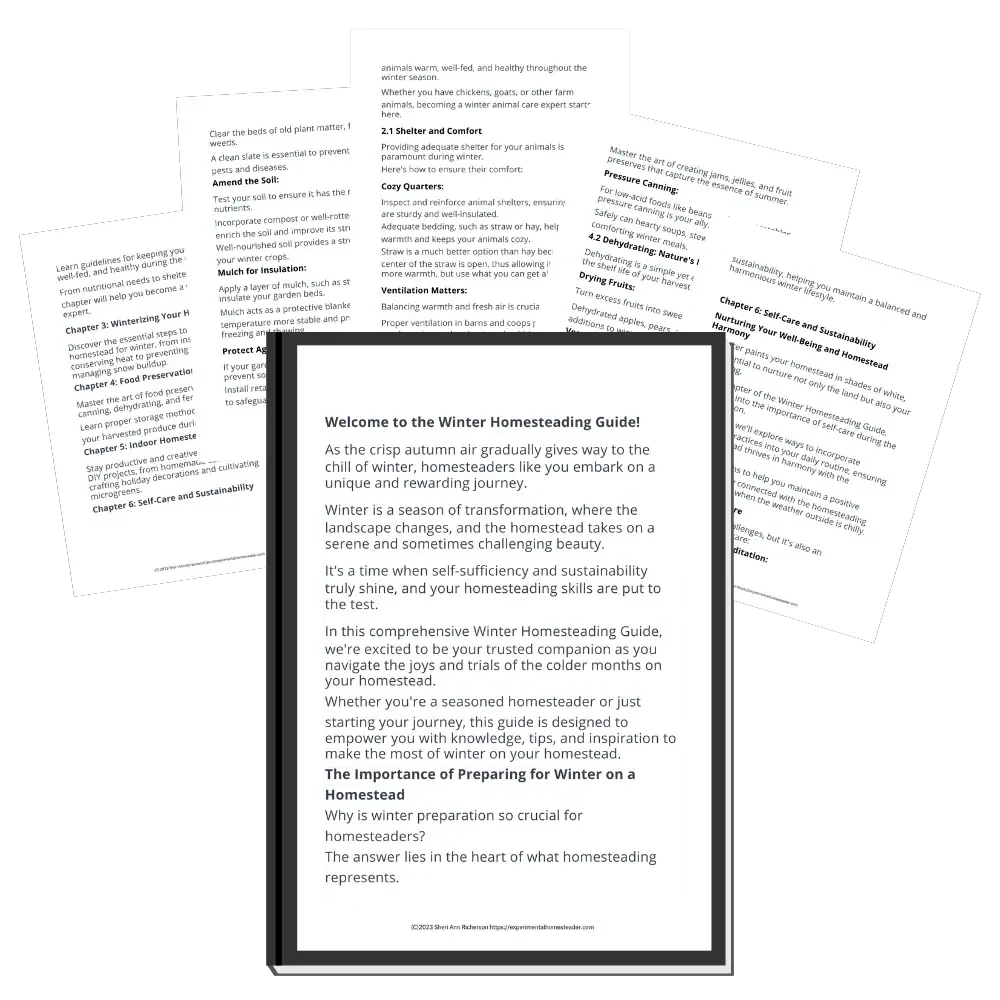 Your Special Gift
We've got a fantastic treat for you.
When you join our membership, you not only become a cherished part of our community but also get a little something extra – the Winter Homesteading Guide, absolutely free!
Consider this guide your special gift, a token of our gratitude for your support.
It's packed with exclusive, winter-specific content, tailor-made to fuel your homesteading adventures during the chilly months and well into the future.
As you dive into its pages, you'll uncover a treasure trove of knowledge and inspiration to keep your homestead cozy and thriving during winter.
We're excited to share this with you, and we hope you'll find it as delightful as a cup of hot cocoa on a frosty day.
To claim your free Winter Homesteading Guide, simply sign up for our membership.
Don't worry; if you're already part of our email list, you won't miss out and you won't get duplicate emails.
This gift is for all our valued members, new and existing.
We can't wait to see how this guide enhances your winter homesteading experience!
___________________________________________________
---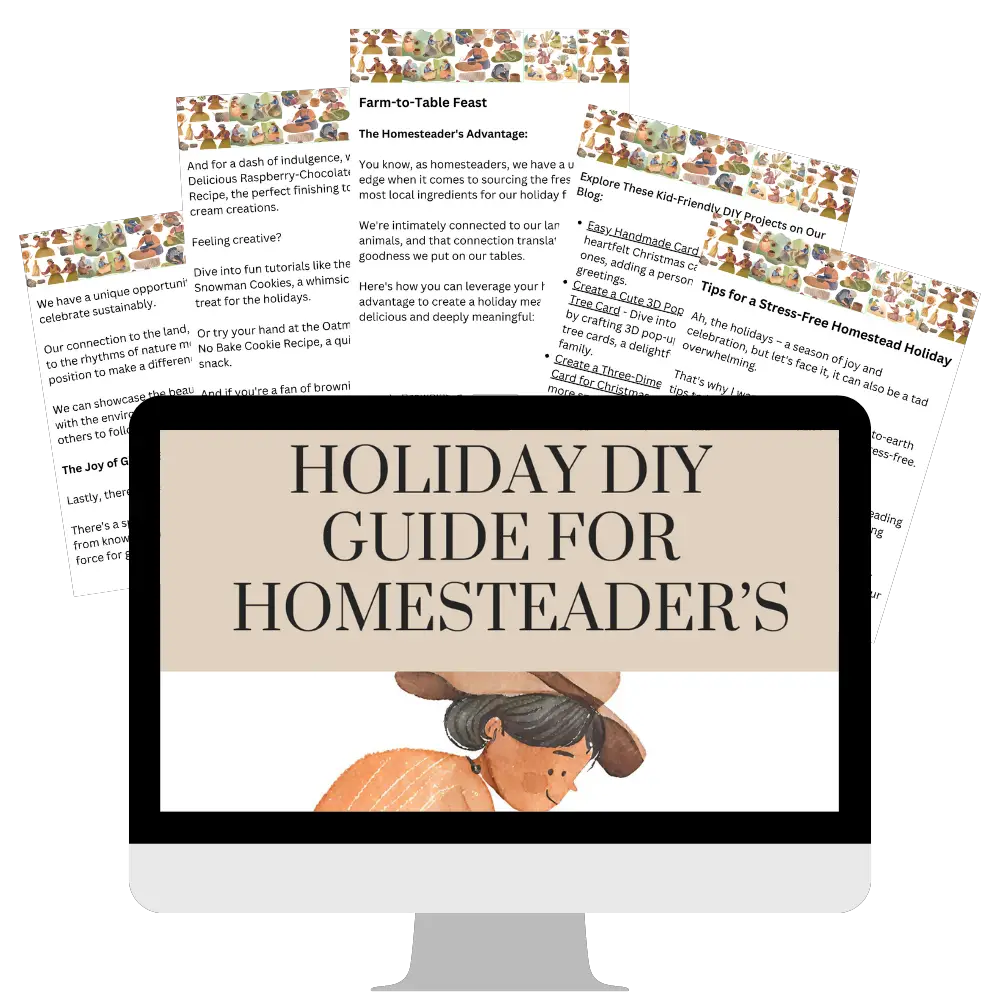 By adding the "Holiday DIY Guide for Homesteaders" to your Christmas preparations, you're not just creating memorable moments; you're nurturing a holiday season that aligns with the values of self-sufficiency, sustainability, and eco-conscious living.
Transform your homestead Christmas today!