Disclaimer: I received the book for free in exchange for hosting the blog tour and sharing my honest thoughts about the book. All opinions are my own.
I love cookbooks as anyone who has been in my kitchen knows. I especially love older cookbooks or those that teach you how to do something completely from scratch. This is why I was intrigued with Melissa Richardson's Cookbook "Beyond Basics With Natural Yeast." The book covers many types of breads, waffles, pancakes, muffins, crackers, croutons, stuffing and much more. It even comes with a free natural yeast offer.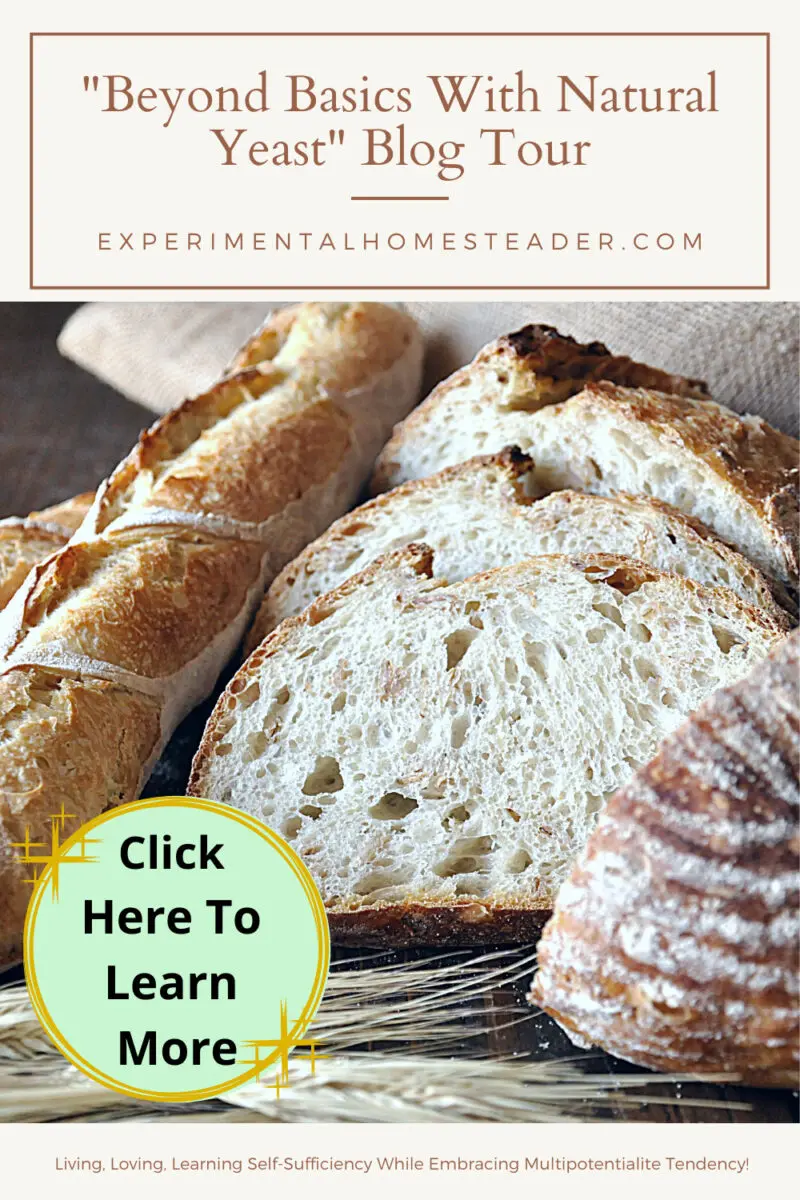 The first step to keeping natural yeast alive is feeding it. The book starts out with a  Power-Feeding Cycle then offers tips for success such as keeping your starter in the refrigerator door. The reason for this is so you can easily find it and check on it every time you open your refrigerator. While this may seem like common sense, it's an idea not everyone thinks of. After all, the door area of the refrigerator is warmer than the inside shelves.
The next section covers the basics of getting to know wild yeasts. There is also a windowpane test which is a simple way of figuring out if the dough you are kneading is ready for the next step in the process.
Once Melissa Richardson covers the basics, she hares recipe after recipe. They all look wonderful and the pictures are gorgeous. In fact just looking at them makes me hungry! There is also a gravy recipe that uses the starter. I did not get this book in time to try that recipe out before writing this review but I do intend to give it a try. Another great tip was to freeze the starter in ice cube trays and then offer some of it to your chickens if you raise them. I do raise chickens and love this idea. I know sometimes you can end up with so much excess you simply don't know what to do with it all.
At the end of the book there is both a description of what a "happy" starter looks like as well as some troubleshooting tips. There are also cooking measure equivalents and metric measurement equivalents. Last is the recipe index. This is a really interesting, well thought out book. If you've been following the blog tour by now you have a lot of various information on this book. If not, there are still several more days it will last and I encourage you to visit all the sites on the blog tour and leave a comment or two.
Do you bake with natural yeast?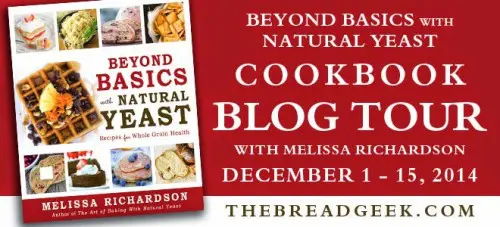 About the author:
Melissa Richardson is a mother of three who is addicted to researching, studying, and baking bread. As a college student Melissa taught herself to bake as a way to pinch pennies from the food budget and unleashed a passion that transformed her into The Bread Geek she is today. At any given time of day, flour can be found somewhere on her shoes, clothes, hands, or children. When not baking or writing, she enjoys collecting hobbies and spending time outdoors with her family.
"Beyond Basics with Natural Yeast" blog tour schedule:
December 1: Food Storage Moms
December 2: Apartment Prepper • Pint Size Farm • Homestead Lady
December 3: My Food Storage Cookbook
December 4: Tattooed Homestead • Cooke's Frontier
December 5: The Things I Love Most
December 6: Simply-Living-Simply • The Trailer Park Homesteader
December 7: Trayer Wilderness • Prepared in Every Way
December 8: Modern Health Mom
December 9: Clarks Condensed
December 10: Readalot
December 11: Prepared Housewives • Experimental Homesteader
December 12: Preparedness Mama
December 13: Inklings and Notions
December 14: Jorie Loves a Story • Flip Flop Barnyard • Blue Yonder Urban Farms
December 15: Fabulous Farm Girl • The Easy Homestead