Disclaimer: This is a sponsored post on behalf of the Homestead Bloggers Network, the Ad Council and The Shelter Pet Project. All opinions are my own.
December 2 is Shelter Pet Day and there is no better way to celebrate than showing a #ShelterPetLove by adopting one. It is so easy to look online for a local shelter or rescue group. In addition to finding out what local shelters or rescue groups are in your area, you can learn a lot of valuable information and even read pet adoption stories such as mine below.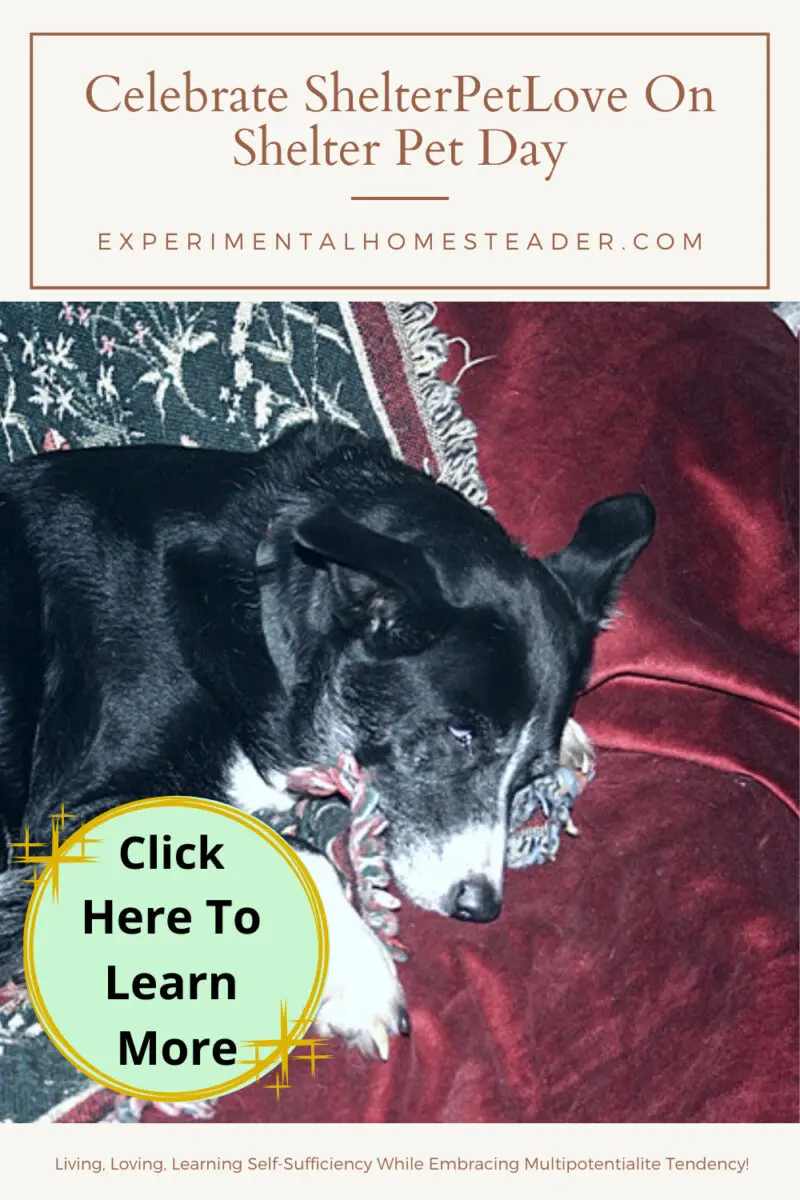 Adopting a pet – especially around the holiday time when things are busier than normal – is something to really consider. Kids often ask for pets as gifts but keep in mind that the expense and care of that pet is ultimately the responsibility of the adults in the household. Many pets are abandoned days or weeks after the holidays are over when the reality of pet ownership sets in.
There are many pros and cons when it comes to adopting a shelter pet. Often you have the opportunity to choose an older dog or cat instead of a puppy. This is both good and bad because sometimes those pets come with their own set of issues like our Sasha did. On the pro side she was already potty trained and had good house manners. Her issue that later went away was being overly protective of the food dish – something I believe she picked up while at the shelter. Overcrowding is a real issue and the sheer number of pets abandoned by their owners is overwhelming. At the time that I chose to foster for our local humane society I already had a male lab mix who was five years old. Precious Angel was 2 weeks old when I got him so I trained him as I chose and dealt with all the puppy issues. I needed a foster dog that got along with him and hopefully would make a good companion for him.
I filled out paperwork and waited while it was checked. I looked at all the various dogs they had that day. I was about to give up when I saw Sasha. She was a black and white lab/collie mix. The humane society lady told me she came from New York. She was dropped off by her owners on July 4. They could not keep her after bringing her all the way to Indiana. It was the middle of September yet she had not found a home. She was 6 years old. I decided she was the perfect dog to foster and was able to bring her home that day.
Once she was in the front seat of the truck, she was friendly as could be but when we got home things turned a bit rocky. She laid right in front of the food and water dishes. She snapped at Precious Angel when he tried to get close to her. With us however she was fine. I decided to put down a second set of food and water dishes for Precious Angel and wait a few days to see what happened. Animals all have a pecking order and I knew that had to be worked out between the two dogs.  I figured she was upset about losing her family, being in the shelter, sharing a cage  as well as food and water bowls with two other dogs in that cage plus now she was in new surroundings. Animals have feelings just like us. Often patience is all that is required for them to show us how much love they can offer us.
Over the course of the next two weeks, I observed the interaction between Sasha and Precious Angel. I noticed she snapped less as time went by and even approached him at times. She began to get up on the couch to lay close to us instead of laying on the floor out of reach. I noticed they began to share food and water bowls. Sasha was beginning to fit into our family. I was thrilled and we began to talk about adopting her. She was the first shelter pet either of us had experience with but will not be the last. The adoption process was quick and easy – some paperwork, a vet visit and then she was ours. Sasha had so much love to give and I am glad we chose her.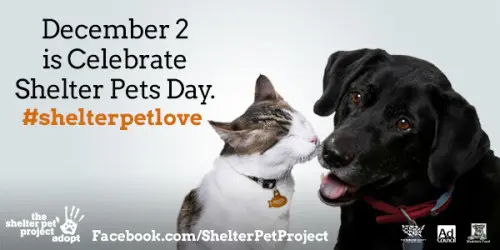 Here are some statistics to consider –
Of all the pets in American homes, only 29% were adopted from a shelter or rescue. Each year approximately 3-4 million pets are adopted, but 2.7 million still lose their lives each year for lack of a home.
Seventeen million people will acquire a pet within the next year. The Shelter Pet Project, a collaborative effort between The Humane Society of the United States, Maddie's Fund® and the Ad Council, hopes to encourage these prospective pet owners to adopt shelter and rescue pets
I encourage you to visit The Shelter Pet Project online to search for a local pet and find out how amazing shelter pets are should you decide to adopt a pet. As a gentle reminder, shelters and pet rescues are always in need of donations. The holidays are a time of giving so ask your local shelter or pet rescue what they are in need of this holiday season!