Disclaimer: This is a sponsored conversation written by me on behalf of Chicken Soup. The opinions and text are all mine. This post is sponsored by Chicken Soup for The Soul Pet Food and the BlogPaws® Professional Pet Influencer Network. I am being compensated for helping create awareness around the Brand and new product launch, but ExperimentalHomesteader.com only shares information we feel is relevant to our readers. Chicken Soup for The Soul is not responsible for the content of this article.


Showing our pets that we love them is about so much more than just showing them some occasional affection when it is convenient for us. National Love Your Pet Day is February 20th and there is no better time than right now to talk about showing how much you Love Your Pet Everyday. (#LoveYourPetEveryday)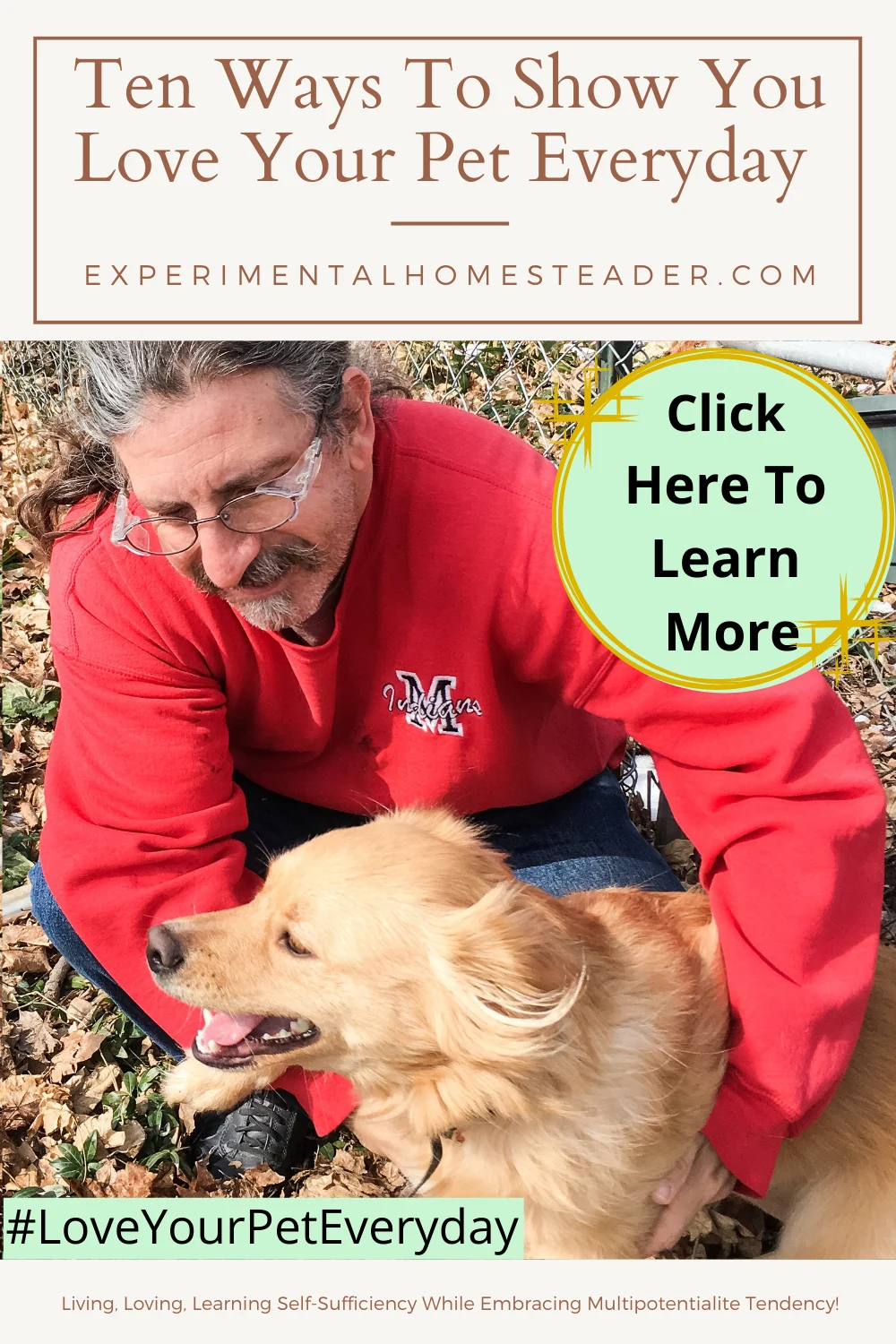 Just like people our pets like to be comfortable and they like it when we show them that we love and appreciate them. This goes far beyond what we say, what photos we post on our blogs or social media or even how often we take them to the vet. Dogs, cats and other pets – just like babies and kids – like to be held or lay close to us, they like to be talked to, petted, groomed, given a soft, warm place to sleep and delicious, nutritious pet food to eat. This – of course- is just the basics of pet care and a wonderful way to show your pet what they mean to you.
So here are ten great ways to show your pet that you really do love them everyday.
Use Personalized Collars, Leashes or Harnesses
Getting your pets collars, leashes or harnesses personalized is a great way to show your pet some love. They can't read what they say but by having their name and a phone number put on these items it is more likely that someone is going to contact you should your pet get lost. I have had leashes break and watched my pet run off after another dog or cat. I was lucky enough to catch my pet but some are not so lucky. Pets get lost everyday. Imagine the fear they must feel when they can't find their owner. This is why it is so important to have this done even if your pet is chipped.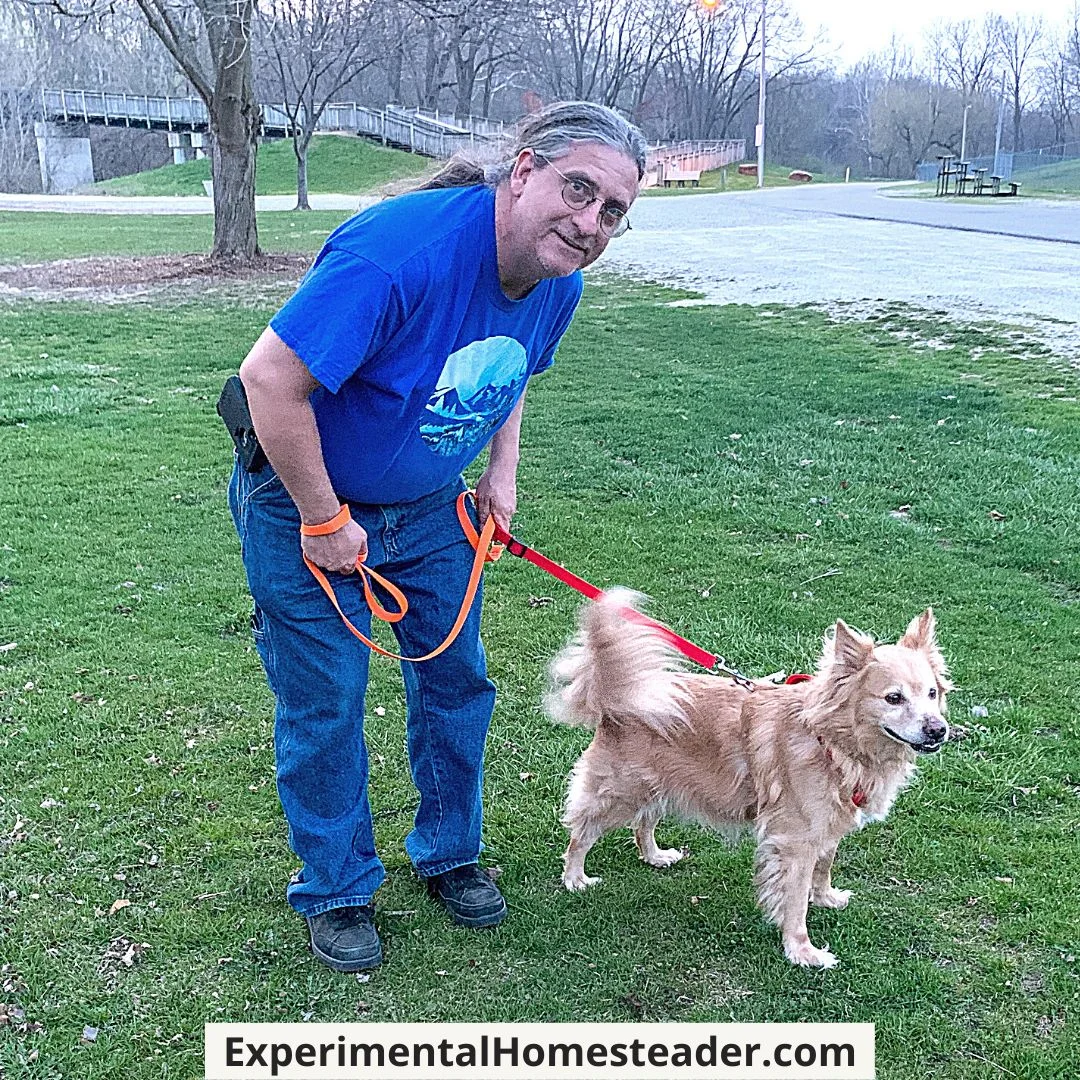 Going For Walks Or Rides
Our pets are part of our family and they do feel left out when they are always left at home. Taking them for a walk on a regular basis or a ride is a great way to include them in family activities. Now I know it is not always practical to do this and a pet should never be left in a car unattended however taking them for a weekend ride or a daily walk does not take a lot of time and gives your pet something special to look forward to.
Playtime
Playtime is essential for pets, especially younger ones. Fetch is a favorite playtime activity of most dogs. Cats like to bat at feathers you can dangle overhead or chase laser lights. Get to know your pet and what their favorite playtime activities are. This is a great way to interact and bond with your pet. It also gives them – and sometimes you – some much needed exercise.
Snuggle Time
Just like people, pets like to snuggle. While many pets sleep in their owners beds at night, this is not enough snuggle time. Encourage your pet to sit next to you or if they are small enough even on your lap when you are reading or watching TV. Some pets like to be read to. Snuggling is a great way for both you and your pet to relax.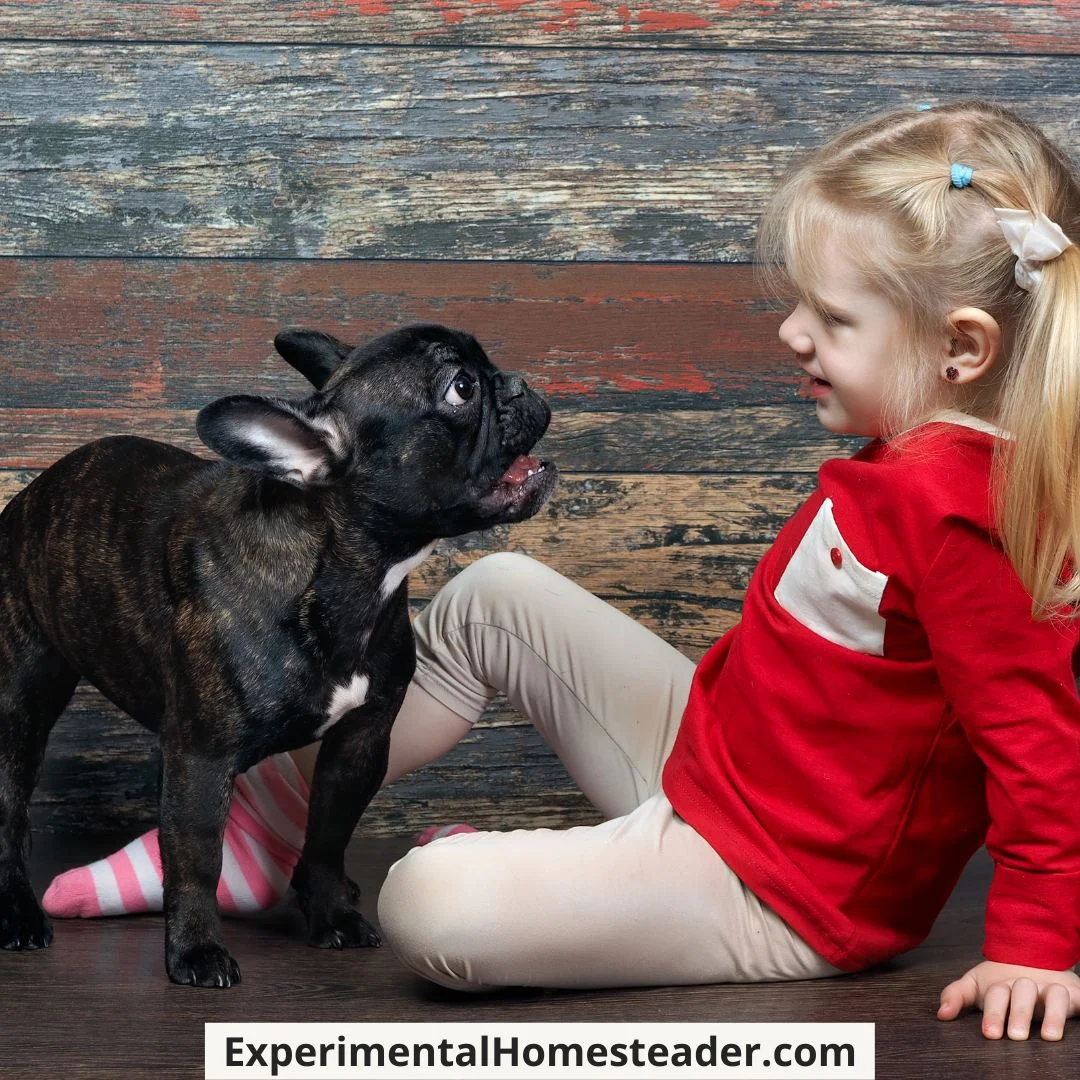 Communication
Talk to your pet just as you would another person. Pets do listen and respond. Verbal communication is important. The sound of your voice conveys to your pet how you feel. Watch them closely when you talk to them and you will pick up on their body language which is a great way for you to learn to understand what your pet is trying to tell you.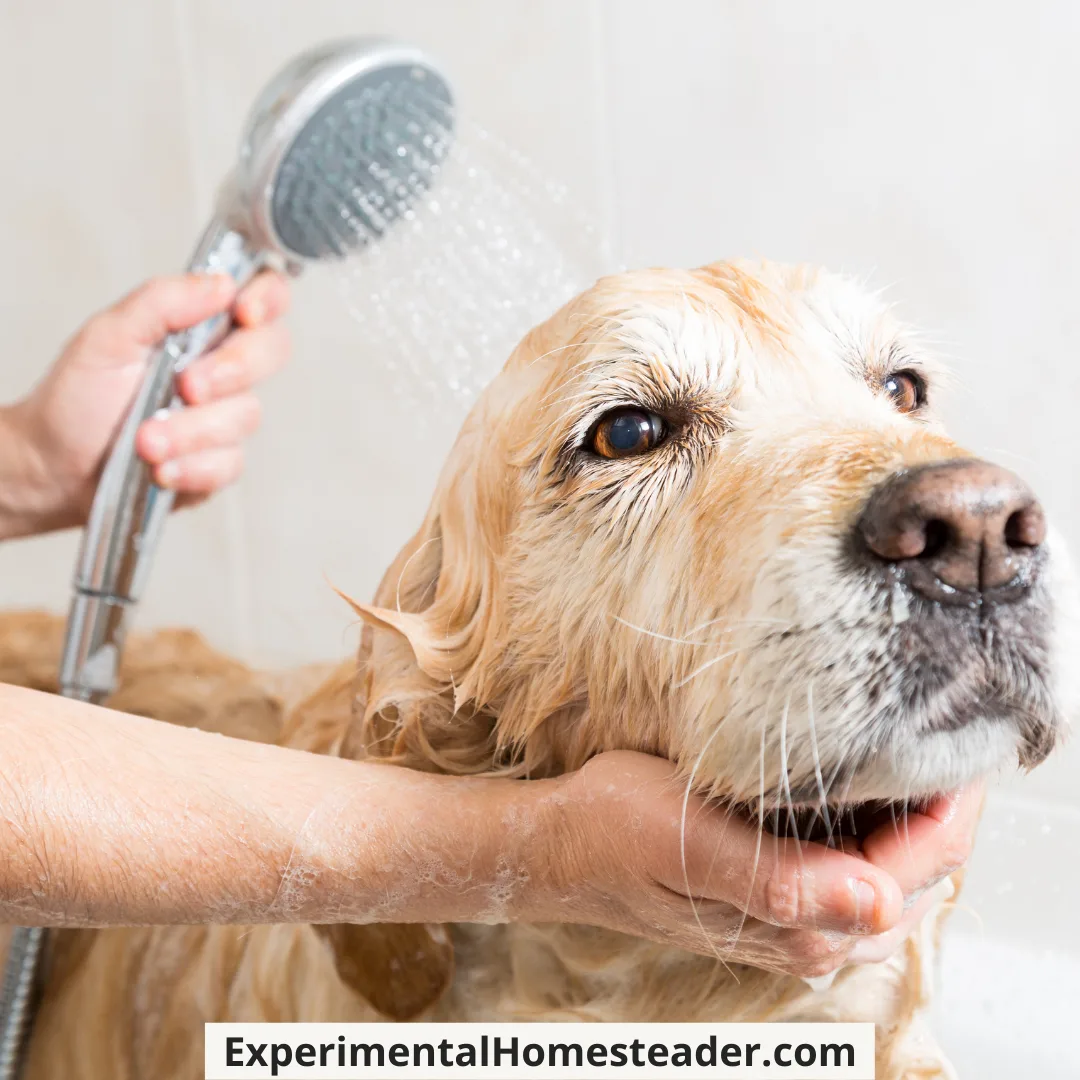 Bathing And Grooming
Some pets like to get a bath – and some do not – however it is pretty important to keep them clean. One way to do this for pets who do not like to get a bath is to use bath wipes. This way you can rub them down and clean their fur without them getting wet. Many pets enjoy the wipes because they think they are just being petted. Some wipes are scented with essential oils which can calm your pet while you are cleaning them.
Most pets like to be groomed. Again to many it feels like they are being petted. There are so many grooming tools out there. I have a number of different combs, brushes and massage mitts for my pets. I have found that what one likes another one might not. I try to take time at least once per day to groom my pets. This time is not always lengthy but they have come to understand when they see the comb or brush that it is their time for attention.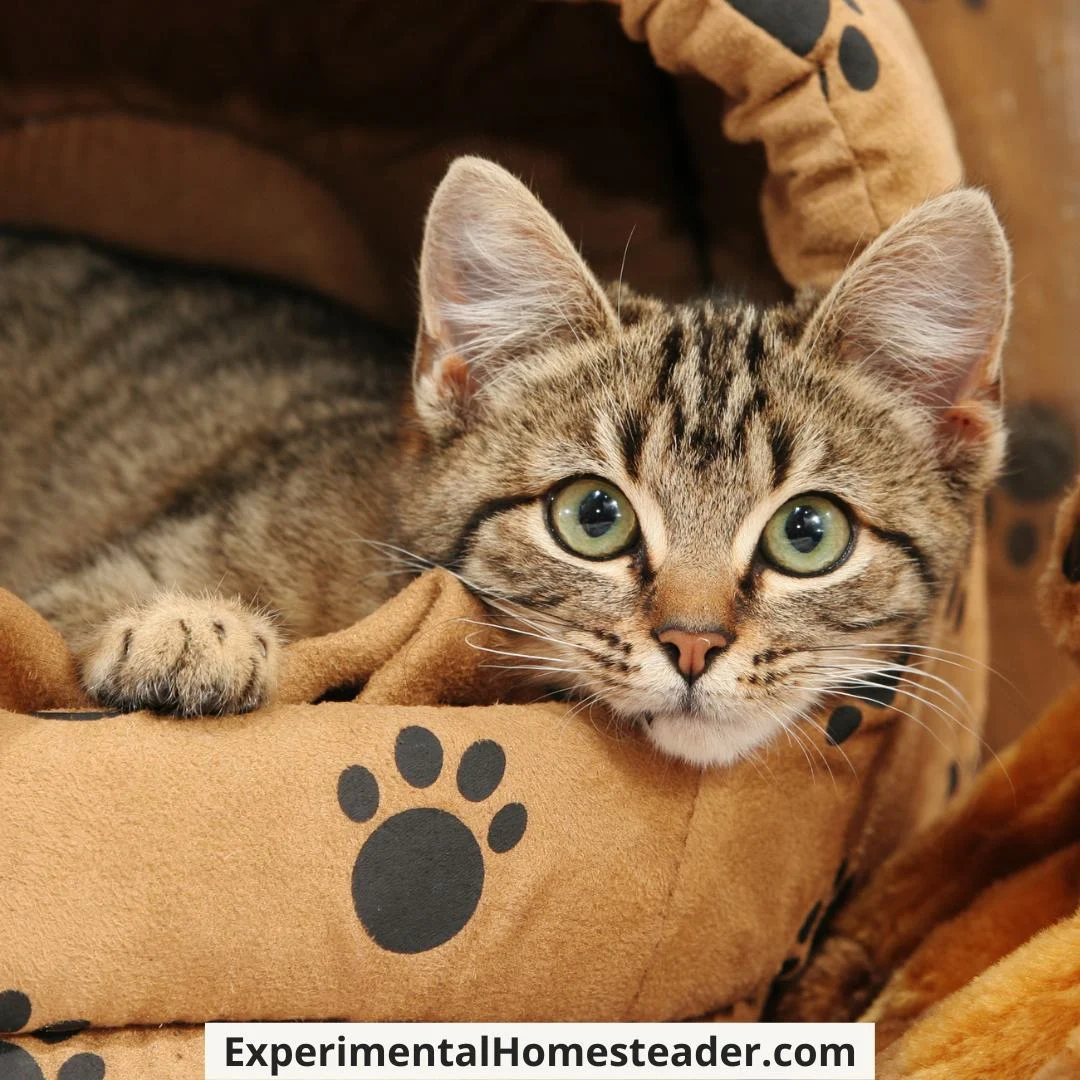 Warm, Comfortable Place To Sleep
Pets need their own beds – even if they choose to sleep in ours. Your pets bed needs to be located in an area that is warm, free of drafts and easy for them to get to. It is also a good idea to put it in a location that is out of the main pathway so if they want a place to get away they can go to their bed. Make sure it is a comfortable bed. It does not need to be expensive or fancy – in fact my Charlie likes our feather duvet the best! Precious Angel chose an oversized pillow that I had on our bed over his pet bed and even pulled it off the bed and put it where he wanted it.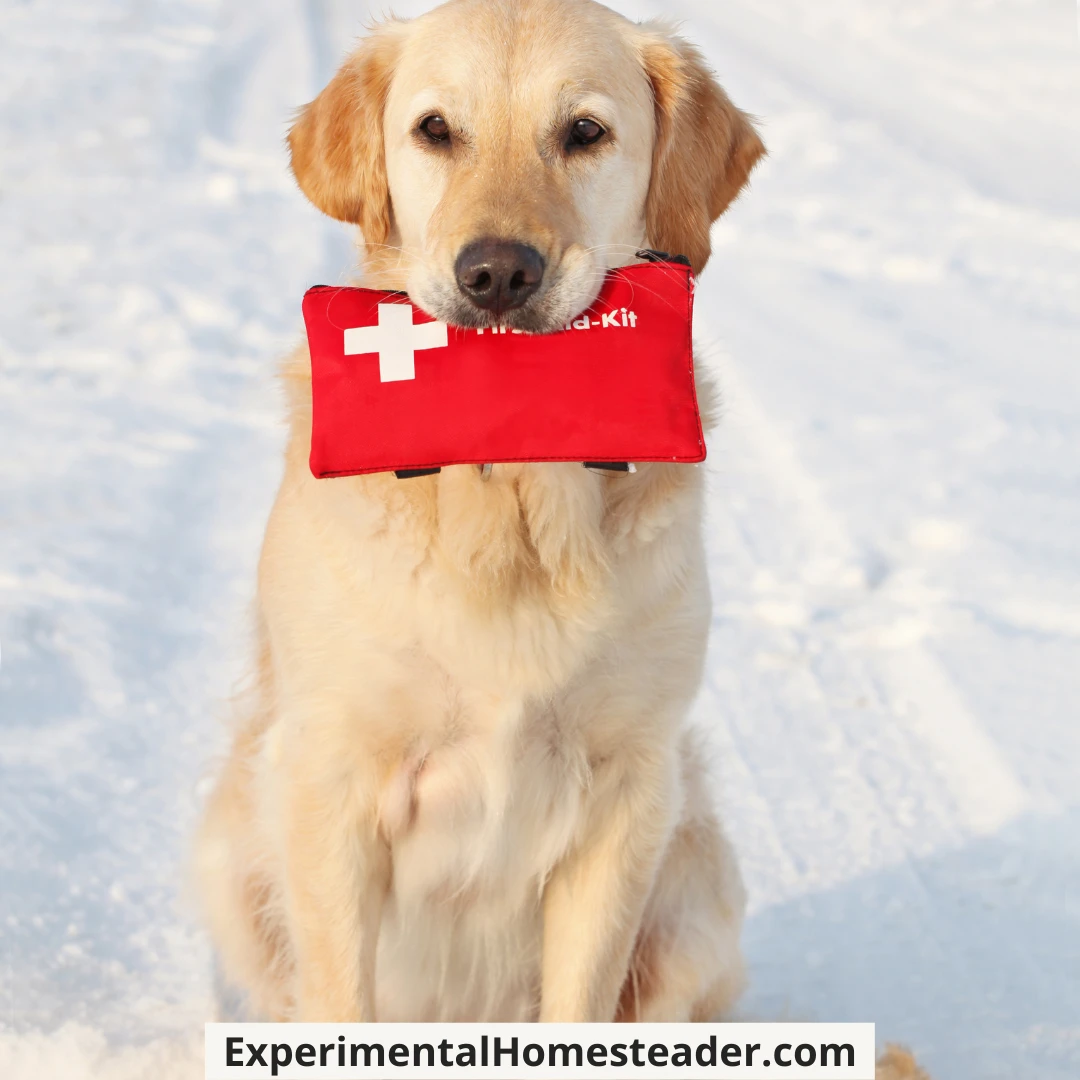 Knowing Pet First-Aid
Pets get sick. They get cuts sometimes or have other problems and let's face it most vets are not open 24 hours. When you choose to become a pet parent you need to learn something about your pet and their health. It is wise to keep a pet first aid kit on hand – just in case. One thing I always keep handy is a bottle of hydrogen peroxide. I have had issues with my pets eating plant leaves that were poisonous. My vet said to give my dog a capful of hydrogen peroxide at a time until he vomited. It does not take much and believe me this one tip has been a lifesaver! I also keep a spray antibiotic ointment on hand. I have found the sprays are easier to get on your pet and you do not have to bandage them. Anything serious naturally results in a vet visit but at least I know enough to treat smaller issues myself.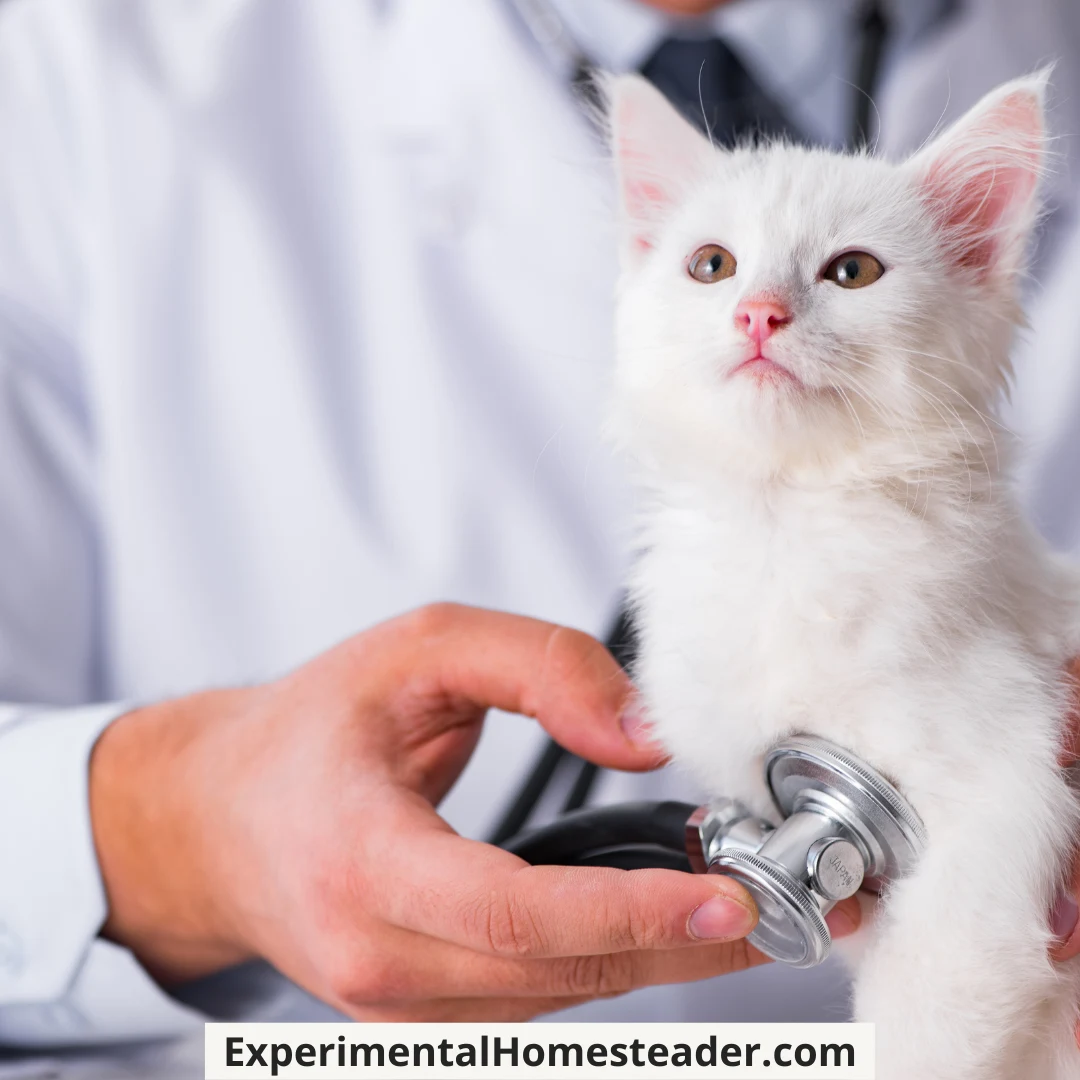 Regular Vet Visits
Regular vet visits are essential for your pets overall well being. They need shots, some pet owners prefer to have the vet trim their nails – and often vets can notice things we might not. For example I was using a flea collar in addition to some other flea prevention measures and thought I had the flea issue under control. I took my pet to the vet and he noticed some flea eggs – not many – but had he not noticed they would have hatched and that would have been an issue. Remember that your vet went to school to learn what to look for and can often help us avoid a bigger problem by just having a regular checkup.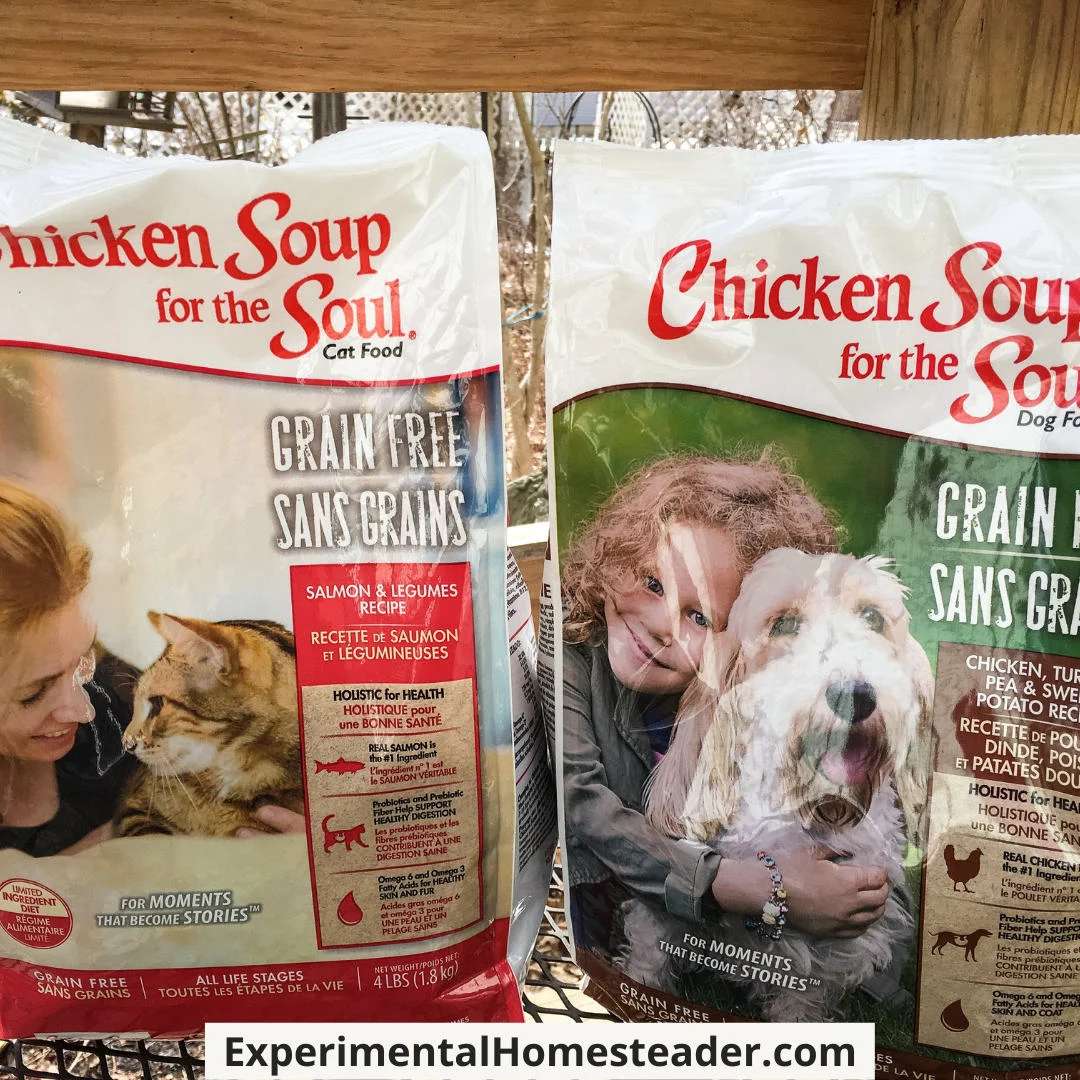 Proper Nutrition And Treats
Making sure your pet gets the proper nutrition is one of the most important things you can do to show your love for your pet. Food is about so much more than just nutrition. It is also about comfort, love and showing your pet how much you appreciate them. This is why I prefer to feed my pets a natural pet food. Finding both a natural cat food and a natural dog food that contains premium ingredients is not always an easy task. I actually prefer a grain free pet food and that is why I was so excited to be given an opportunity to test the premium pet food from Chicken Soup for the Soul.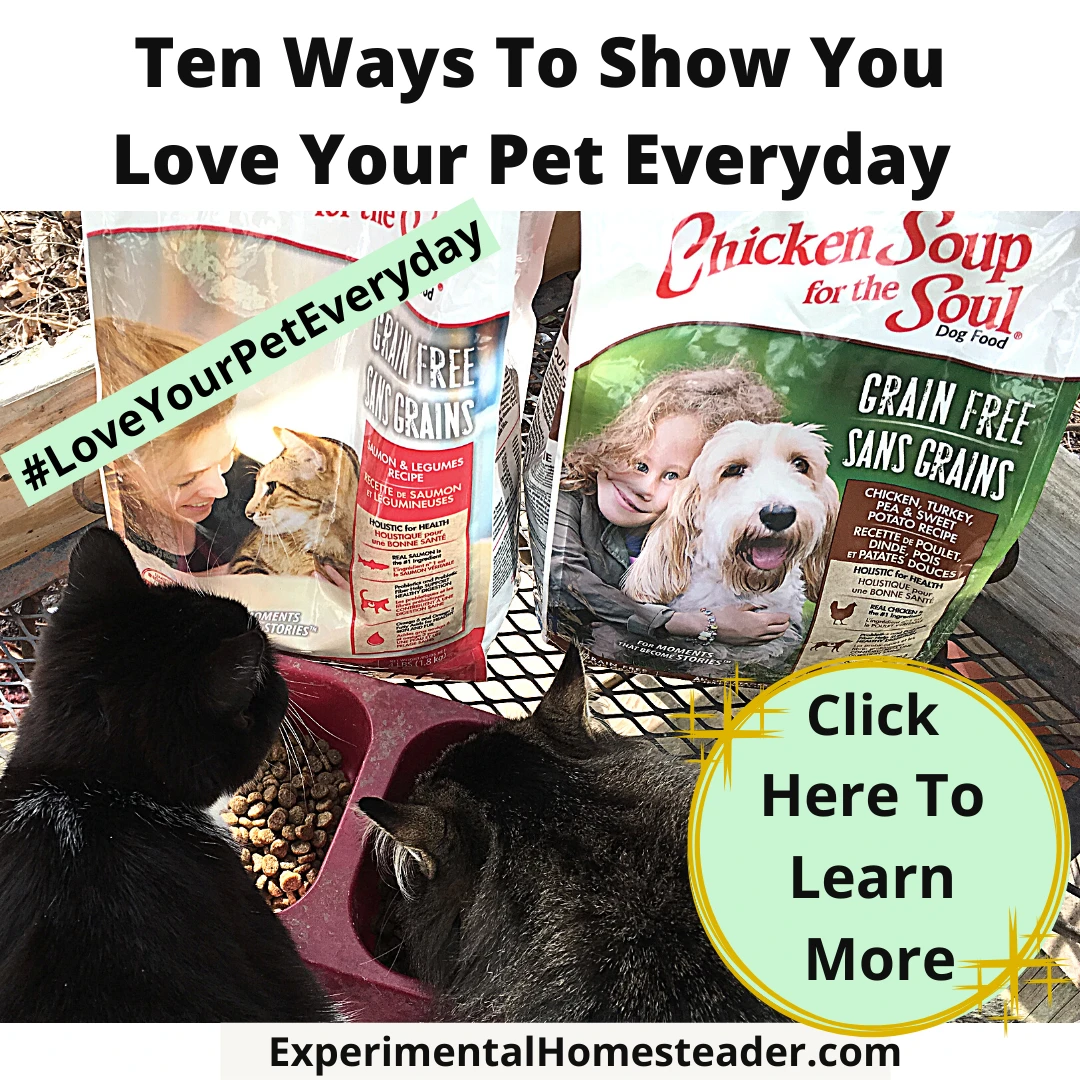 Both Charlie and the cats received bags of dry pet food. Since my cats are strays are that are not always trusting of people the cat food review was done by sitting indoors watching their reaction to the Chicken Soup for the Soul cat food sitting in one dish and the other cat food sitting in a dish right beside it. The overall vote was unanimous for the Chicken Soup for the Soul cat food. In fact I now have two cats that let me pet and hold them briefly when they see the cat food bag being dumped into their dishes.
As for Charlie, I did the same with him – one bowl of his old food and one bowl of the Chicken Soup for the Soul grain free pet food – and he also preferred the Chicken Soup for the Soul pet food over his old brand.
Once thing I love about the Chicken Soup for the Soul Pet Food is that a portion of all proceeds from the sale of their pet food goes to The Humpty Dumpty Institute to help support organizations that feed and care for animals in shelters. This is so important because shelters are overrun with pets that people no longer want. These pets deserve love and these donations help the shelters to provide a warm, safe and caring place for these animals to live until they are adopted into a loving home.
I love that the Chicken Soup for the Soul Pet Food packages feature shelter pets from local shelters, and ones that have recently found their "forever homes." You can read the stories of these pets on the back of the packages.
Another way that Chicken Soup for the Soul is giving back to pets is through the sale of their new books Chicken Soup for the Soul: My Very Good, Very Bad Dog and Chicken Soup for the Soul: My Very Good, Very Bad Cat. The royalties from the sale of these books goes to the American Humane Association.
Chicken Soup for the Soul pet food is also the official Dog Food Sponsor for the AmericanHumaneAssociation's HeroDogAwards, and the sponsor of the Therapy Dog category! If you would like to know more about the Chicken Soup for The Soul Pet Food, click here for a Store Locator.
Be sure to like them on Facebook, follow them on Twitter, Instagram and visit their website for even more great information. Be sure to enter the Show Us Your Hero Pet Contest and feel free to leave a comment below or share on social media using the hashtag #MyPetisMyHero and @ChickenSoupPets.
Comments submitted may be displayed on other websites owned by the sponsoring brand.