Disclaimer: The reviewer has received the product/service at a reduced price or for free. I am being compensated to participate in #Switch2Swerve challenge through the Bookieboo Influencer Network . I will switch out my regular sweetener to Swerve Sweetener from November 18, 2013 through December 20, 2013. All opinions are my own and are my honest opinions based on my own experience with the product.
It's been a couple of months since I picked the pears off my Asian pear tree and put them into the crisper, but they are still firm, crisp and delicious – however, it is time to do something with them. I agreed to #Switch2Swerve and use it exclusively from November 18th through December 20th, so this is a perfect time to use up those pears in lots of desserts. I am enjoying using the Swerve Sweetener and don't miss using sugar at all. Swerve Sweetener is non-GMO and the fact that some sugar is potentially GMO these days was a concern. I buy organic as much as possible but sometimes the selection just isn't there. With Swerve Sweetener – which is available at Whole Foods (my favorite grocery store), I no longer have to worry about what might be in my sweetener.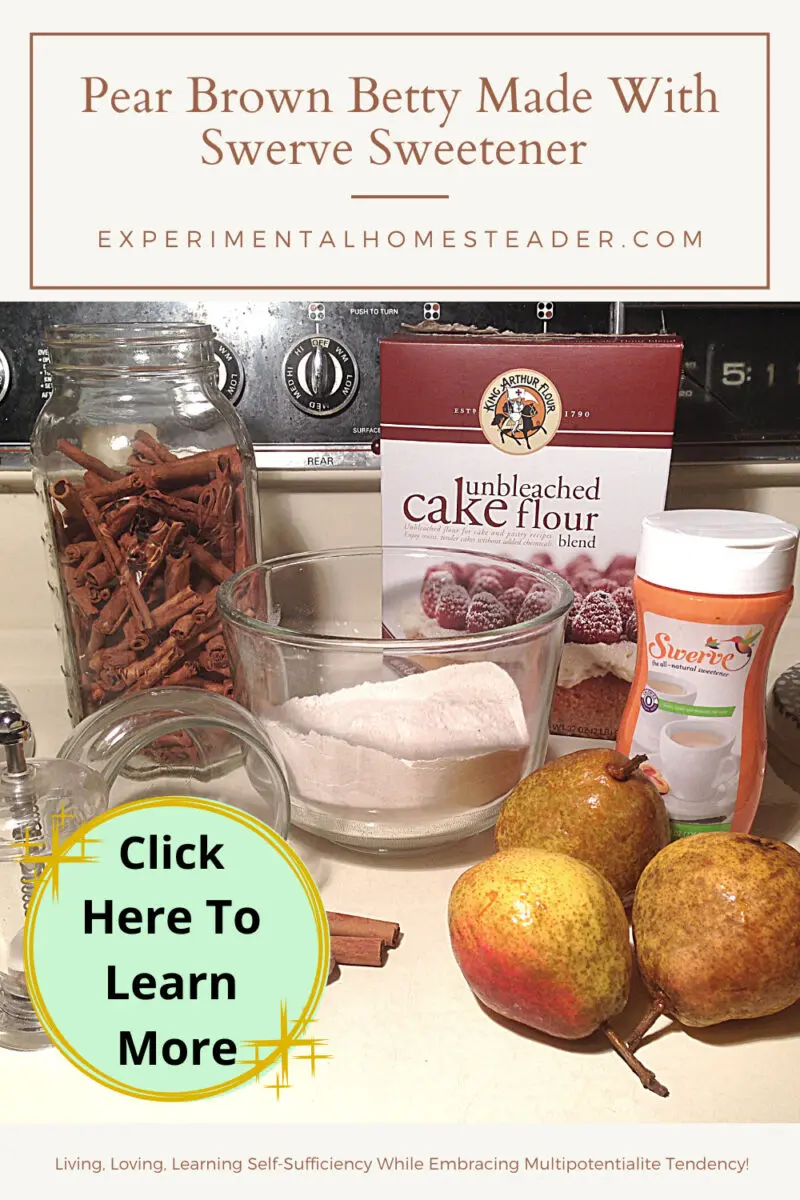 So – back to the subject of the post – Pear Brown Betty Made With Swerve Sweetener. This was a really simple dessert to make and using the whipped cream that I made using Swerve Sweetener to top it with, just made the Pear Brown Betty that much better. I had never had a Brown Betty dessert before so I didn't really know what to expect, but it sure sounded good – and it does taste delicious. Can I tell that I used a sugar substitute? Nope. I don't miss the calories either since Swerve Sweetener has zero calories – not that I really worry about calories, but I know some people do.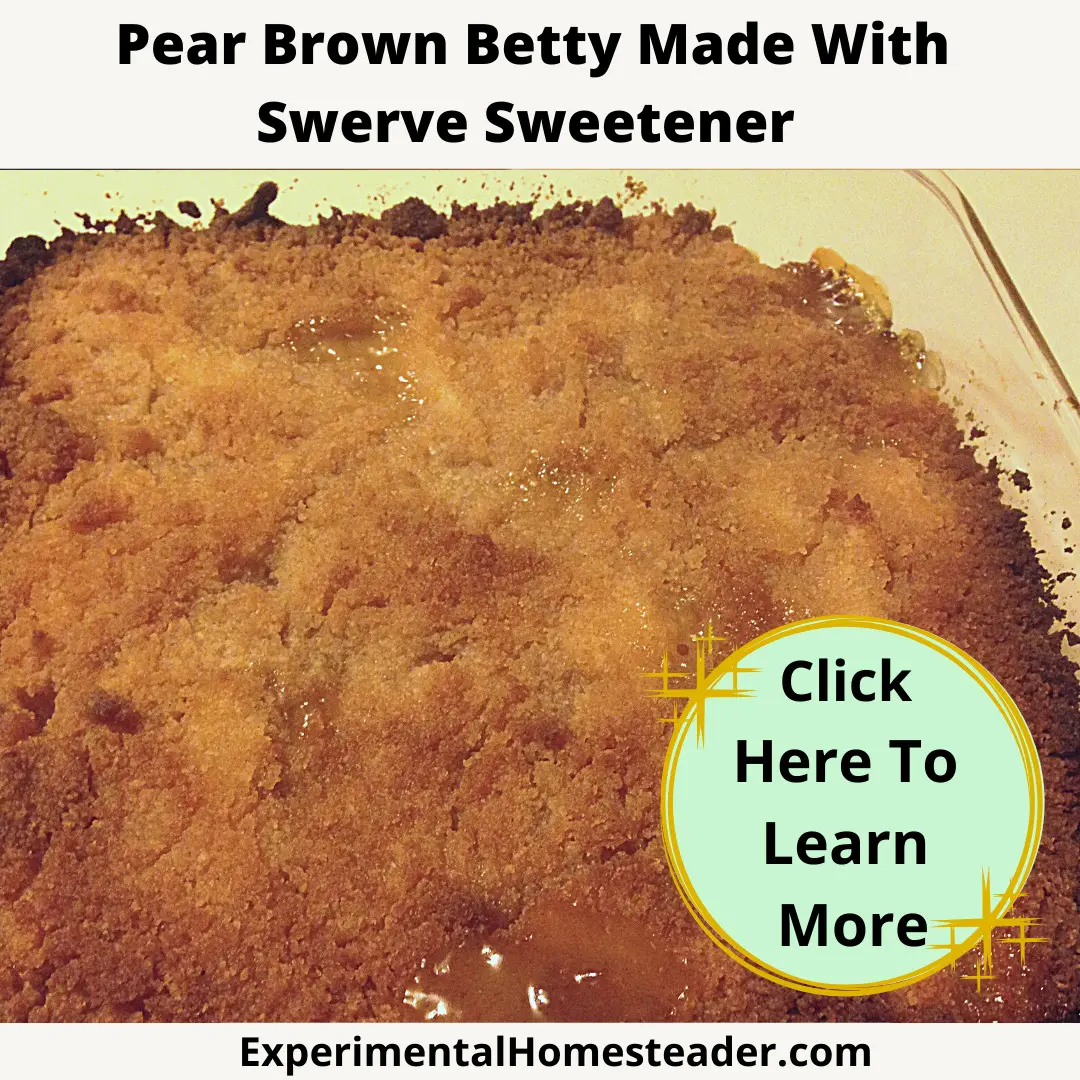 Here is my recipe – and honestly, try it. Try Swerve Sweetener. You'll going to love it! I know I do!
Ingredients:
Now to assemble the ingredients:
1. Pre-heat the oven to 375 degrees F.
2. In a small bowl combine the Swerve Sweetener, cake flour, cinnamon and nutmeg.
3. Stir the dry ingredients until they are well mixed.
4. Use a fork or pastry blender and cut the butter into the dry mixture until it looks like coarse crumbs, then set the mixture aside.
3. Pour the pears into an 8-inch square baking pan and spread them evenly.
4. Pour the orange juice on top making sure to evenly distribute it over the top of the pears.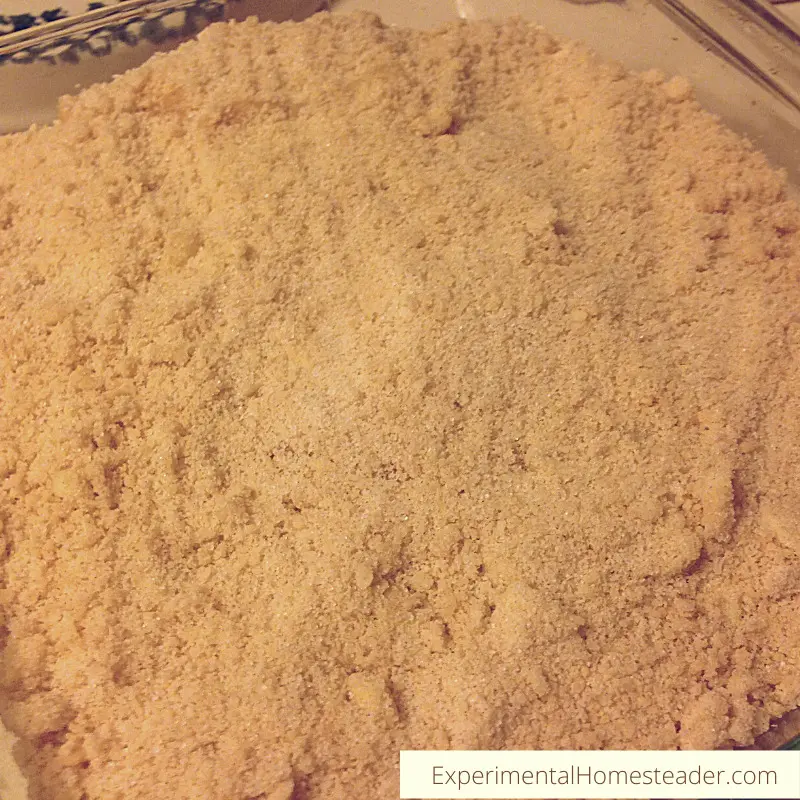 5. Top the pears with the crumb mixture making sure to spread it evenly over the top of the pears.
6. Cover the baking pan with foil and place it into the pre-heated oven.
7. Bake for 45 minutes or until the top is lightly browned.
8. Serve warm or at room temperature. Try it on top of ice cream or top it with whipped cream (or both).
For recipes or more information on Swerve Sweetener, to connect with Swerve Sweetener on social media or to find out where to purchase Swerve Sweetener, visit these links:
Swerve Sweetener Website: http://www.swervesweetener.com
Twitter: https://twitter.com/swervesweetie
Facebook: https://www.facebook.com/SwerveSweet
Pinterest: https://pinterest.com/swervesweetie
Instagram: http://instagram.com/swervesweetie
Google+: https://plus.google.com/100398605293713361413
Remember – Swerve measures out cup for cup just like sugar, so you don't have to worry about doing any crazy math to figure out how to use it in your recipes.