The painkiller cocktail on the menu at Cheddar's sounded so good – and looked even better – however it contained alcohol and I do not drink.
However I love pineapple and coconut, so the flavor combination really intrigued me.

I also loved the way the drink looked.
Regular beverages just don't have the same fancy look and that has always bothered me.

You Can Order A Non-Alcoholic Version Of Cheddars Pain Killer Drink
Jeffrey encouraged me to ask if they could make a non-alcoholic version of the drink.
After much debate, I did ask, the waitress said yes and I chose to order it.
I did not realize the price for the non-alcoholic version was a lot less – and the cost was one of the reasons I was hesitating to try it.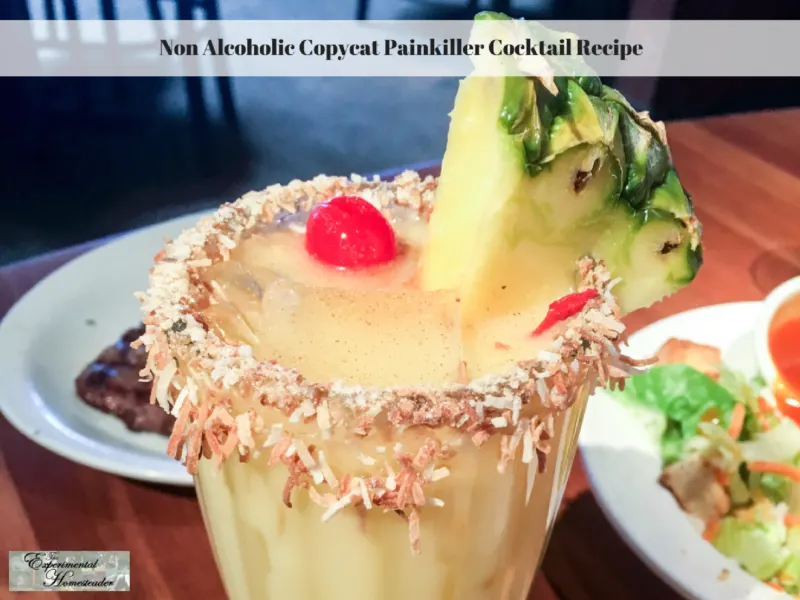 Trying To Get The Painkiller Cheddars Recipe!
I absolutely loved it!
I asked for the recipe.
I was determined to figure out how to make Cheddars painkiller drink at home, mainly because the nearest Cheddars restaurant is over an hour away from home.
The waitress left to see if she could get the recipe, but when she returned she told me she could not give me the recipe.
I was upset, but I understood why.
I looked at the brochure, wrote down what was in the Cheddars painkiller cocktail and proceeded to do an online search for a non-alcoholic pineapple coconut drink on Pinterest.
I found several recipes that claimed to be copycat painkiller cocktail recipes.
I settled on one and then used my Perfect Drink Maker Pro to make sure I got the mixture just right.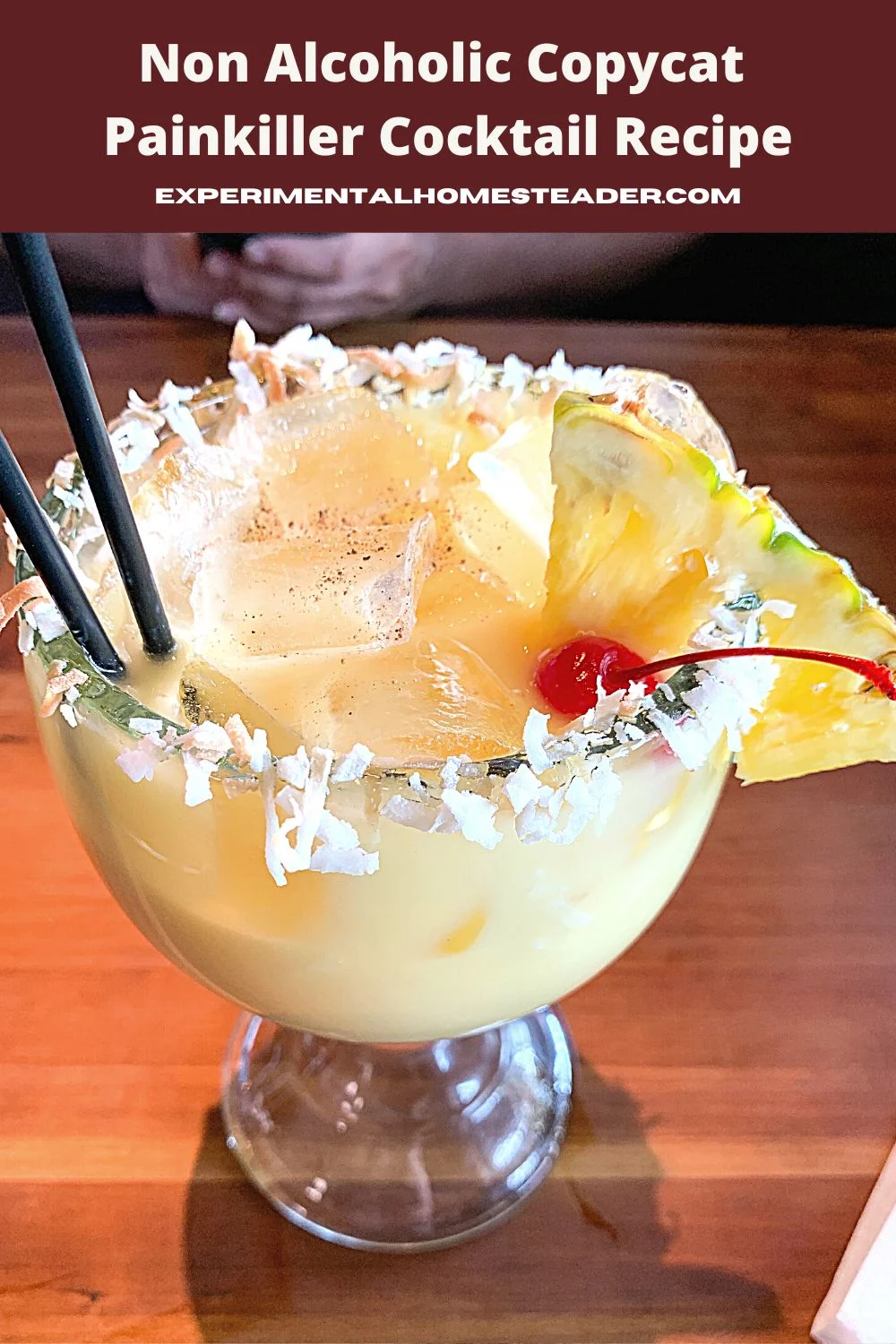 Why You'll Love This Copycat Painkiller Cocktail Recipe
Let's face it, drinks like this, alcoholic or not, are pricy when you order them out.
If you are like me, one drink doesn't satisfy the craving.
Buying the ingredients to make this non alcoholic copycat painkiller cocktail recipe at home not only saves money, but I can drink as much as I want.
Nothing says summer like coconut and pineapple – and I love the flavor combination.
I am sure you will too!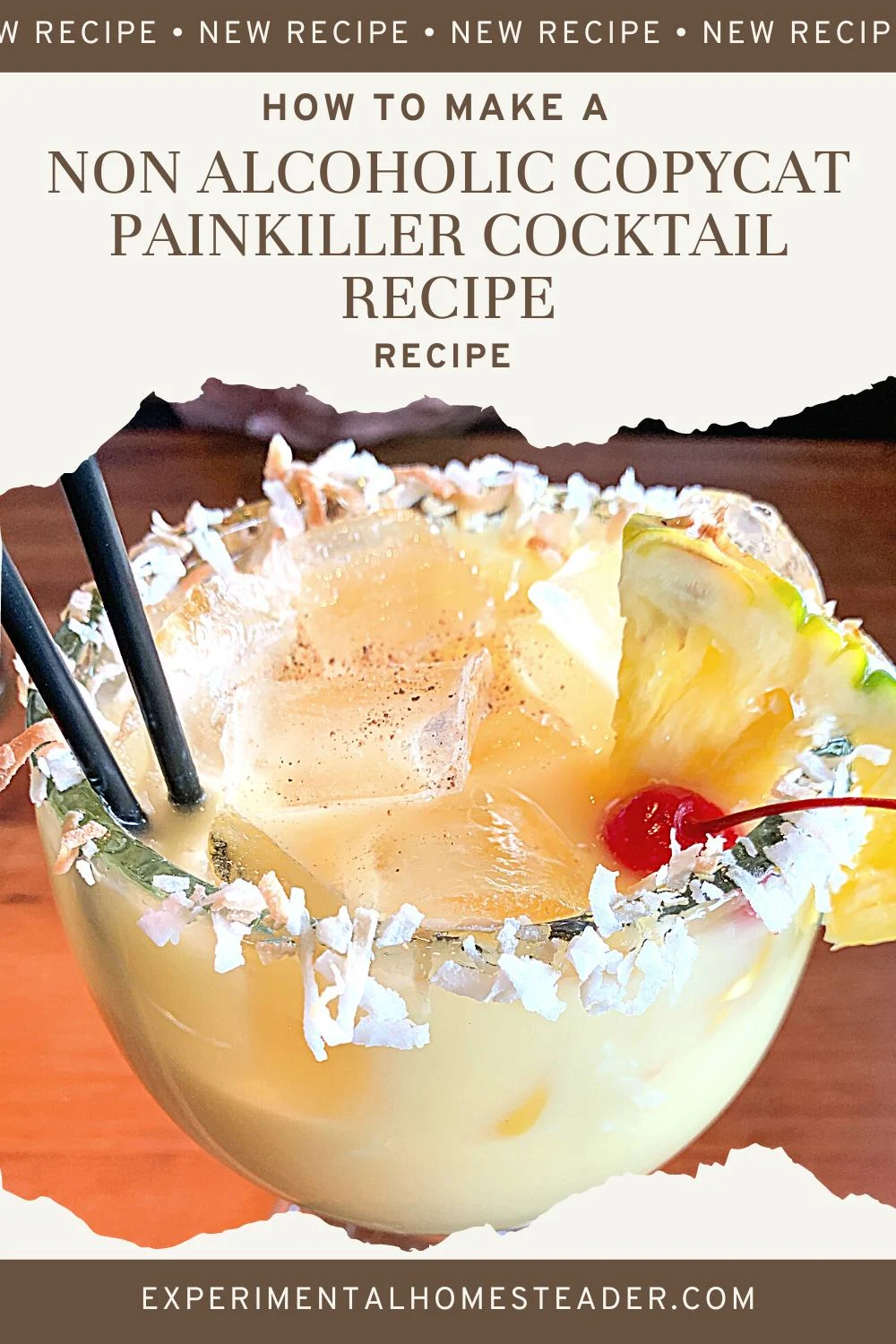 How To Make This Non Alcoholic Copycat Painkiller Cocktail Recipe
Here is the recipe I came up with.
I do think it is pretty close to the one I had at the restaurant.
I hope you enjoy it!
Print
Non Alcoholic Copycat Painkiller Cocktail Recipe
Author: Sheri Ann Richerson
Prep Time:

5 minutes

Total Time:

5 minutes

Yield:

6 ounces

1

x
Category:

Beverages
4

ounces

pineapple juice

1

ounce

orange juice

1

ounce

cream of coconut
Pineapple wedges
Instructions
Combine the pineapple juice, orange juice and cream of coconut.
Fill a cocktail shaker with ice and pour the combined juice mixture over the ice.
Shake to combine.
Rim a glass with toasted coconut.
Add ice to the glass.
Pour the cocktail over the ice.
Garnish with a pineapple wedge, maraschino cherries and a dash of nutmeg.
Keywords: non alcoholic beverage, delicious non alcoholic drinks, easy tasty drinks, great drink recipes
Recipe Card powered by
How To Store The Painkiller Cocktail Recipe Ingredients
I recommend making the painkiller cocktail recipe one glass at a time for the best flavor.
To store the leftover pineapple juice, orange juice and cream of coconut, I recommend storing them in the refrigerator.
I did empty the cream of coconut that was left over into a glass container with a lid since mine came in a metal can.
I recommend doing the same with the pineapple juice if you are using some that was sold in a metal can.
It is not a good idea to store anything in the refrigerator in metal.
<div
data-shortcode="mv_create"
data-attributes='{DQUOTEkeyDQUOTE:DQUOTE163DQUOTE,DQUOTElayoutDQUOTE:DQUOTEcirclesDQUOTE,DQUOTEthumbnailDQUOTE:DQUOTEhttps://experimentalhomesteader.com/wp-content/uploads/2017/11/EHMain-1.pngDQUOTE,DQUOTEtitleDQUOTE:DQUOTENon-Alcoholic