The painkiller cocktail on the menu at Cheddar's sounded so good – and looked even better – however it contained alcohol.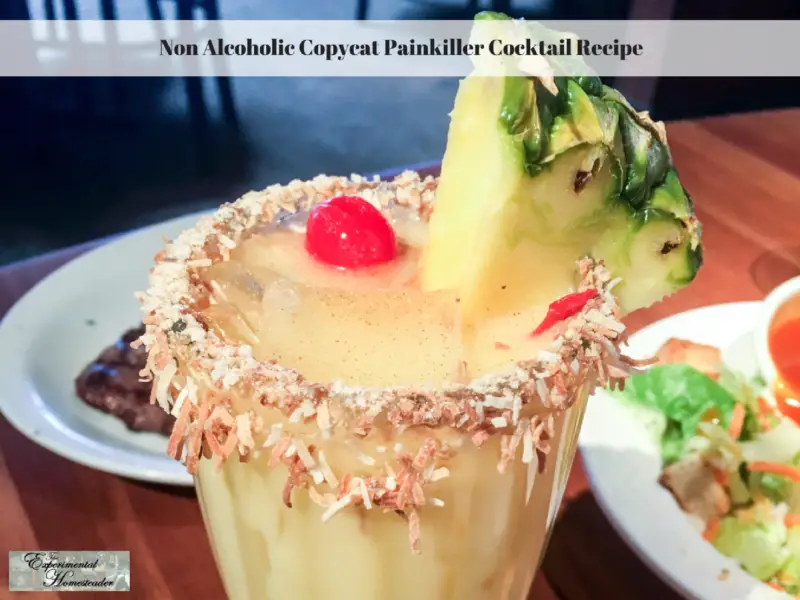 Below is the rest of my story along with links to products I recommend from companies I have a referral relationship with. I will be compensated if you make a purchase after clicking on my links.
You Can Order A Non-Alcoholic Version Of Cheddars Pain Killer Drink
I've always liked the way alcoholic drinks look in pictures but I do not drink.
Jeffrey encouraged me to order a non-alcoholic version.
After much debate, I did order it.
I did not realize the price for the non alcoholic version was a lot less – and the cost was one of the reasons I was hesitating to try it.
'When it comes to non alcoholic tropical drinks, this copycat painkiller cocktail needs to be at the top of the list for easy tasty drinks.'
Click To Tweet
Try To Get The Painkiller Drink From Cheddars Recipe!
I asked for the recipe, but was told I could not have it.
I was determined to figure out how to make Cheddars painkiller drink at home.
When the waitress returned to tell me she could not give me the recipe, I was upset, but understood why.
I looked at the brochure, wrote down what was in the Cheddars painkiller cocktail and proceeded to do a search for non alcoholic tropical drinks on Pinterest.
I found several recipes that claimed to be copycat painkiller cocktail recipes.
I settled on one and then used my Perfect Drink Maker Pro to make sure I got the mixture just right.
Here is the recipe I came up with. I hope you enjoy it!
Print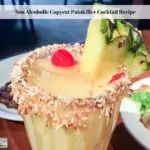 Non Alcoholic Copycat Painkiller Cocktail Recipe
---
Ingredients
4 ounces pineapple juice
1 ounce orange juice
1 ounce cream of coconut
---
Instructions
Combine the pineapple juice, orange juice and cream of coconut.
Fill a cocktail shaker with ice and pour the combined juice mixture over the ice.
Shake to combine.
Rim a glass with toasted coconut.
Add ice to the glass.
Pour the cocktail over the ice.
Garnish with a pineapple wedge and maraschino cherries.
Be sure to take a moment to download your free printable recipe card. The card is is standard 3 inch by 5 inch design with blank lines that you can print onto card stock (affiliate link), write your favorite recipes on and add to your personal recipe collection.
I highly recommend the following articles:
Use the buttons on the right hand side of the screen to share this article with friends or family who might find it useful. Pin the picture below to your pinboard on Pinterest for future reference.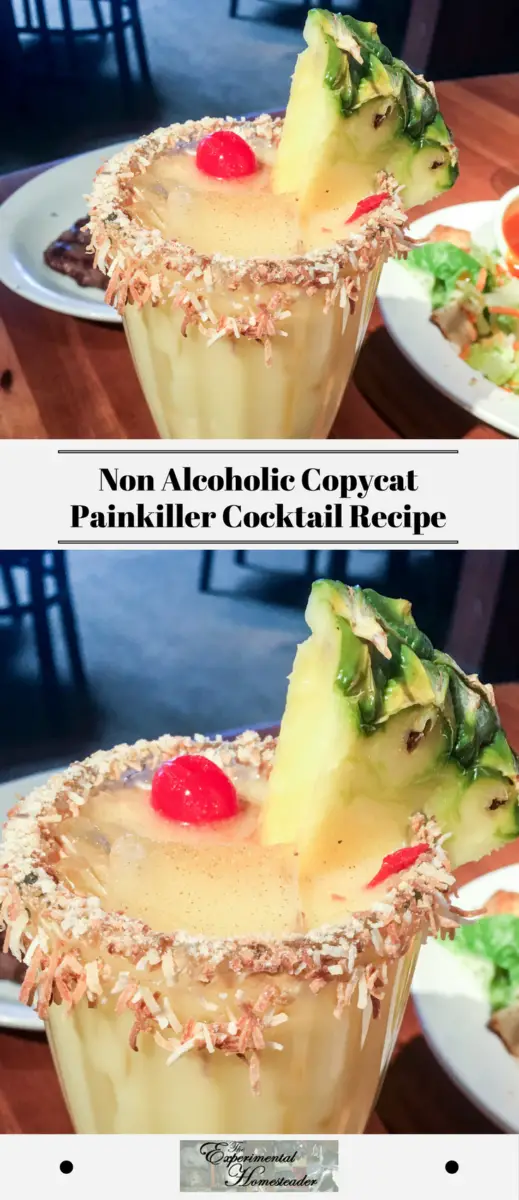 SaveSave
SaveSaveSaveSaveSaveSaveSaveSaveSaveSave