Have you ever wondered about
organic cotton pros and cons
?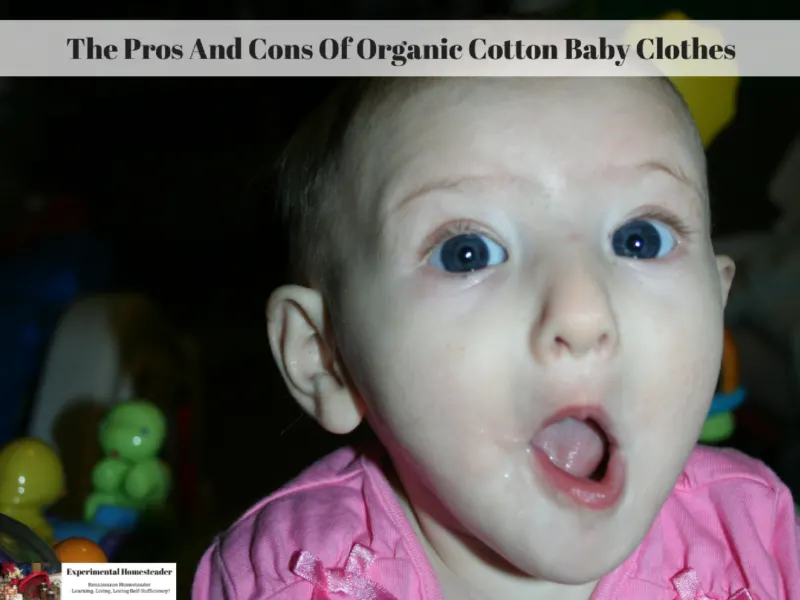 Pros And Cons Of Organic Cotton
Organic cotton baby clothes is a booming business – and while I believe organic is always best, there are pros and cons that each person much consider before deciding what is best for their baby.
Below is a quick guide to the pros and cons of organic fabric for baby clothes.
Organic Cotton Baby Clothes Is A Big Business
Parents and grandparents alike want to do the best for the babies in their lives, which helps to explain why the popularity of organic cotton baby clothes is growing all the time.
As a grandmother to five young grand babies (6 and under) and daughters who have two more on the way – due in April and May this year, organic cotton baby clothes is something I hope they invest in, but that decision is one I cannot make for them.
Babies grow quickly, we all know that.
If you're unsure about whether it's worth investing in these clothes, here's a quick guide to the pros and cons of doing so.
Advantages Of Organic Cotton Baby Clothes
Health: Organic cotton baby clothes have been made purely from organic cotton. This means that the cotton was not grown using fertilizers and pesticides, and has not undergone other chemical processes such as bleaching and dyeing. How does this help to protect the health of your baby? It means that they are some of the most natural clothes you can get, and won't bring your baby's skin into contact with toxic chemicals.
Appearance: Buying organic cotton clothing doesn't mean you have to compromise on the way the clothes look. They look just as good as other types of clothing, and in most cases will be even better made and more durable. This is one reason for the higher price tag.
Environmental Impact: If you want to do your part for the environment then buying organic clothing will certainly help. In the same way that you're avoiding letting toxic chemicals come into contact with your baby's skin, you're also reducing the pollution that takes place as a result of the clothes production.
Disadvantages Of Organic Cotton Baby Clothes
Cost: Unfortunately, organic cotton baby clothes do cost more than standard clothing, due to the fact that organic production costs a lot more. Keeping them and passing them down to your other kids or asking other parents to pass their organic cotton baby clothes onto you is one way you can save a little money. Look at second-hand kids clothing stores too – most are pretty picky about what they offer for sale.
Selection: There really isn't as much choice when it comes to organic clothing as there is with traditional baby clothes. Organic products aren't produced on the same mass-scale as chemically treated products, though the tide is changing. By shopping online you'll find enough choice available to satisfy all of your baby's needs. Keep an eye out for online sales too!
Finding Genuinely Organic Products: Another important point to note is that you don't always know what's genuinely organic. Some manufacturers may label their products as "natural", but it's important not to trust these labels at face value. Instead, look for the USDA organic seal, or try to find out more information about a company and their products from their website. You should look specifically for labels stating that the products are 100% organic – not just "organic" or made from "organic material".
Why Organic Cotton For Babies?
Organic cotton baby clothes are becoming more popular thanks to the health benefits, though they can still be too expensive for some parents.
It's up to you to do your own research and decide whether organic clothing is right for you and your baby.
As a personal choice, I feel organic cotton is right for my grandchildren, however I know not everyone agrees with me.
My best advice is for you to do what is in the best interest of your family and follow your beliefs.
I highly recommend the following articles:
Use the buttons on the right side to share this article with friends or family who might find it useful. Pin the picture below to your pinboard on Pinterest for future reference.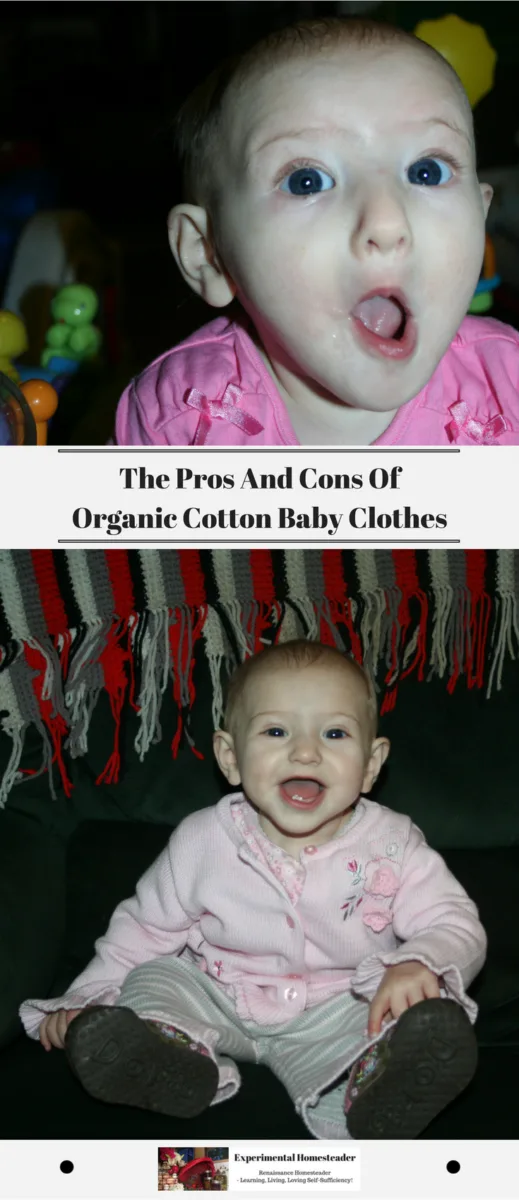 SaveSave