Disclaimer: I did receive this item for free in exchange for my honest, unbiased review. All opinions are my own.
I was so excited to receive the Ivation 50″ Wall Mounted Glass Electric Fireplace With Built In 1500 Watt Heater because my bedroom has no heater in it. It can get pretty cold in the winter. I loved the way this looks. I love watching the flames flicker in fireplaces or fire pits so an electric fireplace is a perfect solution for me. The wood and the flames look very realistic in my opinion. The flames help to relax me as I watch them as I fall asleep. I could not hear any sound coming from the flames however and that would be my one suggestion – add some sound that you can mute if you don't want it.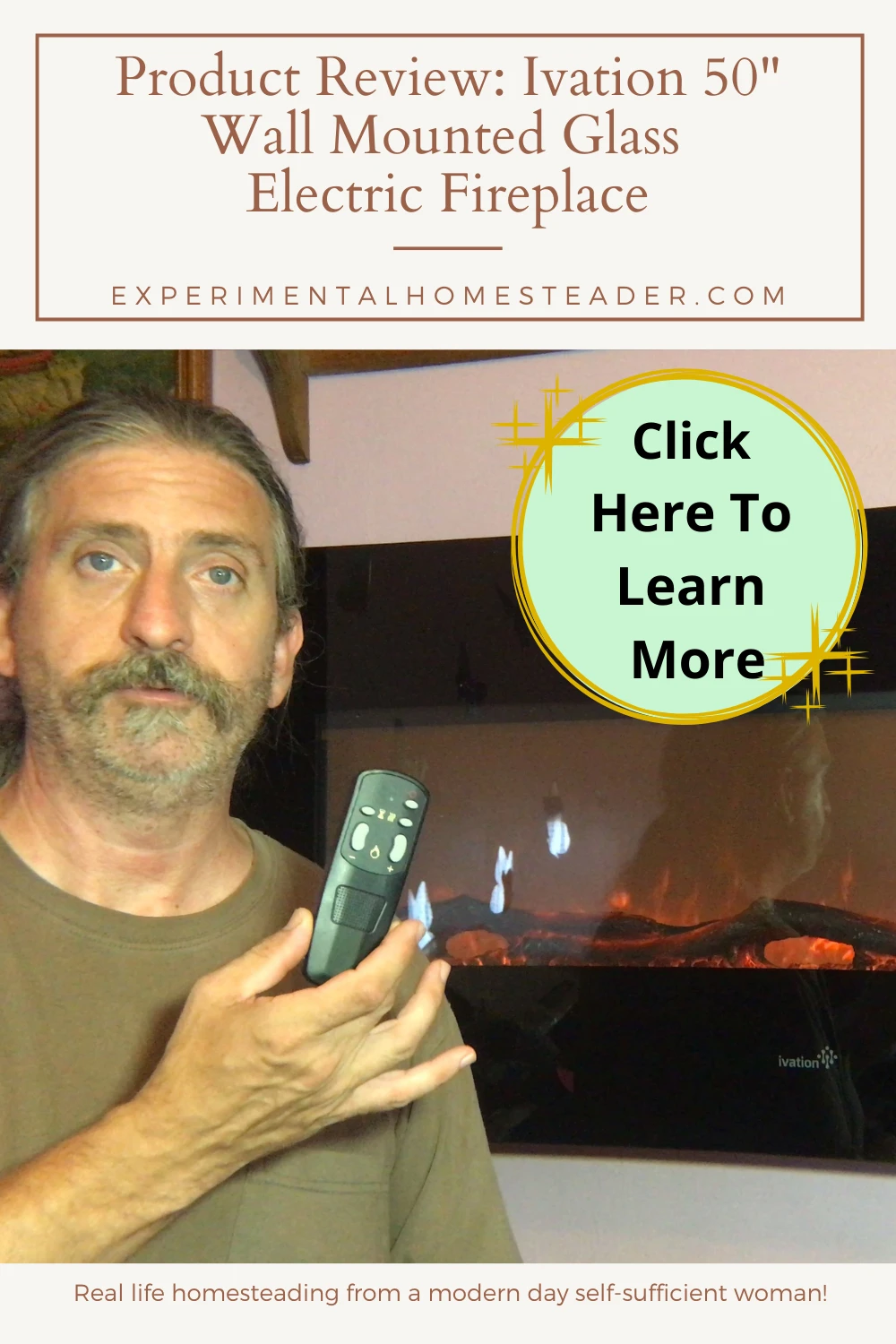 It weighs about 60 pounds according to UPS so it is very heavy. It does require 2 people to safety mount on the wall. There are handles on the side to hold onto when you are lifting it into place on the mounting bracket that you already installed on the wall. We did not like the anchors it came with and bought bigger ones but our walls are drywall and plaster so they are pretty thick. The mounting bracket was just fine. It also comes with a remote control but you must buy the 2 AAA batteries separately. It does work without the remote control but it is nice to be able to change the settings from across the room.
We did try the heater and it made the room hot enough I was sweating within 10 minutes. Now it is warm in my house already with it being summer, but I wanted to see how quickly it increased the temperature in the room. I was very satisfied with the results. The heat comes out of the top of the fireplace. We did not recess this into the wall at all and I would not recommend doing that.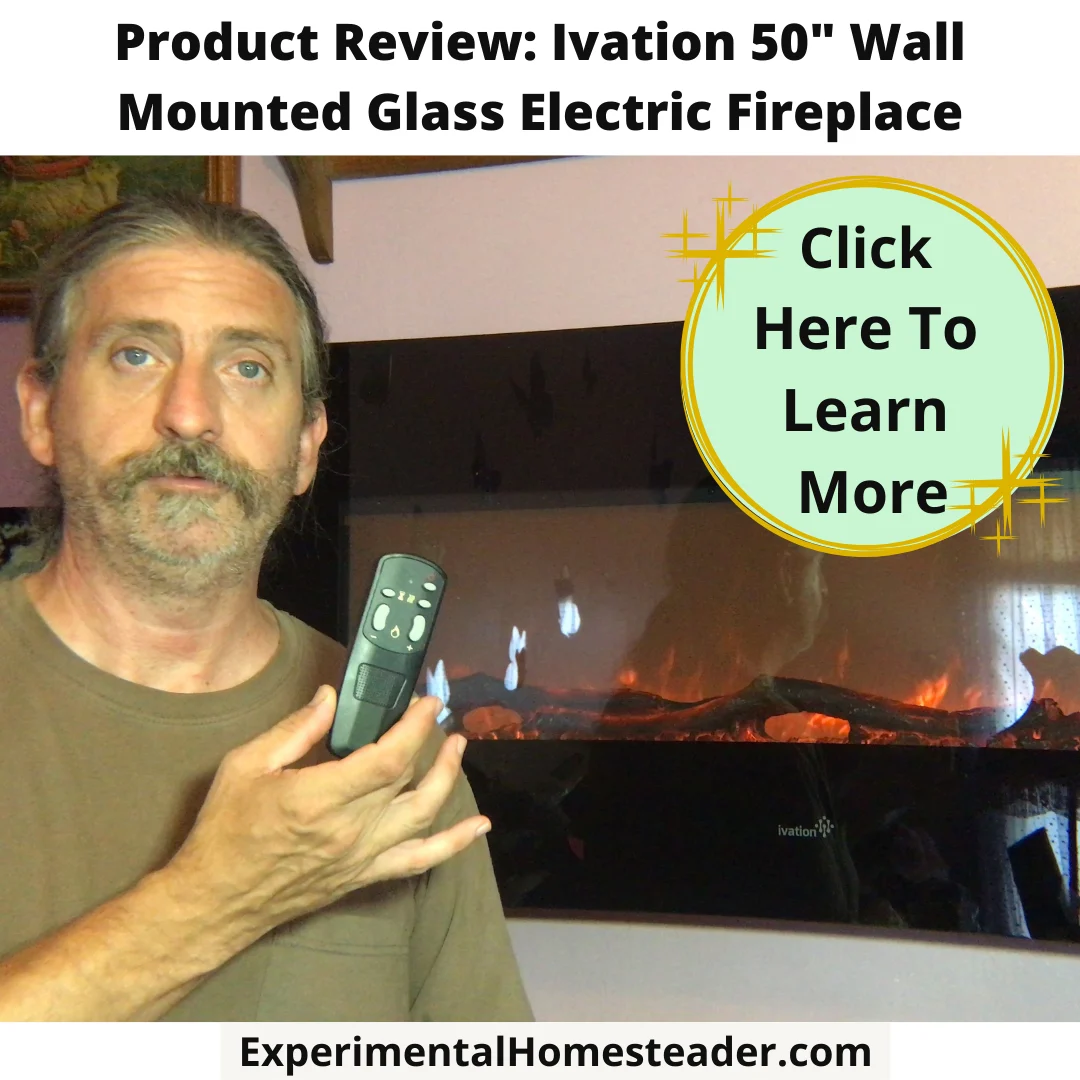 I love that I can use it without the heater on, that is has a timer to automatically shut off so it does not run all night if I don't want it to and I love the overall look of this fireplace. It really added a much needed sense of coziness to my bedroom. This would look great in any room however.
The front of the fireplace is glass so it is super reflective. It is also easy to clean with any glass cleaner.
I really love this item. It would make a fantastic gift but be sure they have enough room to hang it. It does require space above, below and on both sides of it for hanging and for safety since it does have a built in heater. Be sure to position it on the wall with a electrical outlet nearby to plug it into as the cord is not super long.
It has 2 heat settings 750 Watt and 1500 Watt as well as several different flame settings. The best part is no ash to clean up and no smoke either.
YouTube Video Review
Sheri Ann Richerson from ExperimentalHomesteader.com is joined by Jeffrey Rhoades who talks about the Ivation 50″ Wall Mounted Glass Electric Fireplace With Built In 1500 Watt Heater that she received for review.
Sheri Ann Richerson is a long time YouTube and more recently a vlogger living in Indiana. She posts videos about: Homesteading Topics, Gardening, Cooking, Food Preservation, Crafting, Animals, Tag Videos, Product Reviews, Hauls, DIY Videos and More!
Click here to purchase the the Ivation 50″ Wall Mounted Glass Electric Fireplace With Built In 1500 Watt Heater – please note this is an affiliate link and I do get a small commission if you purchase this item using this link.