There are many interesting things you can do with your windows to make them attractive and eco-friendly. A well-designed window treatment not only adds a decorative touch to a room also enhances energy conservation. A green window treatment lets in enough natural light to minimize the use of electric indoor lighting. It also acts as a barrier against the infiltration of cold air. Best of all, you can in your backyard for inspiration.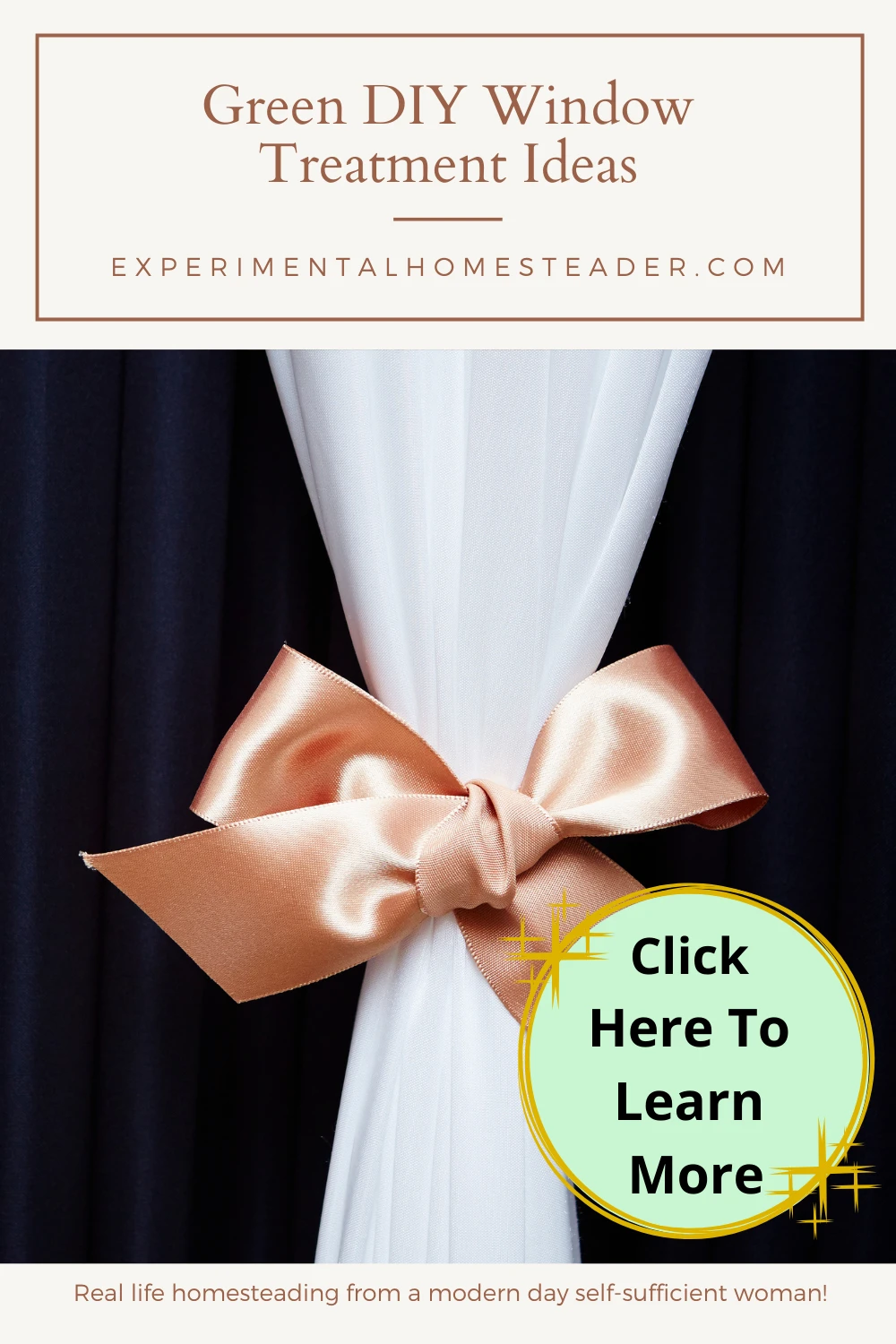 Here are some ideas on how to do a green DIY treatment on your windows. Keep in mind that some window treatments – such as the stained glass panel above – are decorative, create privacy and are a great way to recycle materials.
1. Consider making curtain rods from natural materials or even recyclables. Bamboo rods, for example, make straight, strong curtain rods. Natural branches can also be used. To avoid the sloughing of bark and other problems, you want to peel the bark off any branch you use and allow it to air-dry for a few weeks. Then coat it with wax or some other protective coating. You can even paint it. In the past I have used old metal coat hangers. It does some effort to straighten them but they work quite well and you can slide your curtains open and closed if you wish.
Pine cones, teasels, seed pods, or other natural materials make great decorative accents for the ends (finials) of the curtain rod. An alternative to dried material is silk flowers or decorations made out of scraps of fabric.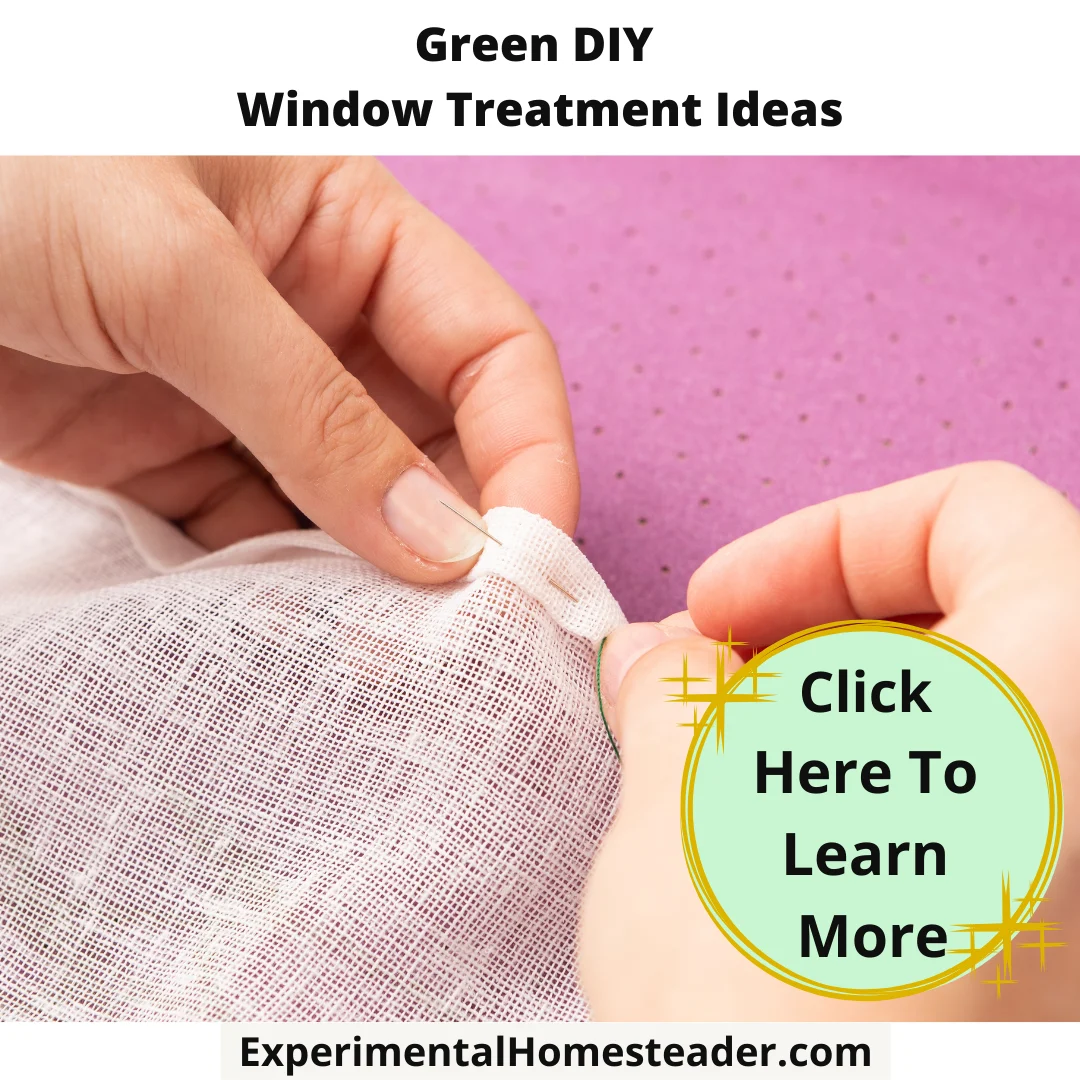 2. The materials for your curtains do not have to be fancy. You can use old tablecloths, bed sheets or even burlap. Avoid using environmentally-hostile materials in your curtain-making ventures. Shower curtains, for example, or sheets made from synthetic fibers and dyes are not eco-friendly options. Look for organic cotton, linen, or other natural fibers. Yard sales and antique stores are great for this. Other materials that work well for making curtains are natural yarns. Make sure they are 100% natural – such as wool and that they will felt. Felt curtains are a unique alternative and depending on the thickness of the finished curtain are a great option for keeping the cold out and the warm air in.
3. Tie back your window treatments with creative recyclables. Old trouser socks can be tied around a curtain panel and the ends tucked into a rosette. Leftover ribbon from the holidays can make attractive, waste-reducing tie-backs. You can  use baling twine such as the sort that is used to tie hay and straw bales and even fresh vines like ivy. You will have to replace any fresh vines that you use with new ones periodically unless you create a living tieback by positioning a plant close to either side of the window and then using part of it as a tieback.
4. Make window shades with square pieces of cloth that are sheer enough to let in light but thick enough to provide some draft protection and shade when you need it. Old sheets and tablecloths are, once again, good choices in this regard. Adding a piece of cloth to an old window blind that no longer looks as nice as it once did is a great way to recycle and reuse instead of throwing the blind away. This is what I did with the blind above. The old blind was simply discolored. I used a spray adhesive to attach the piece of fabric in place and then added fringe. It rolls up and down just like it always did.
If you know someone whose baby has outgrown his crib, a crib sheet may be just the right size. With a bit of sewing, you can stitch the end of the sheet around a curtain rod of your choice. Do the same thing at the other end. Then hang the shade. To each end of the bottom rod that is sticking out, tie ribbon, twine, or strips of cloth. When you want to raise the shade, roll it up from the bottom and tie the ribbons around the top rods. Untie it to put the shade down.
There are lots of creative and natural ways to decorate windows. Let your imagination guide you and have fun. Remember that the window treatments in your home should reflect your personality and the theme of the room.
View blog post for supplies