---
Instructions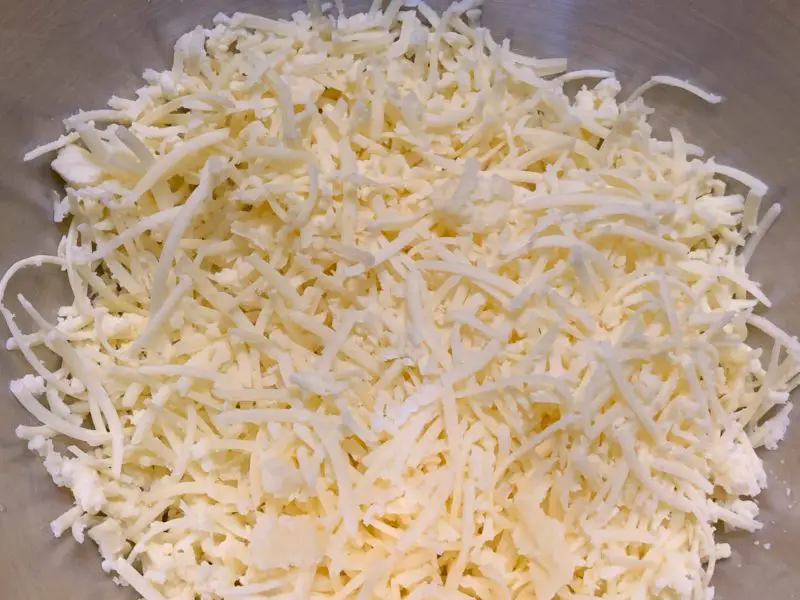 Shred the Mahon-Menorca Cheese. 
Brown the hamburger over medium heat, but do not drain it.
Add the Worcestershire sauce, parsley, bacon bits, sugar, Italian seasoning, garlic powder, Black Sea salt and chili powder to the hamburger and mix well.
Cook for 3 to 5 minutes until everything is well mixed. 
Add 1/2 cup shredded cheese and cook, without stirring until the cheese is melted.
Stir the mixture.
Add the tomato paste and stir to combine.
Cook for another 2 to 3 minutes.
Add the tomato sauce.
Stir to combine. 
Turn the heat down and simmer the sauce until the lasagna noodles are done.
Preheat the oven to 375 degrees Fahrenheit. 
Add water, basil ice cubes (or plain basil if you do not have basil ice cubes) and a drizzle of the chili infused olive oil to a large pan.
Bring this to a boil. 
Add the whole wheat pasta and cook according to the package directions.
Drain the pasta and put it back in the pan.
Fill the pan with cold water to stop the pasta from cooking.
Drain the pasta a second time and then rinse it off with cold water.
Place the colander on top of the pan so the lasagna can continue to drain while you are preparing the lasagna.
Place a thin layer of the sauce in the bottom of the pan you are going to bake the lasagna in. 
Place a single layer of the lasagna noodles on top of the sauce.
Add another layer of the sauce to the top of the noodles. 
Add a generous layer of the Mahon-Menorca Cheese to the top of the sauce.
Continue layering the lasagna by following steps 19 to 21 until you run out of pasta. 
Top the last layer of pasta with sauce and cheese. 
Cover the lasagna with either aluminum foil or a lid if the pan you are using has a lid.
Place the lasagna in the preheated oven and bake covered for 30 minutes.
Remove the lid and bake for another 10 minutes.
Remove the lasagna from the oven and allow it to cool for 15 minutes.
Cut and serve.
---
Category:

Pasta

Method:

Stovetop + Oven
Keywords: cheese lasagna recipe, cheese lasagna recipe easy, lasagna recipe easy, lasagna, lasagna recipe meat, lasagna recipe meat lovers, lasagna recipe meat sauce